Crazy Good and Insanely Easy Pulled Pork Sandwiches
Easy Pulled Pork Sandwiches are SO good and SO simple to make in your crockpot. Simply throw a roast in your slow cooker, go about your day, and dinner will be ready with zero effort. When served with these 3-sauces, everyone can create their favorite version!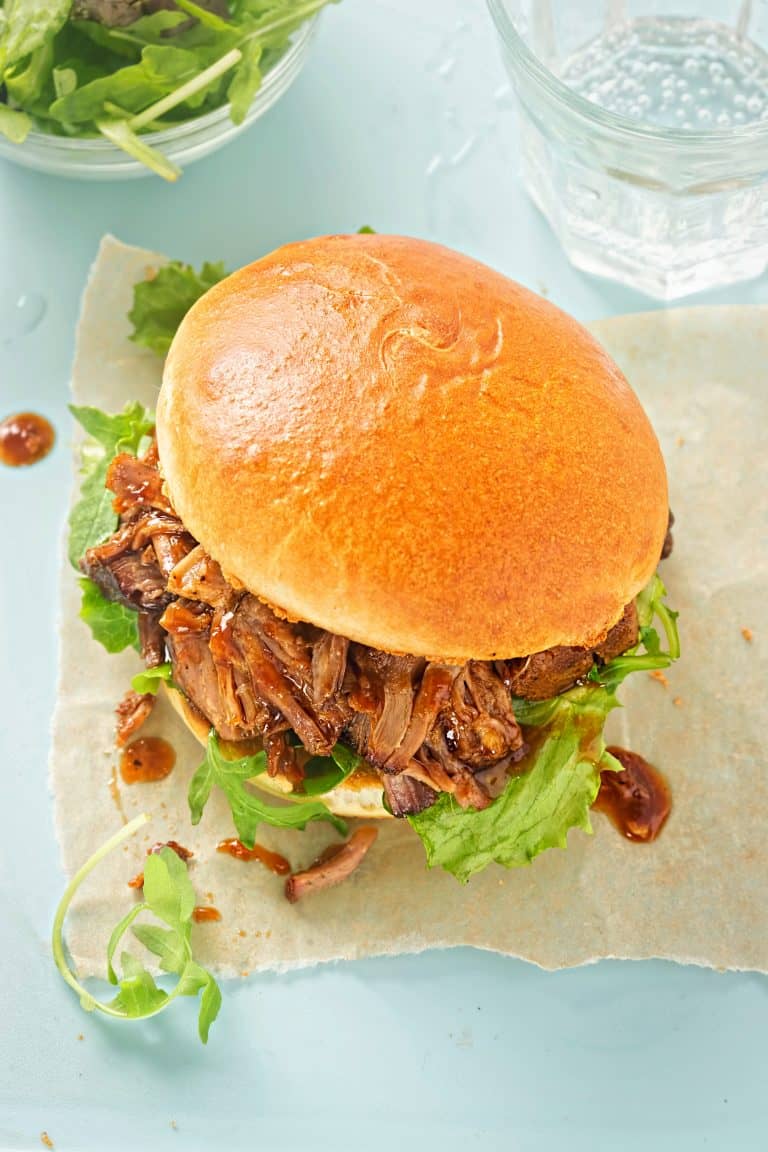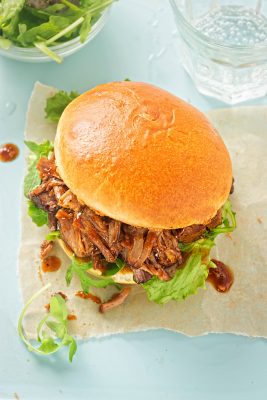 Note: The links in this post may be affiliate links.
Easiest Meal Ever
These Slow Cooker Pulled Pork Sandwiches are always a hit, it's almost a crime how easy and hands off they are to make. (Secret though, almost all of my family's favorite foods are super easy….simple is good and no fuss is even better.)
First, simply place a pork roast in your slow cooker,cover with a cup of water, and salt & pepper. Next, set the slow cooker to cook on low for 8 hours. Finally, when you're ready to eat, whip up or gather your sauces, slice the rolls, and your main dish is ready!
Because they are served with three different sauces (two of which you can probably find in your refrigerator, the other is quick to whip up), they appeal to almost everyone's taste buds. Personally, I like to use all three – BBQ, Honey Mustard, and Spicy Mayo and make it a trio.
Additional Uses for Spicy Mayo
If you have any spicy mayo leftover, it tastes amazing stirred into humus and served with pita bread or veggies!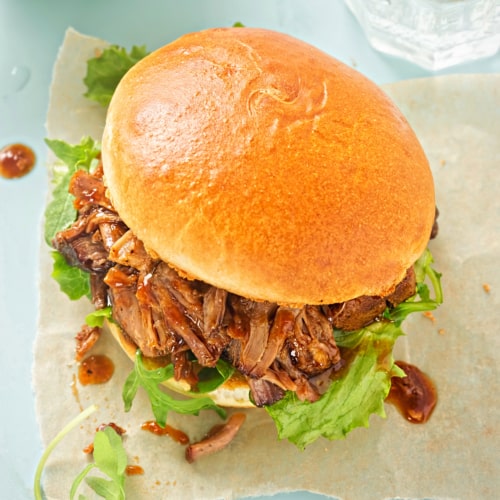 Crazy Good and Insanely Easy Pulled Pork Sandwiches
Print Recipe
These slow cooker pulled pork sandwiches are so easy, it's insane! Simply start the pork in your slow cooker in the morning, whisk together a couple of easy yummy sauces when you get home in the evening, and you are all set!
Ingredients
SANDWICHES2 pounds boneless pork shoulder

1

cup

water

1

tsp

salt

1

tsp

pepper

8

rolls for serving

Sweet rolls are my favorite!

SAUCESSpicy Mayo

6

tbsp

mayonnaise

2

tbsp

Sriracha

2

tsp

white vinegar
Prepared Honey Mustard of your choice OR:
1/2

cup

mayonnaise

1/4

cup

mustard

1/4

cup

honey

BBQ Sauce of your choice
Instructions
Aloha Pork Sliders

Place roast in crock pot and season with salt and pepper and a cup of water

Cover and cook on low for 8 hours

Remove meat from crock pot, shred, and return to slow cooker to keep warm

Slice Hawaiian rolls in half horizontally with a serrated knife

Using a slotted spoon, place shredded pork on rolls and top with sauce of your choice.

Spicy Mayo

Whisk mayo, Sriracha, and vinegar together until well combined

Honey Mustard

Whisk mayo, mustard, and honey together until well combined