The Best Christmas List Ideas For College Girls
Your Search is Over – Here are the BEST Christmas List Ideas for College Girls. (Straight from the mom of a teenage college girl!)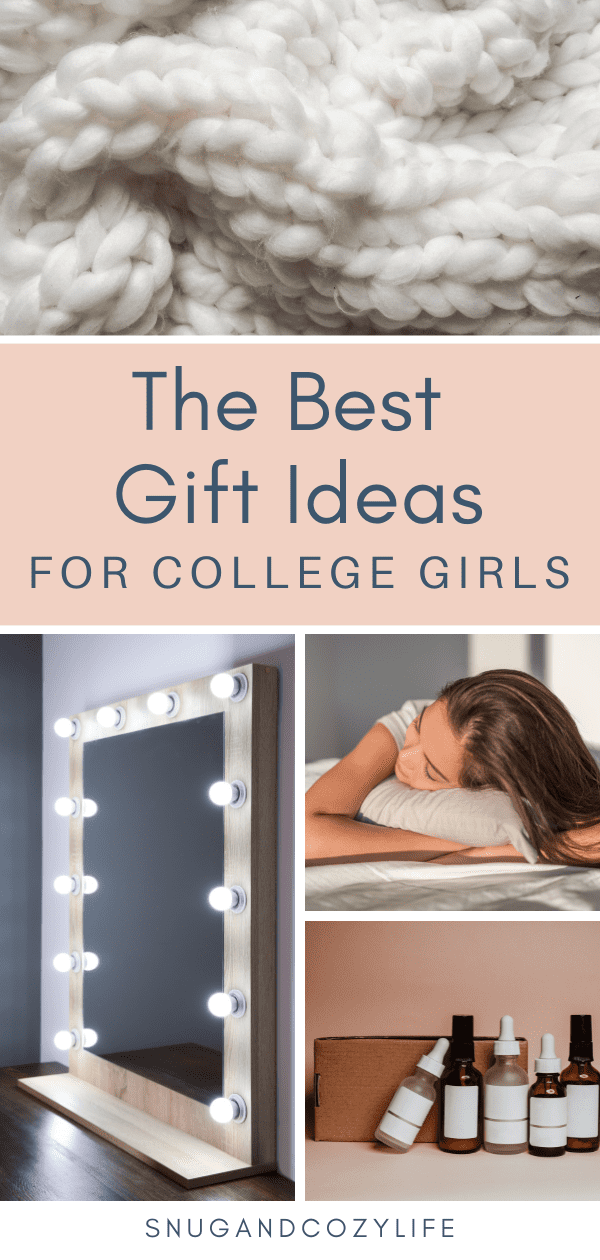 Note: The links in this post may be affiliate links.
As a mom of a teenage daughter, whose away at school, I'm often asked for advice on the best gifts for college girls. Here is a list of my best gift ideas the young women in your life are sure to love!
Essential Oil Diffusers come in a wide range of styles and serve as both a cute decoration and a great way to scent a dorm room without burning candles.
Francesca's offers a ton of cute earrings, necklaces, rings, and bracelets in exactly the styles teen girls love. Their super popular accessories also come in at a variety of price points, so it's easy to find something she'll love regardless of your budget. Etsy is also a great place to find cute jewelry, like these chunky gold hoops or this initial necklace.
Nice Hand Bag
This adorable small crossbody bag from Kate Spade is the perfect size for going out and comes in an adorable shade of pink.
While not inexpensive, these leggings seem to be on everyone's wish list this year. They come in a variety of colors, are super comfortable, and, because they will go with just about any comfy sweater or t-shirt in her closet, can be worn for days on end. 🙂 The Define Jacket will be the perfect topper for all her workout and cozy gear.
Teen girls love their coffee and this Mini-Keurig is the perfect size for college dorms.
Getting back to coffee, the Nespresso machine is perfect for creating the base for all of the fancy coffee drinks teen girls love to make. If you buy this bundle, you may be tempted to keep the Aeroccino3 Frothier for yourself because it is AMAZING – in the touch of a button, it creates frothed milk for either hot or cold coffees!
This portable phone charger is small, light, and perfect for making sure that she's always able to charge her phone, even when on the go and not near an outlet. Cell phones have limited battery life and die quickly during late nights out and having a small portable charger to stick in her purse is a good idea from a safety perspective.
This cute YETI tumbler in ice pink is perfect for carrying her hot and cold drinks to class, after-school activities, or anywhere she's on the go.
Cozy Blankets
Girls love their cozy blankets and this Faux Fur Style from Anthropologie and this Fuzzy Blanket from Ugg are perfect for the colder months in a dorm or college apartment.
This high quality water bottle is a thoughtful gift for college friends. The straw lid makes it easy to drink from during class and while on the go. Plus, you can get them in lots of different colors.
The Apple Watch is a great gift idea for young adults. It connects to their iPhone and enables them to still get notifications when their phone is tucked away during class. Plus, the fitness apps allow them to monitor their steps, workouts, and heart rate.
Fuzzy Slippers she can wear around the dorm are one of the best Christmas gifts ever and these Ugg Slippers are beyond comfortable!
A silk pillowcase will help keep her hair and skin soft and smooth while she sleeps.
Airpods are a fun and useful gift for college students, especially when living with roommates. They can watch their shows and listen to their music without having to worry about bothering anyone else.
The Most Popular Clothing Items on College Campuses This Holiday Season
Clothing is always a popular gift with college kids and here are some of the top picks:
Beauty Items That Make Great Christmas Gifts
What Is the Best Gift Card To Buy For a College Girl
If you want to buy gift cards that will make a teenage girl's day (and that she'll actually use) here is a list of some of the most popular options that make the perfect stocking stuffer:
Starbucks or Dunkin' Donuts