This list of over 50 creative stocking stuffer ideas will make a unique gift for everyone on your list – men, women, kids, teens, and co-workers.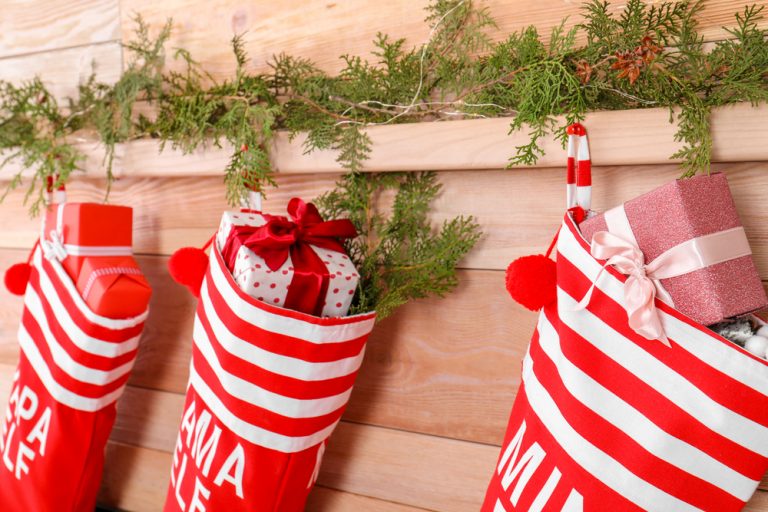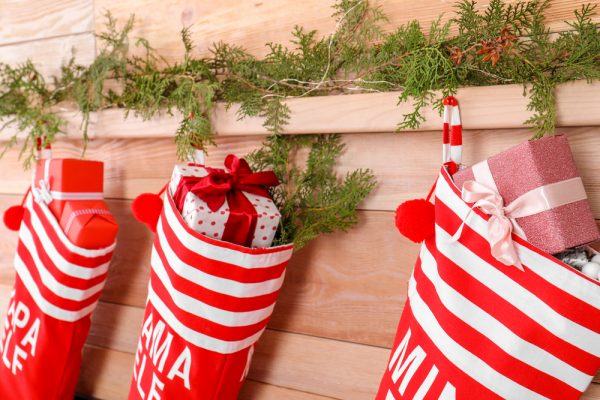 Note: The links in this post may be affiliate links.
Our family tradition is to leave our stockings out for St. Nicholas on the Eve of December 6th (instead of for Santa Claus on Christmas Eve). It's a nice throwback to a tradition I grew up with AND it breaks up the Christmas season and treats a bit for the kids.
Often, stocking stuffers consist of tons of Christmas candy – that gets eaten as a "pre-breakfast snack" and then eventually thrown away – and trinkets that are quickly forgotten.
This year, I've decided to leave a wish list for St. Nick that doesn't consist of candy and items from the Target Dollar Spot!
Here is a list of creative stocking stuffers for everyone in your family (women, men, teens, and kids) that will not be tossed aside and forgotten before Christmas dinner even starts!
Ideas for Kids' Stocking Stuffers – All Age Groups Covered
Joke Books
Mad Libs
Rubix Cube
Snowball Maker
Doodle Pillowcase – World Map
Washable Window Markers
Munchkin Fishin' Bath Toy
Creativity for Kids Paper Airplane Squadron – Create and Customize 20 Paper Planes
Mark-My-Time Digital Bookmark and Reading Timer
Cat's Cradle Book Kit
Poop Emoji Fidget Spinner
Weird But True Christmas: 300 Festive Facts to Light Up the Holidays
Unicorn Cupcake Decorating Kit
Mermaid Cupcake Decorating Kit
Magic 8 Ball
Shop for Kid's Gifts Here:

Unique Stocking Stuffer Ideas for Teen Boys – by far the hardest group to shop for!
The Driving Book: Everything New Drivers Need to Know but Don't Know to Ask
"Do Not Disturb, I'm Gaming" Socks
Sneaker Balls – Shoe, Gym Bag, and Locker Deodorizer
Kanoodle – Brain Twisting 3-D Puzzle Game
Have fun, be safe, and make good choices keychain
Shop for Teen Boy's Gifts Here:

Creative Stocking Stuffer Ideas for Women (Many of these will also work for Teenage Girls)
Facial Masks
Wine Socks
Make-up Sponge
Bath Bombs
Blanket Scarf
Ribbon Ponytail Holders
Essential Oils
Nutella Lover's Spoon
Massive Pack of Scrunchies
Hallmark Watching Christmas Movie Socks
Fruit Infuser Water Bottle
Shop for Women and Teen Girl Gifts Here:

Stocking Stuffer Ideas for Men
Hot Sauce Gift Set
Whiskey Stones
Flashlight
Sugru Moldable Glue
Boxers
Beef Jerky
Dog tail Magnets
Fillable Sriracha Keychain!
Puntastic Dad Jokes
Christmas Vacation Socks
Green Army Man Beer Bottle Opener
Sneaker Balls
Shop for Stocking Stuffers for Men Here:

Additional Stocking Stuffer Ideas for Grown-Ups
Drink Mixes
Gourmet Trail Mix
Collapsible Steel Straw with Carrying Case
The BEST Portable Red Wine Aerator
Mickey Mouse Silicone Oven Mitts
Shower Curtain Liner that Holds Your Electronics
Wine
Craft Beer
Book Lights
Shop for Even More Stocking Stuffers Here:

Where to Find the BEST Christmas Stockings
If you are looking for new Christmas Stockings this season, I cannot recommend Pottery Barn Kids' selection enough.
I purchased personalized Christmas Stockings from them over 10 years ago and they are still in pristine condition. They are also my go-to when purchasing Christmas Stockings as gifts – the quality and selection cannot be beaten.