If you are looking for a delicious cookie that is both quick and easy, look no further! These 4-ingredient almond joy cookies are chewy, delicious, and full of coconut goodness!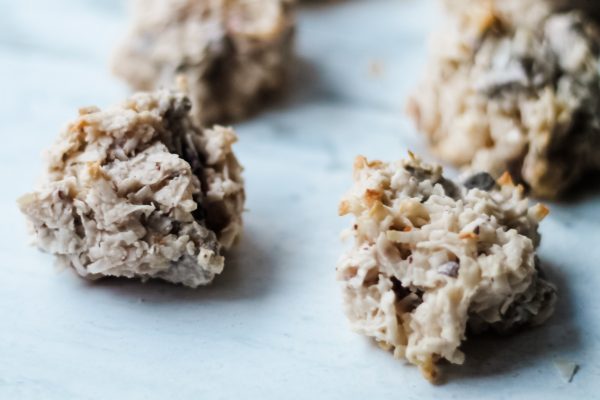 Note: The links in this post may be affiliate links.
Every year, a group of my girlfriends gets together for a "Cookie Baking Day" before Christmas. Everyone brings 3 triple batches of cookie dough and we spend the entire day baking.
This year's Cooking Baking Day fell on a busy weekend and I was scrambling to find a 3rd cookie dough. In my search for easy cookie recipes with just a few ingredients, I came across these Almond Joy Cookies.
Because we are all huge coconut fans, I knew I'd found a winner!
What You Will Need to Make Almond Joy Cookies
2- 7ounce bags of sweetened coconut flakes
1 cup semi-sweet chocolate chunks (found right next to the chocolate chips)
2/3 cups chopped almonds
14 ounce can sweeten condensed milk
A few notes on the ingredients: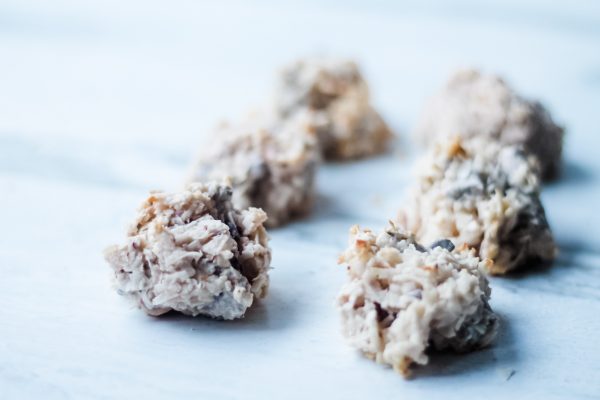 All of the recipes I found called for 2 cups of semi-sweet chocolate chips. So, that is a viable substitute for the 1 cup of chocolate chunks I used.
I went with the chocolate chunks because I 1) like how they look in a cookie a bit more and 2) thought a macaroon cookie would be better with more substantial bites of chocolate.
Keep this in mind in case you decide to do a search for Almond Joy Cookies in the future and land on another recipe: Every other recipe I found called for a 14-ounce bag of coconut. Assuming that was a standard size, I wrote "1 bag of shredded coconut" on my shopping list and proceded to purchase "1 bag of shredded coconut". I don't know if this just applies to my local grocery stores, but a standard bag of coconut seems to actually be 7-ounces, so you really need two bags to make this recipe.
How to Make 4-Ingredient Almond Joy Cookies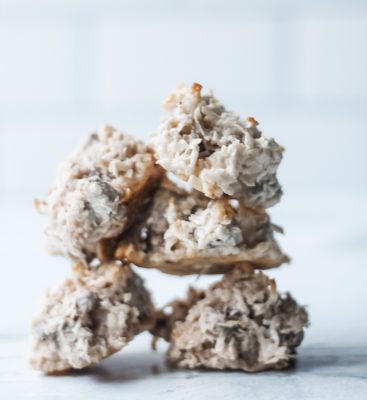 Begin by preheating your oven to 325 degrees Fahrenheit.
Next, line a baking sheet with parchment paper. (This is VERY important, I've made other macaroon type cookies and the bottoms will get very dark/burn if you place them directly on a cookie sheet.
In a large box, mix the coconut, chocolate chunks, almonds, and sweetened condensed milk. I used my kitchen aid to mix the ingredients because I was making a triple batch but, I believe that if you were making a single batch and didn't want to drag out your mixer, a wooden spoon would suffice.
Next, scoop one-inch mounds of dough onto your parchment paper-lined baking sheet.
Finally, bake the cookies for 12-14 minutes, until the coconut is just starting to turn a golden brown.
Once the cookies are done baking, allow them to cool for about 10 minutes on the cookie sheet before you move them to your cooling racks. They will still be soft when you take them out of the oven, and they need to "set" a bit or they will fall apart when you transfer them.
Other Posts You May Enjoy