Disney Inspired Egg-in-a-Hole with Mickey Toast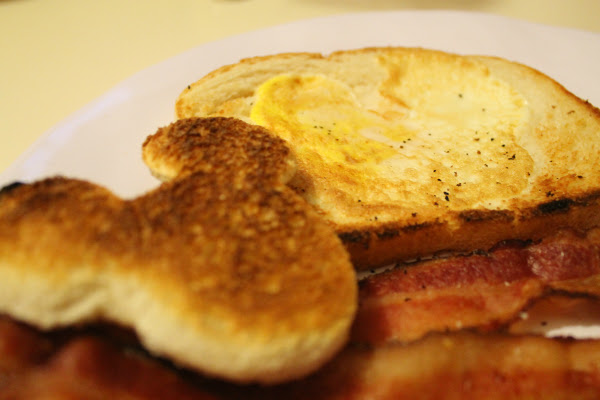 I surprised my Disney World loving kids with this Mickey Mouse egg-in-a-hole the other night and they went wild. Even at 15 and 12, they still love having "Disney Magic" added to their day.
This is a quick an easy meal to throw together when time is short, almost no planning is required. I just baked a package of bacon in the oven (400 degrees and 15 minutes) and made the eggs and Mickey Mouse toast while the bacon cooked. In less than 20 minutes, this fun meal was on the table.
Ingredients (Per one Serving)
Slice of bread
An egg
1 tbsp butter
Seasoning of your choice
Directions
Using a Mickey cookie cutter, press a hole in the center of the slice of bread.
Melt butter in a skillet over medium heat. Spread the butter around a bit and place the slice of bread with the Mickey cut-put in the pan. Crack the egg into the Mickey hole and sprinkle with your favorite seasonings.
Cook until the egg is set on the bottom, usually about 1 ½ – 2 minutes. Using a spatula, flip the bread over and cook for about another minute on the opposite side. (If you do not want "runny" yolk, break the yoke prior to flipping the bread and cook an extra minute on the second side.)
Added Bonus – Mickey Shaped Toast
Toast the leftover Mickey shaped bread pieces (a toaster oven works best for this) and add them to your plate for additional Disney appeal!