Everything You Need to Know About the Instant Pot
Instant Pot recipes seem to be popping up everywhere these days. If you're not quite sure about what exactly an Instant Pot is, why you need one, or are on the fence about buying one, keep reading! We'll walk through what an Instant Pot does, the best model for your family, and just how quickly they really cook your meals.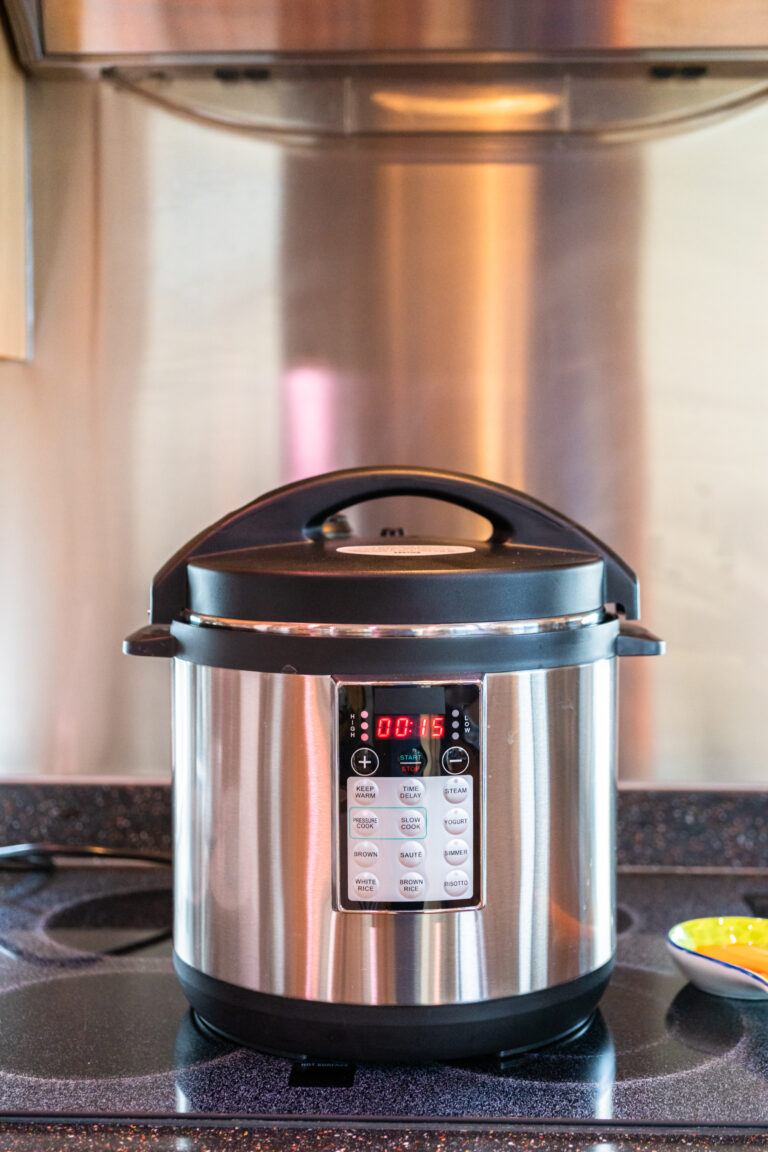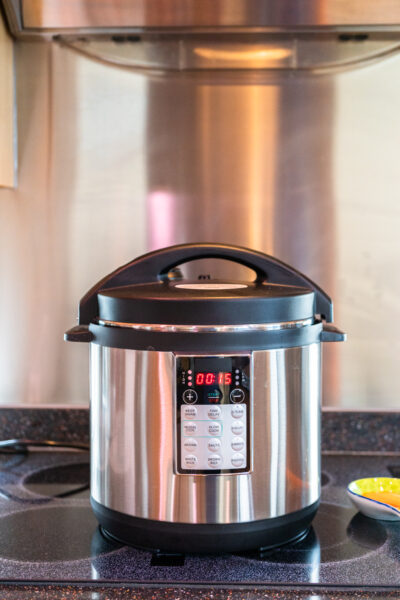 Note: The links in this post may be affiliate links.
What Exactly Is an Instant Pot?
Short answer – an Instant Pot is an electric pressure cooker.
Back in the day, people would use traditional pressure cookers to tenderize less expensive meat pieces and recreate the "slow cook" taste in less time. Awesome concept but today, many cooks are intimidated by the hissing sounds they make along with the potential of having it explode.
The Instant Pot is the perfect solution if you're intrigued by the idea of pressure cooking, but the idea of a traditional pressure cooker makes you a little uneasy. It's a self-contained, electric pressure cooker that comes with a slew of built-in safety features.
The Instant Pot sits on your counter and takes up about as much space as an average crockpot. It's a "smart appliance" that is controlled through a digital interface. You enter in how long you want to cook your food under pressure, set the desired pressure level, and you're all set. The appliance automatically brings the pressure to the correct level, holds it there, and will not allow you to open the lid while it's pressurized.
Promising hands-off cooking, tender meals in less time than your slow cooker, the Instant Pot has quickly developed a large fan base.
But Does the Instant Pot REALLY Cook Things Instantly?
Claims that the Instant Pot can cook an entire meal in 15 minutes are not exactly true. When it comes to roast and stew recipes, an InstaPot is your best friend – it cooks these meals so much more quickly than if you make them in the oven or your crockpot. On the other hand, if you've heard that you can cook a chicken breast in 5 minutes or a roast in 20, that isn't exactly true.
Here's how the Instant Pot actually cooks your food:
The time stated in a recipe is the amount of time the food needs to cook under pressure. The actual amount of time before it's ready to eat is going to be longer. This is because the InstaPot needs to come up to pressure before it begins cooking your meal.
Coming up to pressure can take anywhere from 10 to 30 minutes, depending upon how full your pot is, how cold the ingredients are, and how large the cut of meat is.
Once the Instant Pot is up to pressure, that is when the countdown timer will begin.
Once the food is done cooking, you will need to wait until it's safe to open the lid.
When it comes to opening the lid after cooking, there are two options, and you'll need to read the recipe to determine which one to use.
Quick Release – With this option, you will manually release the pressure through the lid's vent. This allows the hot steam to escape (make sure you're not leaning over the Instant Pot when you do this!) and the pressure to go down within minutes. Once it's done, the lid will release, and you'll be able to open it.
Natural Pressure Release (NPR) – Instead of turning the valve to release the pressure, you're going to allow the Instant Pot to sit until the pressure releases on it's own. This process can take between 25-45 minutes, and sometimes recipes will instruct you to use NPR for a set amount of time and then perform a Quick Release.
So, no, you won't be able to cook your meals in a matter of minutes – you do have to plan for the time it takes to bring your Instant Pot up to pressure and back down again.
But, it's still a MUCH faster option for making meals like this Chicago Style Italian Beef, Corned Beef, and Cabbage, beans, or roasts.
The reason I love my Instant Pot so much is that it's hands-free cooking. I set, walk away, and wait for the meal to be done. There's no checking on the meal or stirring – it gives you time to do something else while your dinner cooks.
What Size Instant Pot is Right for Me?
The quantity of the meals you cook will help you determine which size Instant Pot is right for you. Most pots come in the following sizes:
5 Quart – This model may suit you if you're only cooking for one or two people and do not tend to cook larger cuts of meat.

6 Quart – This is the most popular size Instant Pot. It's perfect if you're cooking for an average size family (six to eight people). To give you an idea of how much it will hold, a 4 lb whole chicken would have enough room to cook in this sized pot.

8 Quart – This sized Instant Pot is great for larger families or if you cook a lot of large meals and/or larger cuts of meat.
How is an Instant Pot Different From a Slow Cooker (Crockpot)?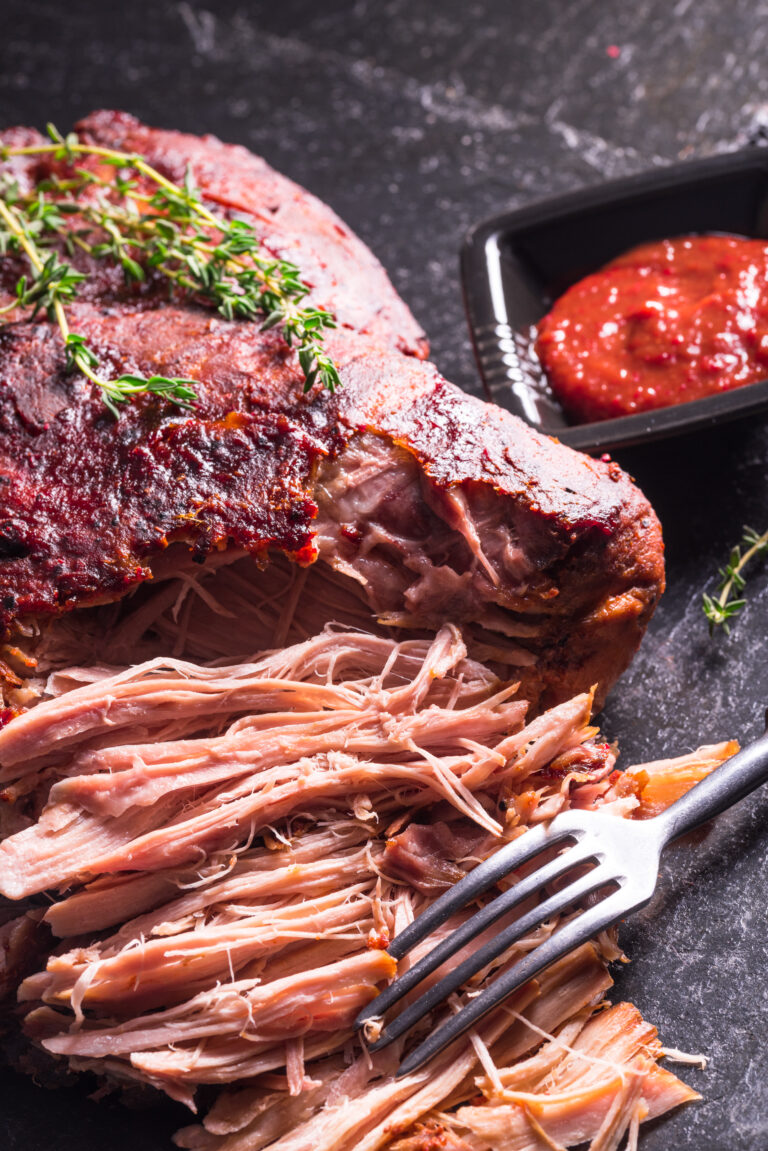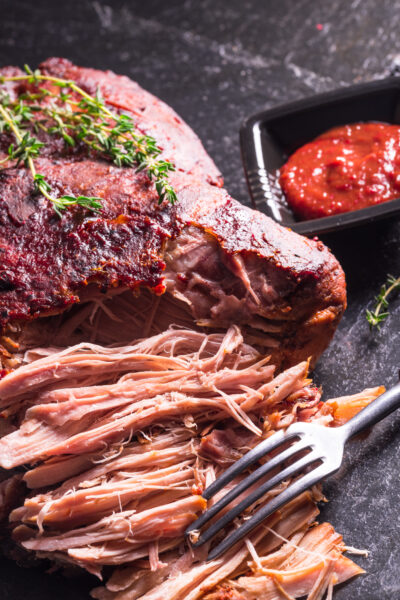 There are several areas where the benefits of an Instant Pot and slow cooker overlap:
Both are great for turning large, inexpensive cuts of meat into tender, mouthwatering meals.
They're both excellent at cooking beans, stews, chilis, and soups.
Both appliances are portable – you can take them with you on vacation, to potlucks, or wherever you want, and they'll keep your food hot until you're ready to eat.
Each appliance caters to the busy home cook – put in your ingredients, turn them on, and let the food cook itself!
The significant difference between the Instant Pot and the Slow Cooker is cooking time. The slow cooker is made to cook your meal low and slow. The average slow cooker recipe takes six to ten hours to cook. On the other hand, the Instant Pot will cook most recipes in under an hour from start to finish.
Another difference is that the slow cooker is a "one and done" appliance. The Instant Pot has a few functions, and you could actually replace your slow cooker, rice cooker, and yogurt maker with it.
You Can Cook Breakfast, Lunch, and Dinner in Your Instant Pot!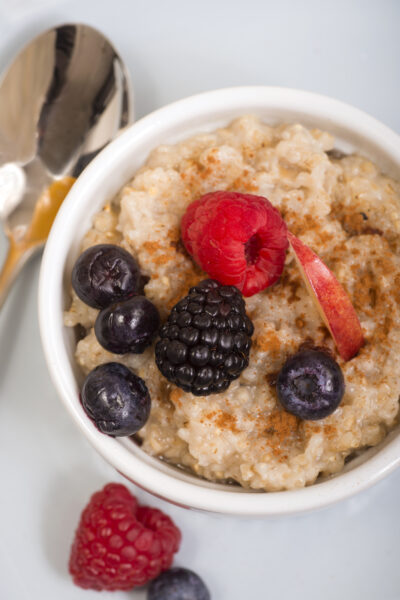 You can use your Instant Pot to cook a wide variety of meals. It's also a great option when it's too hot to turn the stove on, you want an easy way to cook while on vacation, or you want a multi-use appliance for your dorm or small kitchen.
Instant Pot Breakfast Ideas
Use the saute feature to scramble eggs or cook sausage
Oatmeal
Hard-boiled eggs
Instant Pot Lunch Ideas
Soups and stews

Best Ever Easy Green Enchilada Chicken Soup

Cozy Comfort Food Instant Pot Beef Stew

Pasta and rice dishes
Macaroni and Cheese
Instant Pot Dinner Ideas
Dinner is where the Instant Pot REALLY shines! It's terrific for making easy weeknight meals and cooking large roasts and tougher pieces of meat to tender perfection.
Side Dishes – Mashed or Scalloped Potatoes cook to perfection in the Instant Pot!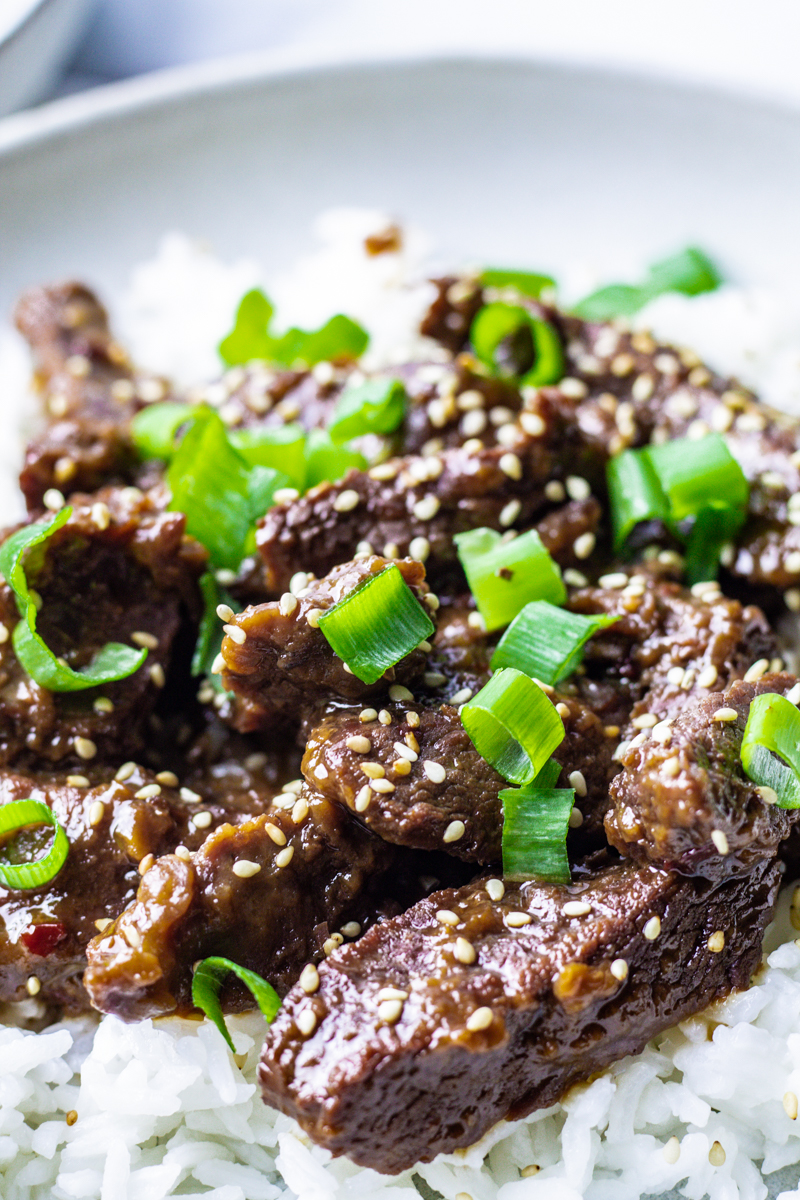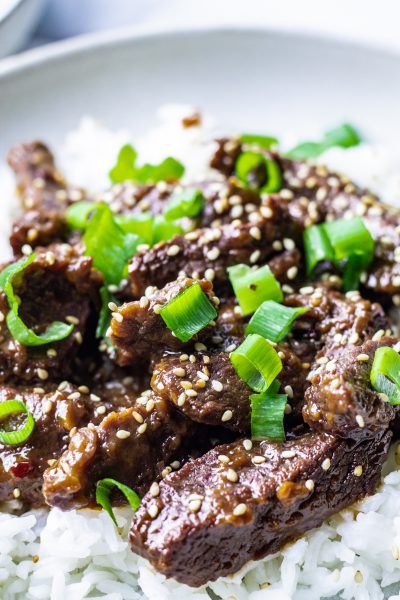 Fun Things You Can Do With an Instant Pot!
Make a Cheese Cake
All you need is a springform pan that fits inside your Instant Pot, a rack for it to sit on, and your favorite cheesecake recipe to "bake" a cheesecake right in your Instant Pot. (This Instant Pot Sling is also amazing for lifting hot items out of the appliance.) If you're looking for an easy, basic cheesecake you can make in your Instant Pot, check out this recipe from Delish.
Make Canned Jam
While the Instant Pot wasn't designed with canning and food preservation in mind, you can do a little small batch canning in it. This is perfect if you want to turn ripe fruits into jam. You can find instruction from the blog Crunchy Creamy Sweet on how to turn any fruit into yummy jam!
An Instant Pot Can Save You Time and Money
It's not always easy to find the time to cook a homemade meal. Most weeknights are too busy to spend too much time in the kitchen stirring food in pots and checking on dishes in the oven.
The end result is that we often rely on convenience foods and takeout. While those options can save us time, we end up paying a lot more for food that is likely not the healthiest option available to us.
The Instant Pot is a good option when you want to save time and money and still have wholesome, homemade meals. The fact that it's hands-free means that, while dinner is cooking, you can spend your time catching up on your "to-do" list or simply catching or breath by taking time out to relax for a bit.
Are Instant Pots Safe?
Many people (myself included!) are not comfortable with using traditional pressure cookers. The steaming, hissing, rattling, and horror stories of exploding contents are enough to make you take a hard pass.
The Instant Pot is much safer and more convenient than the standard stovetop pressure cooker models. It has a total of 10 built-in safety features that will keep you and your loved ones safe and secure. Combined, they make it almost impossible for something to go wrong due to user error or equipment failure.
With a traditional stovetop pressure cooker, it's easy to try to lift the lid while the container is still under pressure and burn yourself with the hot steam that will escape violently. The Instant Pot lid will not open until the pressure is back to normal.
Automatic pressure control and pressure regulators keep the pressure in the pot under control. This means you can't generate the kind of pressure inside your pot that could cause it to explode all over your kitchen.
The Instant Pot even has built-in sensors that keep the temperature in check to prevent you from burning your food if there isn't enough liquid in the pot to build up the appropriate cooking pressure. Instead of continuing to heat on high and burning the food inside the pressure cooker, it switches to the keep warm function, allowing you to add liquid and start over.
The Instant Pot website goes over all of the details on all 10 safety features of the Instant Pot and how they make pressure cooking safer than ever. As long as you make sure the device isn't damaged and keep the sealing ring, lid, and vent clean, cooking in this appliance does not pose a lot of danger.
How to Get Started with Your New Instant Pot
Conduct the Initial Water Test
To get comfortable with your new Instant Pot and make sure that it is working correctly, you'll want to conduct an initial water test. Instructions on how to do this can be found here on the Instant Pot website.
Find Instant Pot Recipes
There are a ton of recipe books dedicated to Instant Pot recipes. (This one is a best seller amongst beginner and more advanced users.) You can also find just about anything you're looking for on-line and I'm always adding new Instant Pot recipes to this site HERE.