How to Make the Perfect Salad Every Time!
Get the Ultimate Guide on how to make the Perfect Salad! Create a restaurant quality salad – either a healthy side or main dish every time.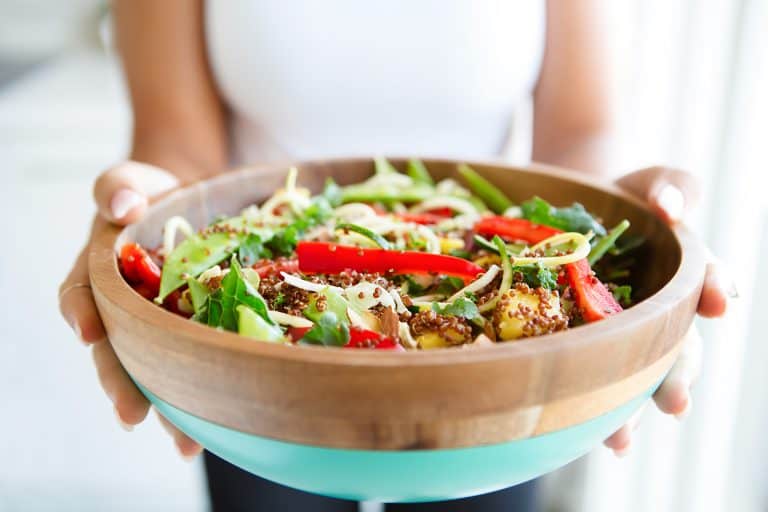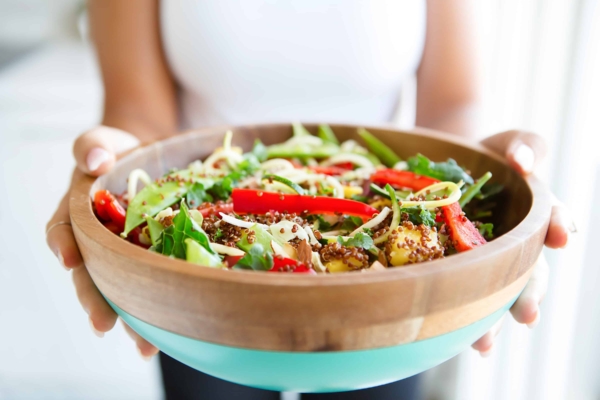 How Do You Really Feel About Eating Salad?
Salads can garner a whole slew of reactions and emotions:
You've got the "I really should have the salad" when what you REALLY want is the juicy, gooey cheeseburger (fries on the side "Yes, please!").
Then there's "ugh, I'm getting SO tired of salad…".
Then you've got the "this is so GOOD…but it's probably NO better for me than that cheeseburger" salad.
And then there's that elusive, really GREAT salad. The kind that is light, fresh, and bursting with flavor. It's no nonsense, tastes amazing, and you can feel that it's good for you with every bite.
How Do You Make the Perfect Salad?
The salad we're about to talk about falls into that last category. This salad can be served as your very own "house salad". You can also use it as a base to create almost any signature salad you can dream up.
You'll watch your guests come back for seconds and thirds of this salad.
They'll exclaim that this is the best salad they've ever had…
They'll exclaim it's restaurant quality…
They'll ask you to come to their house to make it for them again tomorrow night.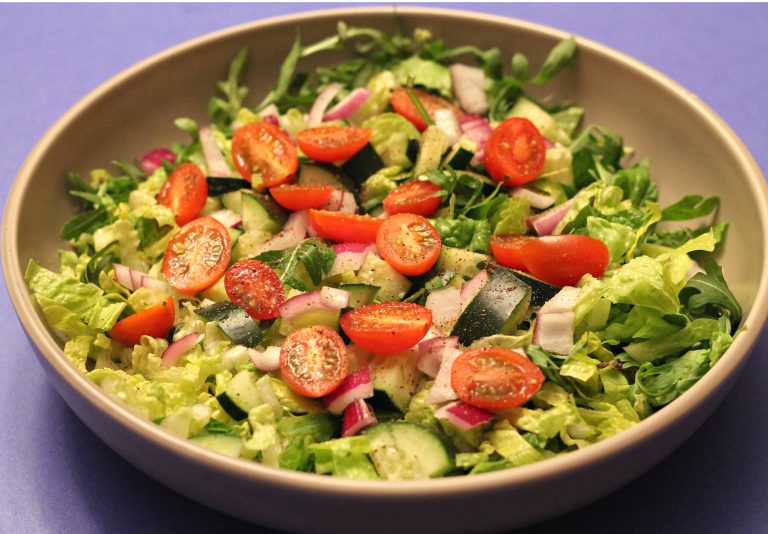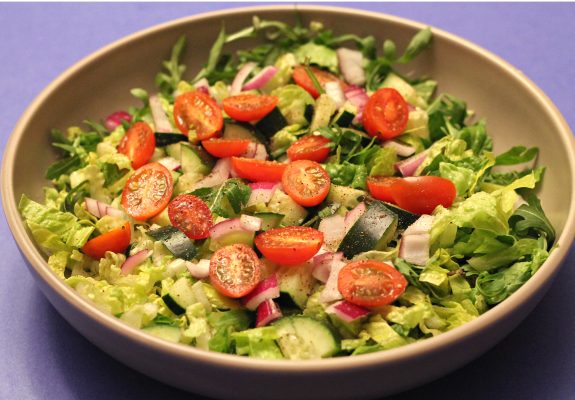 A Few Tips Before You Get Started
Before we get into how to build the salad, let's start with two very important tips to keep in mind:
Cut the ingredients into bite sized pieces. This alone will increase the yummy goodness of your salad, as you'll get more flavors in every bite. (This is the reason a chop-salad will always taste way better than a wedge salad!)
Dry the ingredients completely. Either buy your lettuce pre-washed or invest in a salad spinner. Keep a roll of paper towels nearby when you're washing veggies, so you can give them a quick but thorough dry.
Creating Your Salad
Building a great salad is an art form, not an exact science.
Once you have the blueprint, you can make this salad in whatever size you need (from an individual serving to a crowd sized salad bowl). If you hate onions, leave them out, if you really love cucumbers, add extra.
For that reason, I'm not going to give exact measurements such as 4 ounces of lettuce and 12 grape tomatoes. Take the outline and make the salad your own.
Step One: The Lettuce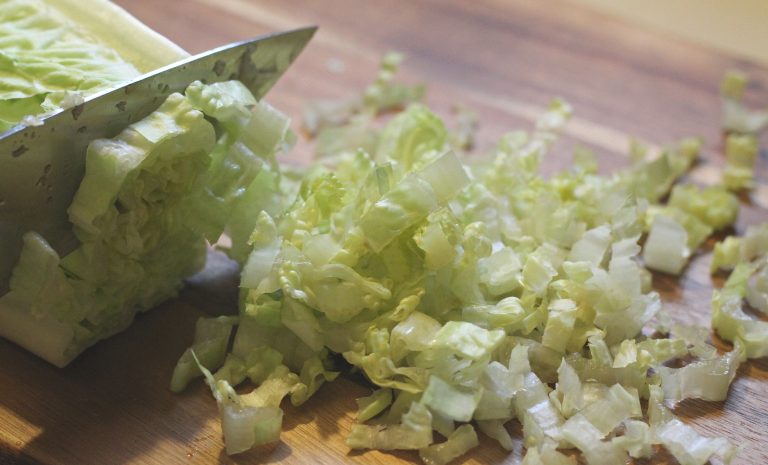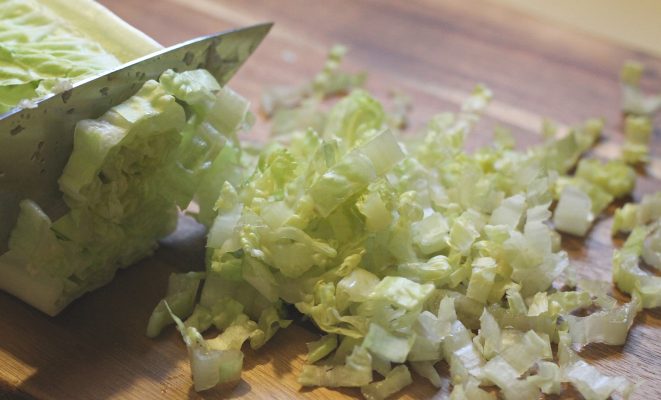 Start by slicing a stalk of romaine lettuce into thin ribbons. (The romaine lettuce will add a nice crunch to your salad.)
Next, add a leafy greens such as arugula to the bowl. (Try to eyeball a ratio of ¾ romaine, ¼ arugula.)
Sprinkle the lettuce lightly with salt. (Trust me on this one…. take a bite of a piece of lettuce you've just salted, and you will understand immediately that you are on the road to building the best salad ever!)
Step Two: The Toppings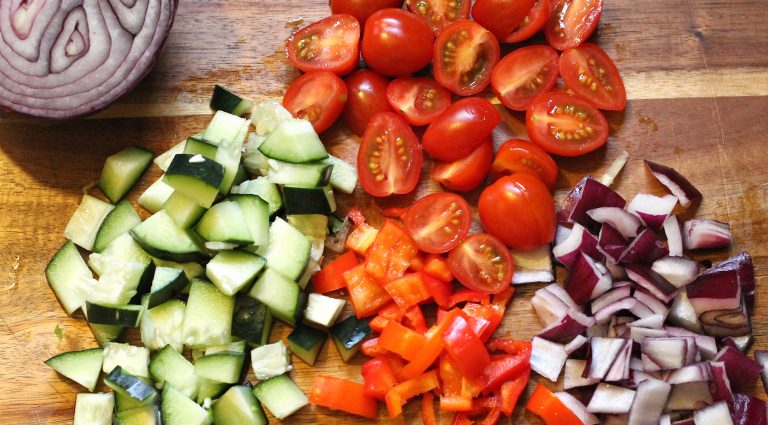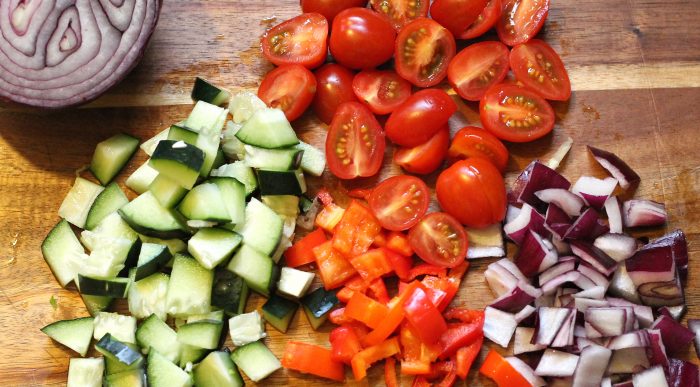 Keep the ingredient list simple:

Diced red onions (Yes, onion slices are pretty, but you will get a ton more flavor if you dice them into chunks. And, if you use red onions, they will still give a nice pop of color on your salad.

Cherry or grape tomatoes, sliced in half

Evenly distribute cucumbers, onions, and red peppers over the top of the salad
Top with tomatoes
Top with ground pepper to taste
Step Three: The Dressing
Light vinaigrettes work best and allow the flavors of fresh produce to shine. For an extra refreshing salad, nothing beats a light, homemade vinaigrette.
My go-to recipe is this super simple Balsamic vinaigrette:
Balsamic Vinaigrette
3 tbsp balsamic vinegar,
1 tbsp Dijon mustard,
½ cup olive oil,
A few cranks of salt and pepper from the grinder, to taste
Whisk all ingredients together and serve.
Taking it to the Next Level
If you only ever serve this salad as your signature "house salad", it will be met with reactions of delight. But, if you would like to create something a bit more hearty, this salad makes a solid base for a main dish salad such as:
Steak Salad
Greek Salad
Italian Salad
Salmon Salad
If you'd like more ideas on how to transform this salad into an awesome main dish, click here for your FREE GUIDE on how to use this base salad to create amazing "main dish" salads (plus more of my favorite vinaigrette recipes).
Other Posts You May Love