Unique Gifts That Will Make Your Favorite Wine Lover's Day
If you are looking for the perfect gift to buy for your favorite wine drinker, this list is full of fun and unique ideas! These make great birthday, Christmas, holiday, or "just because" presents for your friends and family.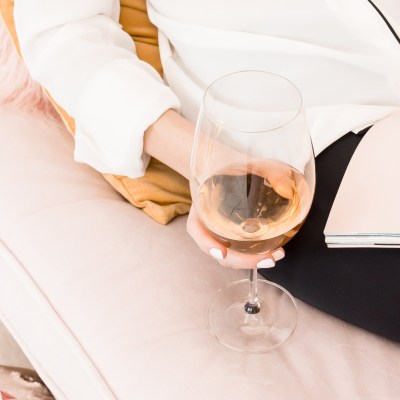 Note: The links in this post may be affiliate links.
Found – Unique Gifts for Wine Lovers
On the rare night when we have nowhere to be, I like to pour a nice glass of Merlot while I'm cooking dinner.
It makes me feel a kinship with the couples on House Hunters International who always seem to have a good bottle of wine nearby and the Tuscan vacation I dream of taking. Someday.
I'm by no means a wine snob and do not have a particularly discerning palate. A buttery chardonnay or dry pinot….the terms don't matter as much as it's smooth and tastes a bit fruity. What I do know about wine though, is that it's always a welcome gift, as are the interesting and fun accoutrements that enhance it.
Today I've put together a Wine Gift Guide with some of my favorite items to give and receive. I am certain you'll find at least one gift for the wine lover in your life. And, if you do not already own a Chirpy Bird yourself, check it out and put it on the top of your own wish list!
Chirpy Bird Wine Pourer
This unique wine topper has a hidden whistle that "chirps" when you pour the wine through the bird's beak. I came across this gem in a boutique while on vacation and couldn't resist! It amuses me so much every time I use it and I've purchased several more for friends, family, and as hostess gifts. Seriously, it will put a smile on your face everytime you use it.
Wine Socks
At under $5 a pair, these cute socks with a hidden message on the bottom are a humorous gift you can afford to give ALL the wine lovers in your life.
Wine Aerator/Decanter
This Wine Aerator is a gem! The technical explanation on how this thing works: "The multistage aeration allowing wine spread out throughly and efficiently mixes oxygen with the wine to break down the tannins which can give wine an overly astringent, bitter taste." The real life testimonial "You can run boxed wine from Trader Joe's through this guy and end up with a smooth, delicious glass of wine". To boot, it comes in a very pretty box, perfect for gifting.
Etched Wine Glasses
There is something about drinking wine out of a pretty glass that makes the experience seem extra special. Some of my favorite glasses are unique pieces I've stumbled across randomly. When I'm searching for these as a gift and do not have the luxury of shopping around, my "go-to" for pretty etched glasses is Crate and Barrel. They always seem to have something that is "just right" for my gift recipient. Right now, I'm loving these gorgeous cut-glass pieces.
These pineapple stemless wine glasses are also a favorite of mine. Pineapples are the symbol for "welcome" and I've yet to share them with a guest who didn't comment on just how pretty they are.
Wine Purses
Who knew this was a thing? The moment I spotted this clutch while visiting local winery, I grabbed it and headed to the register. It is necessary? Absolutely not. But it is super fun to throw a bottle of wine into a cute, insulated purse and walk down to a neighbor's house to share.
I was searching on-line to find something similar for a birthday gift and came across THIS upgraded version. With the capacity to hold up to two full bottles of wine AND a spout for pouring, I can imagine it being a hilarious addition to a tailgate party!
Wood Wine Trough
I have been seeing beautiful versions of these wooden wine troughs popping up lately, and they are definitely an upgrade to the plastic beverage tubs I've been using! Some of these are just really beautiful pieces that would make a unique and special holiday or wedding gift that will be loved and enjoyed for years to come.
Insulated Wine Tumblers
The Swig Insulated Stemless Wine Cup will keep your wine a the perfect temperature and because it's made out of stainless steel, it won't shatter if you drop it on the concrete by the pool! It comes in a variety of colors, so you're sure to find your favorite, and even has a handy-dandy sippy lid to prevent spills.
This is my Hallmark Christmas Movie Watching Wine Glass
This wine glass is simply an amazing gift for anyone loves to curl up with a glass of wine and watch the Hallmark Christmas movies. Get one for yourself as well and share a toast whether in the same room or miles apart!
Vintage Standing Wine Opener
This wine opener is definitely a splurge but would make a ridiculously cool addition to any wine lover's home. It looks exactly like something you'd find at a vineyard and it both beautiful and useful.
This Monogram Wine Wall Art is a fun and unique way do display your wine cork collection. Plus, at under $25, it's a right on budget gift!
These Copper Coated Wine Glasses are shatterproof (great for outdoor use and for those prone to a bit of clumsiness!). Plus, copper is the "in" metal right now and these glasses are so cute and fun to use.
Because, why SHOULDN'T you have a Yeti just for your wine……?
If you like red wine and you like to talk with your hands, you NEED this product! It really works, I swear this stuff is magic!