Crockpot Shredded Chicken – The Secret to Meals in Minutes!
Cooking Shredded Chicken in your crockpot and freezing it in batches is an easy and quick way to get dinner on your table in no time! This sanity-saver is the secret to creating endless dinner ideas, even when you are short on time!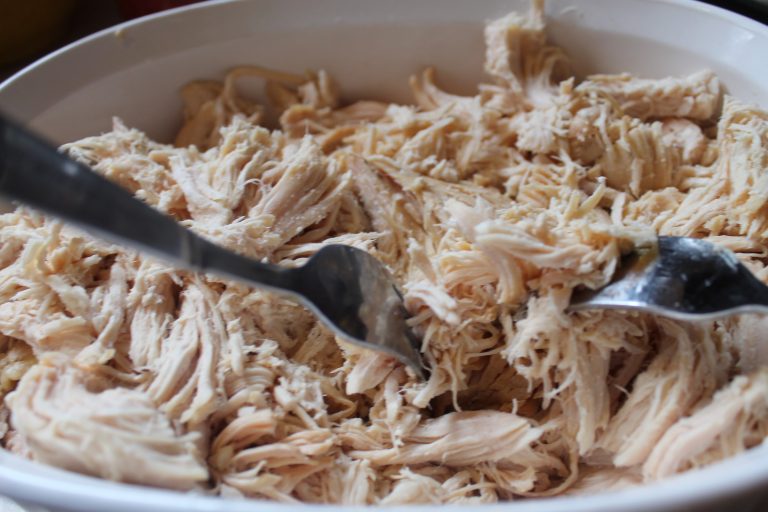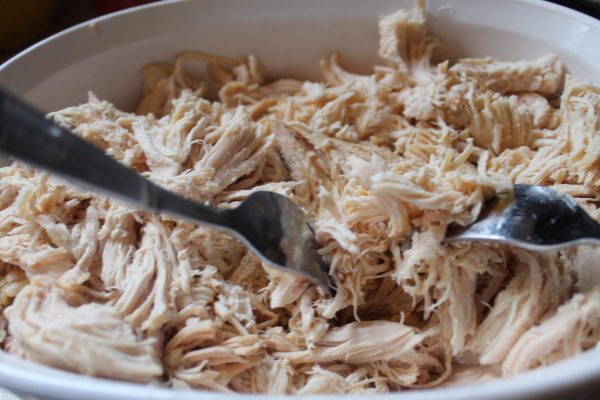 As a rule, I hate "freezer cooking".
My family enjoys fresh meals and I do not believe that most meals taste the same defrosted and reheated.
One of the few exceptions in our house is Crockpot Shredded Chicken.
The awesome thing about this recipe is that you can make as much or little chicken as your crockpot will hold. I usually cook about 4 pounds at a time (which yields about 8 cups of chicken) and divide it into ziplock freezer bags.
When you know that you will be short on time, those little bags of chicken can be a lifesaver and you can find countless ways to use them as a meal starter.
This post will teach you how to make Shredded Chicken in your crockpot for the easiest meal prep ever!
What You'll Need to Make Crockpot Shredded Chicken
Chicken Breasts (as many as you'd like, just do not overfill your crockpot)
Water or chicken broth
Salt and Pepper
How to Make Shredded Chicken in Your Crockpot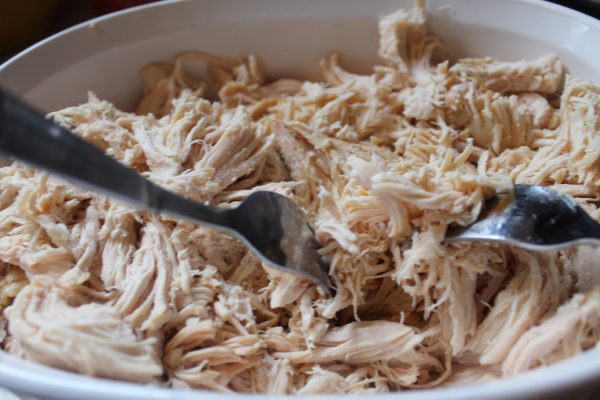 First, place chicken breasts in your crockpot and season with salt and pepper or your choice of seasoning blend.
Next, pour a cup or two of water or broth over the chicken breasts, depending upon the amount of chicken you are cooking. (For 4 pounds, I usually add a cup of water.)
Allow the chicken to cook on low heat for about 8 hours.
Transfer chicken to a baking dish and use two forks to shred. Be sure to allow the ken to cool until you can handle it without burning yourself.
Divide the chicken into freezer bags. (I've found that 2 cup portions work the best for my family.)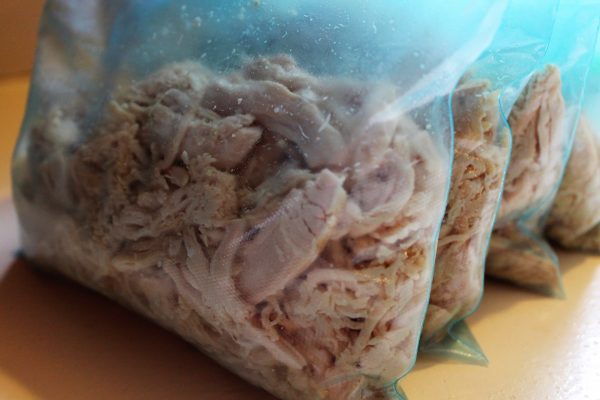 Easy Uses for Shredded Chicken
Chicken tacos
Soups
Salads
As a pizza topping
In a wrap or sandwich (Pulled BBQ!)
Awesome Recipes Using Shredded Chicken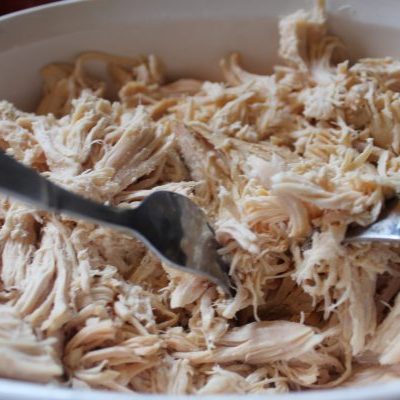 Crockpot Shredded Chicken
Print Recipe
This recipe is the Secret to Meals in Minutes!
Ingredients
Chicken Breasts

as many as you'd like, just do not overfill your crockpot

Seasoning of your choice

I usually just use salt and pepper

Water or chicken broth
Instructions
Place chicken breasts in your crockpot and season with salt and pepper or your choice of seasoning blend.

Next, pour a cup or two of water or broth over the chicken breasts, depending upon the amount of chicken you are cooking. (For 4 pounds, I usually add a cup of water.)

Cook on low heat for about 8 hours.

Transfer chicken to a baking dish and use two forks to shred.

Allow chicken to cool until you can handle it without burning yourself.

Divide the chicken into freezer bags. (I've found that 2 cup portions work the best for my family.)