How To Build a Pork Free Charcuterie Board
Pork Free Charcuterie Board – With a little bit of creativity, you can build a traditional charcuterie board with no pork. This post contains a ton of pork free charcuterie board ideas!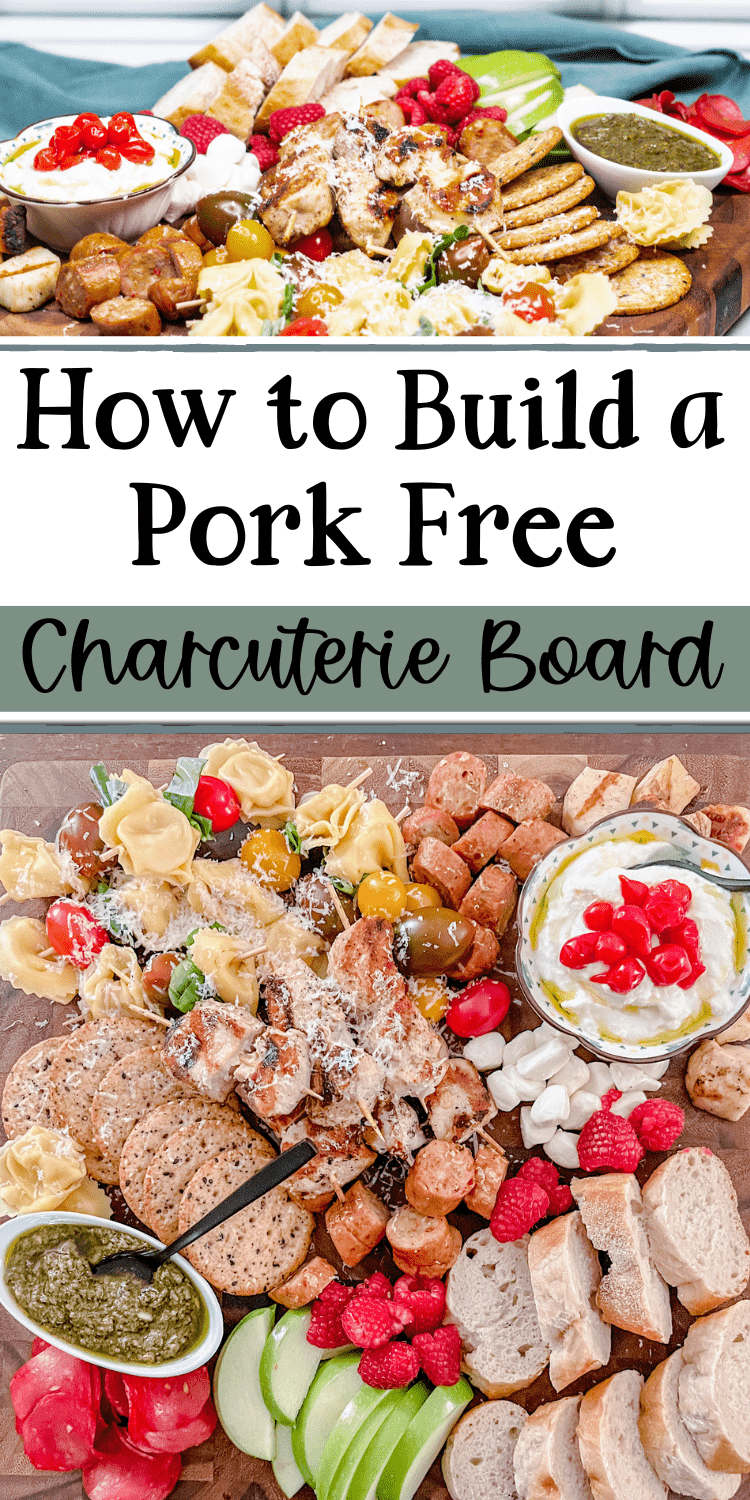 Note: The links in this post may be affiliate links.
Pork meat dominates typical charcuterie boards, with prosciutto and pork salami being the most popular types of charcuterie meat.
You can still construct a fairly traditional board without pork products that is ideal for any occasion and safe for people who don't eat pork.
Here is a fantastic illustration of a board I recently created that was a huge success and had no pork meat items. There are plenty of options to fit everyone's preferences: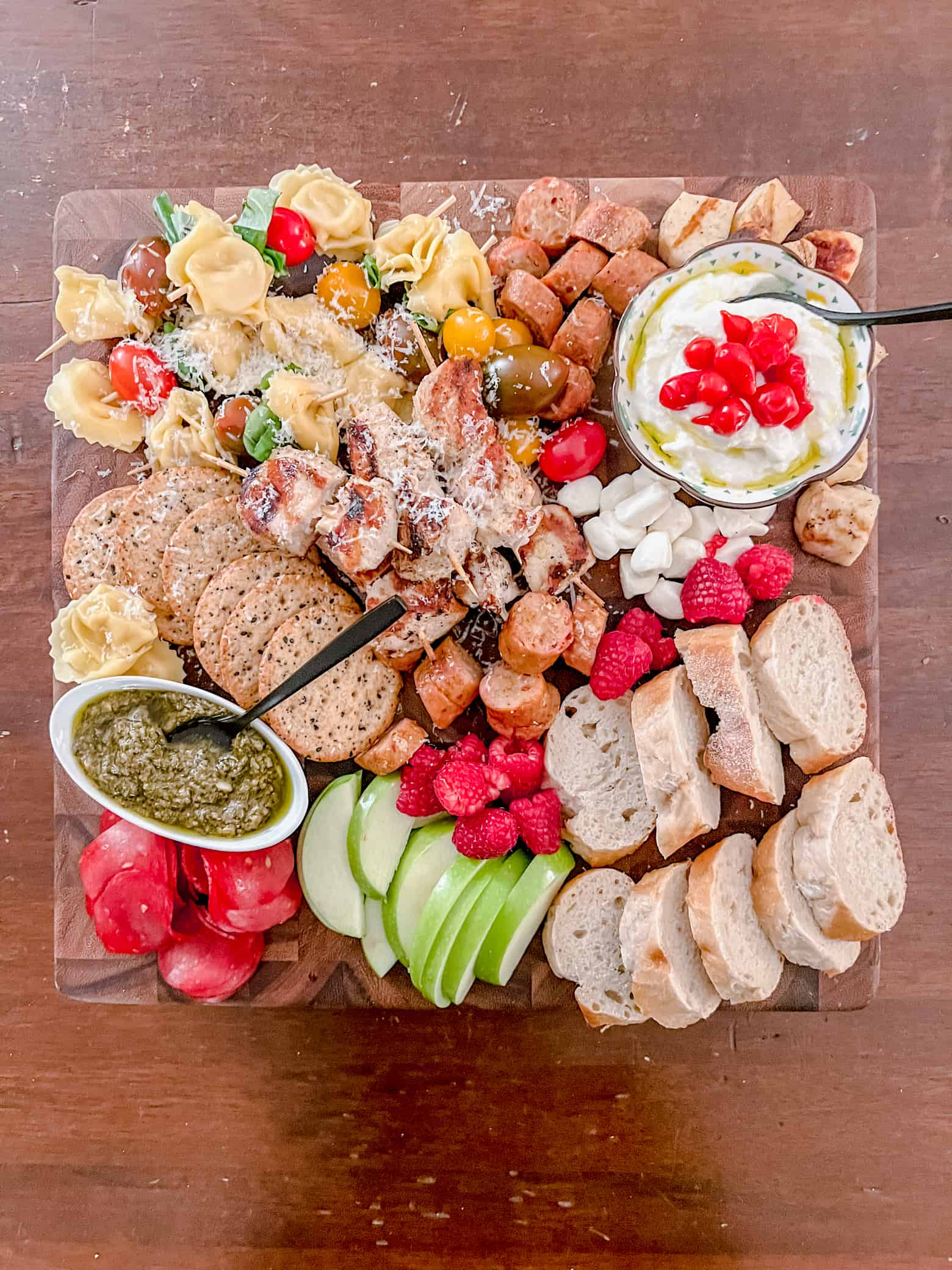 Mini Chicken Kabobs – simply skewer 3 1-inch chicken cubes on mini wooden skewers and season with salt and pepper. Cook them in a grill pan or an indoor electric grill (this one gets so much use in my house!) until their internal temperature reaches 165 degrees Fahrenheit. After you've put them on the board, drizzle them with a little bit of good olive oil and top with grated Pecorino Romano.
Slices of spicy Italian chicken sausage
Turkey Pepperoni
Skewers of cheese tortellini, basil leaves, and grape tomatoes
Baguette slices
Crackers
Sliced apples
Raspberries
Whipped Ricotta – Literally just whip ricotta cheese (this mini food processer is my go-to when I don't want to deal with dragging out and cleaning my regular food processor), drizzle with quality olive oil, and top with mini peppadews (optional).
Grilled Helium Cheese – cut into cubes and throw into your grill pan or electric grill with a little olive oil after the chicken is done cooking. This cheese maintains it's shape when heated and biting into the warm cheese cubes is divine.
Mini mozzarella pearls
Pesto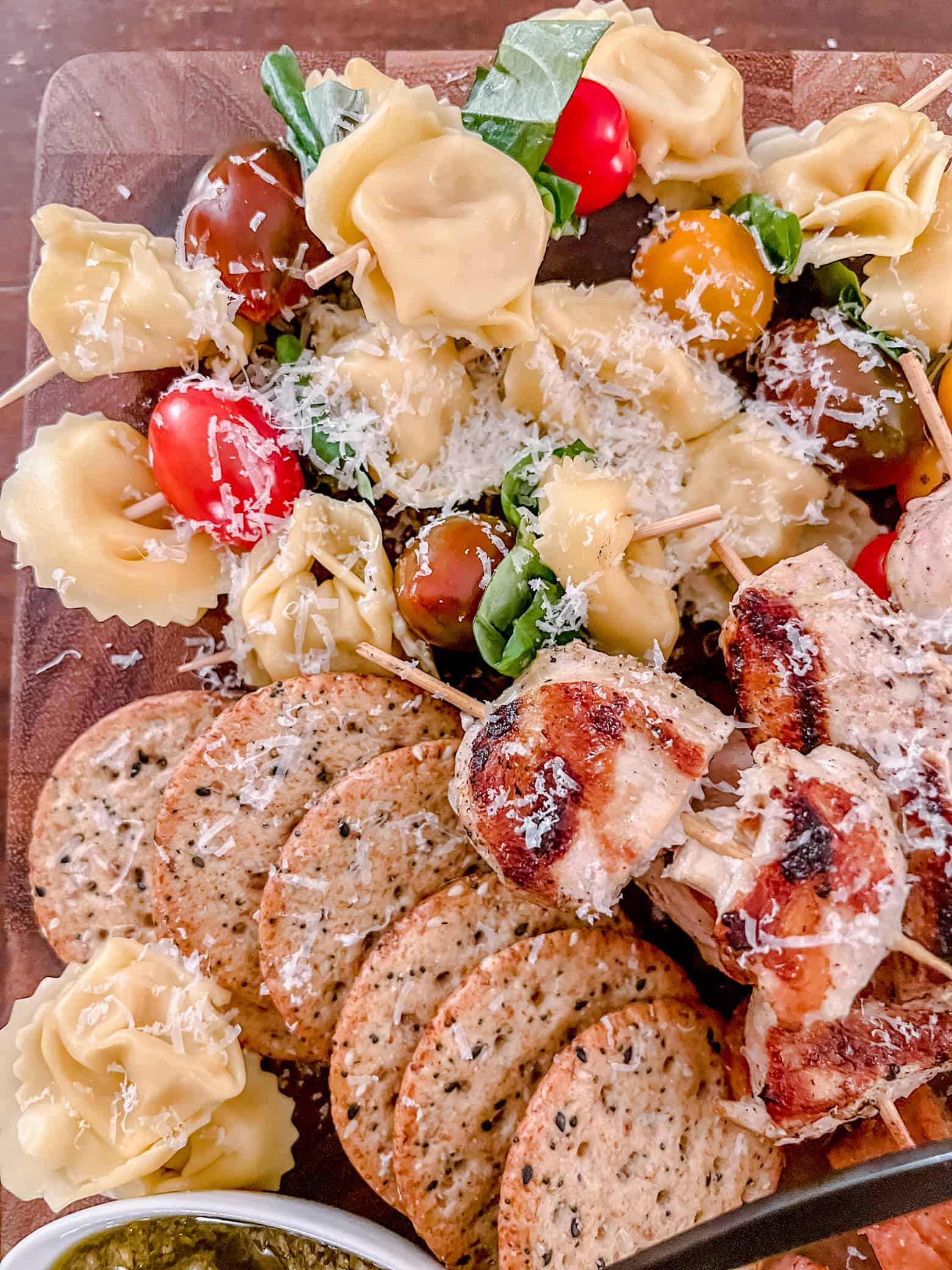 Pro Tip For Portion Sizing
It's challenging to estimate serving sizes for charcuterie boards because it all depends on how many people you're serving and whether you're snacking or having a full meal.
My rule of thumb is to buy more than what I believe I'll need from my local grocery store, prep everything in advance, and just refill the board as needed. This also allows you to lay out your board in anyway you'd like and not worry about trying to fit everything on at one time.
A charcuterie board is fantastic because you can make it however you like. Additional suggestions for items to put on your charcuterie board without pork are listed below: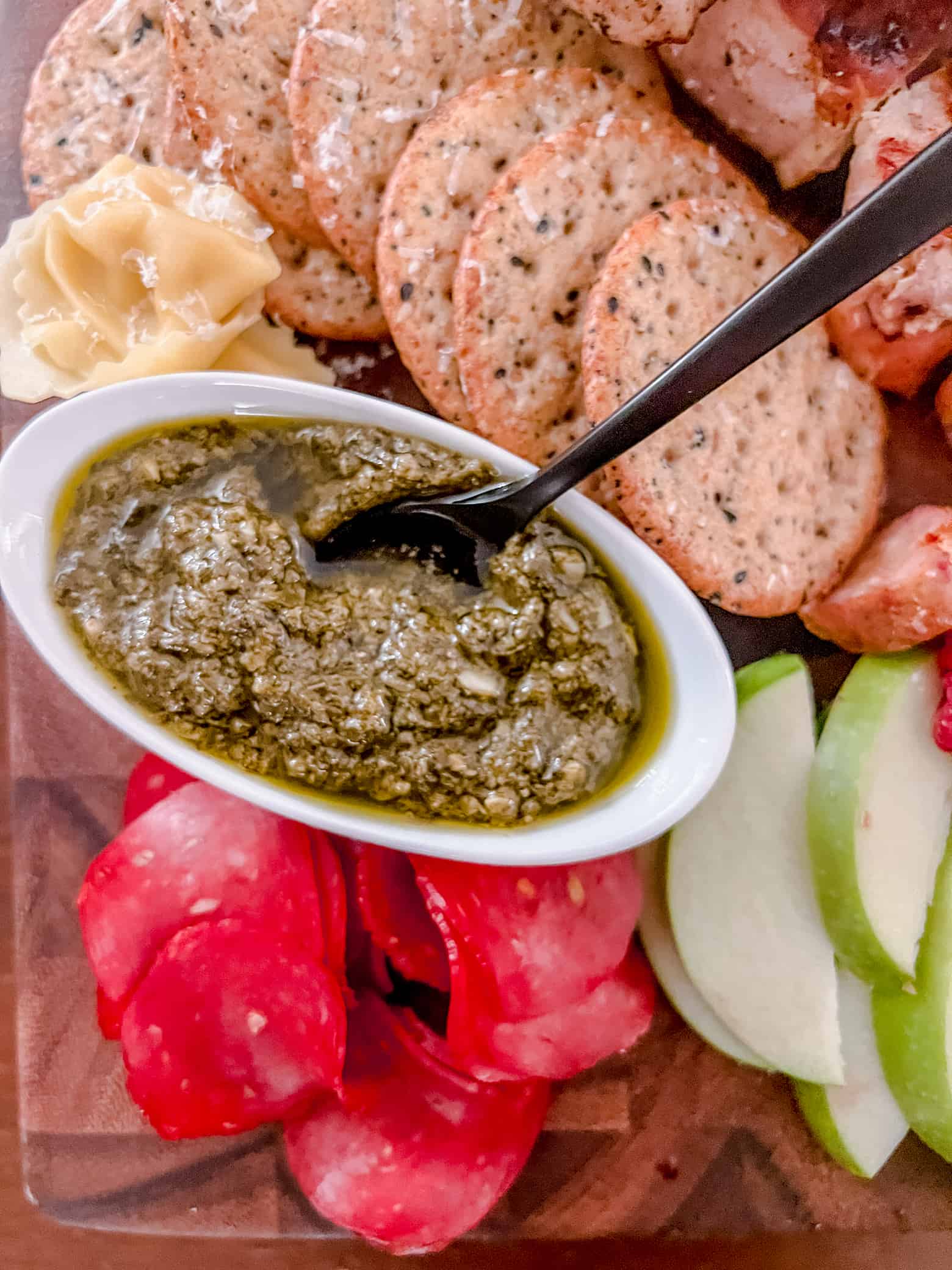 Non-Pork Charcuterie Board Meats
Turkey Pepperoni
Beef Salami
Chicken Breast
Turkey Bacon
Deli Meats – Thinly shaved roast beef, turkey breast, and corn beef are the perfect addition to a charcuterie board
Smoked Salmon
Shrimp
Sliced Beef Kielbasa
Chicken Sausage
Mini Beef Sausages
Cheese Platter Options
Offer a variety of soft and hard cheeses, like:
Brie
Aged Gouda
Cheddar
Goat Cheese
Mozzarella
Blue Cheese
Feta
Fruit and Vegetable Options
Bell Peppers
Cucumbers
Grape Tomatoes
Carrots
Pickles
Berries
Grapes
Sliced Apples
Crackers & Breads
Sliced Baguette
Pita Bread
An Assortment of Crackers
Spreads & Condiments
Mustard
Honey
Chutney
Pesto
Jam
Black Pepper Grinder
Jar of Sea Salt
It's totally possible to build the perfect charcuterie board without using pork! By offering a variety of non-pork meats, veggies, cheeses, and more, you can create a unique flavor profile on a visually appealing board that your guests will devour!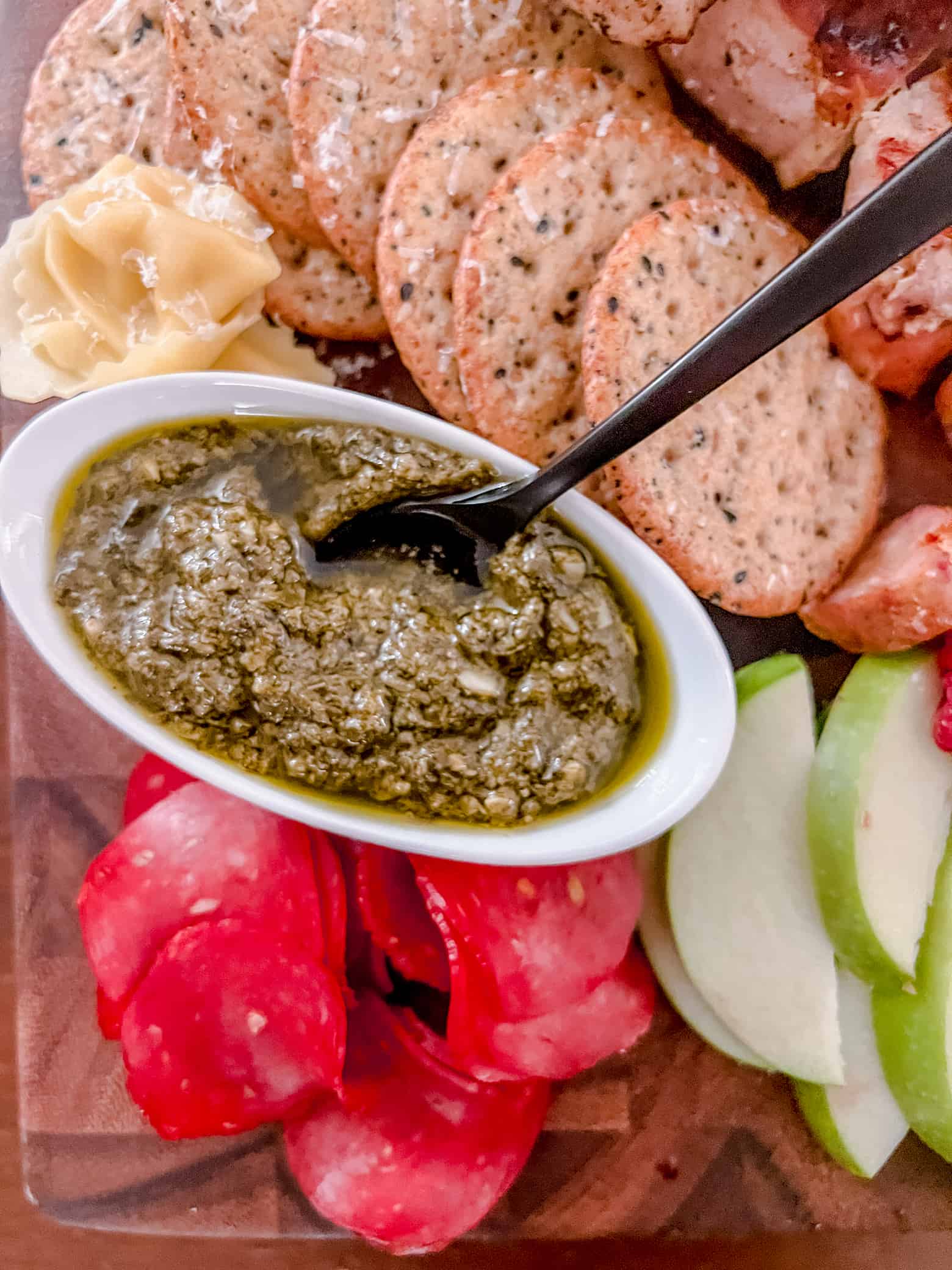 More Charcuterie Board Ideas To Inspire You