How to Build a Smoked Salmon Charcuterie Board
Take your next gathering to a whole new level with these Smoked Salmon Charcuterie Board Ideas! This board will make a great addition to any event.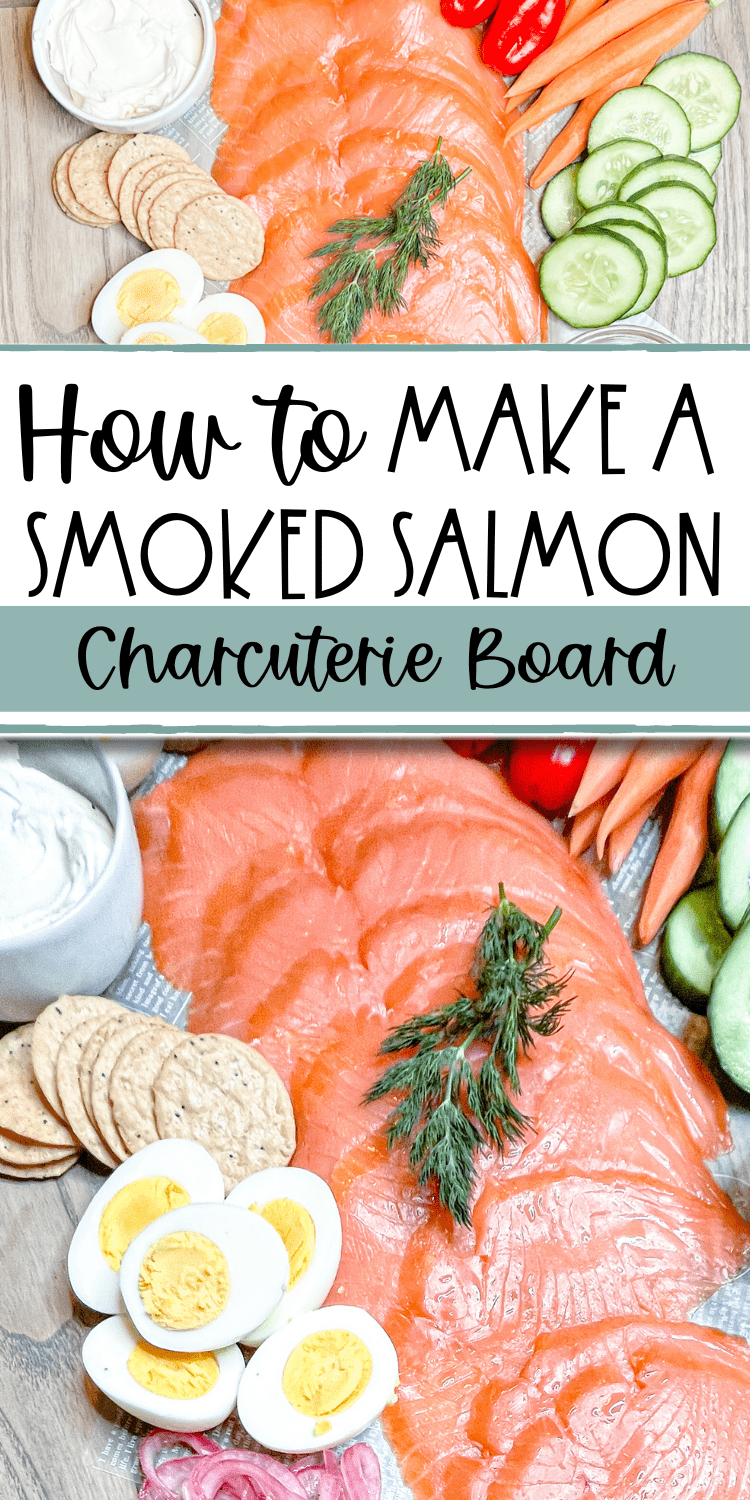 Note: The links in this post may be affiliate links.
A Smoked Salmon Charcuterie Board is perfect for everything from a casual gathering at home to a holiday party. The combination of different flavors – salmon, assorted cheeses, crackers, and other accompaniments create an appetizer platter that's hearty enough to be a main course but is also a great choice if you're looking for something different than a typical meat and cheese board. It can be assembled quickly with a variety of items you can pick up at your local grocery store and is easily customized to suit any taste.
Items Used To Create This Salmon Board
Smoked Salmon Slices
Hard-boiled eggs
Mini Brie Cheese
Mini bell peppers, cucumber slices, and gourmet carrots
Pickles
Pickled Red Onion (recipe at the end of the post)
Dill
Crostini
Assorted Crackers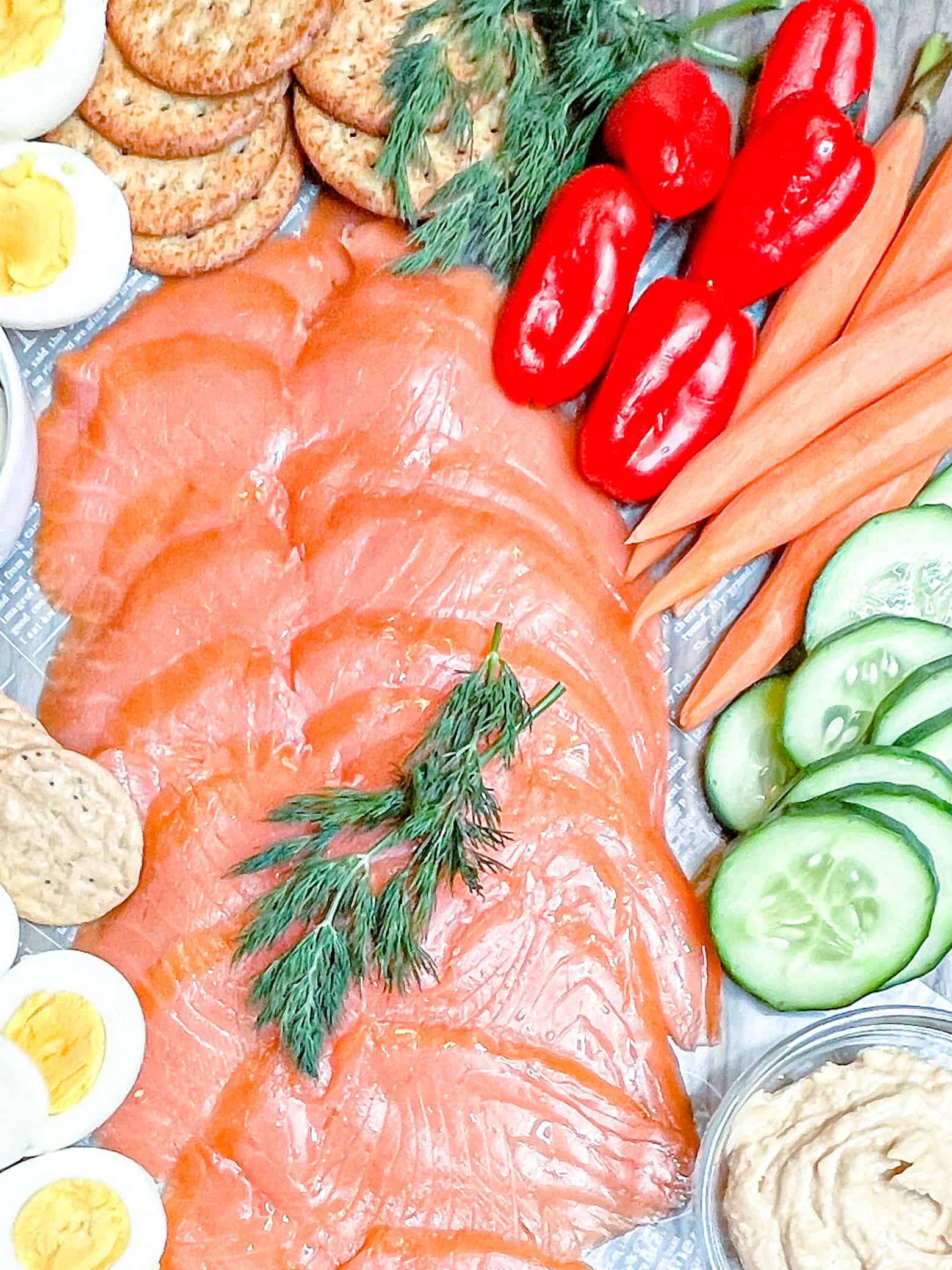 How To Assemble the Pictured Smoked Salmon Charcuterie Board
Begin by laying parchment or food-safe papers down anywhere on the board you'll be placing items, such as the salmon, which could leave grease stains on your board.
As a starting point, place the star of the show (in this case, 16 ounces of Atlantic Smoked Salmon from Whole Foods) down the center of the board. This large, beautiful board from Crate and Barrel is one of my favorites – it's large and sturdy.
Now, place a few small bowls of spreads and dips around the board.
Group the veggies together in one corner
Place any additional items like hard-boiled eggs or pickled onions down one side of the board.
Fill in large spots around the board with bread, crostini, and assorted crackers.
Add in any small items (like the pickles and mini brie) in open small spots.
Finally, garnish with fresh herbs. (Dill pairs wonderfully with salmon appetizers)
Like any charcuterie board, this one is easily customizable – here are a few ideas to get you get started creating your perfect board: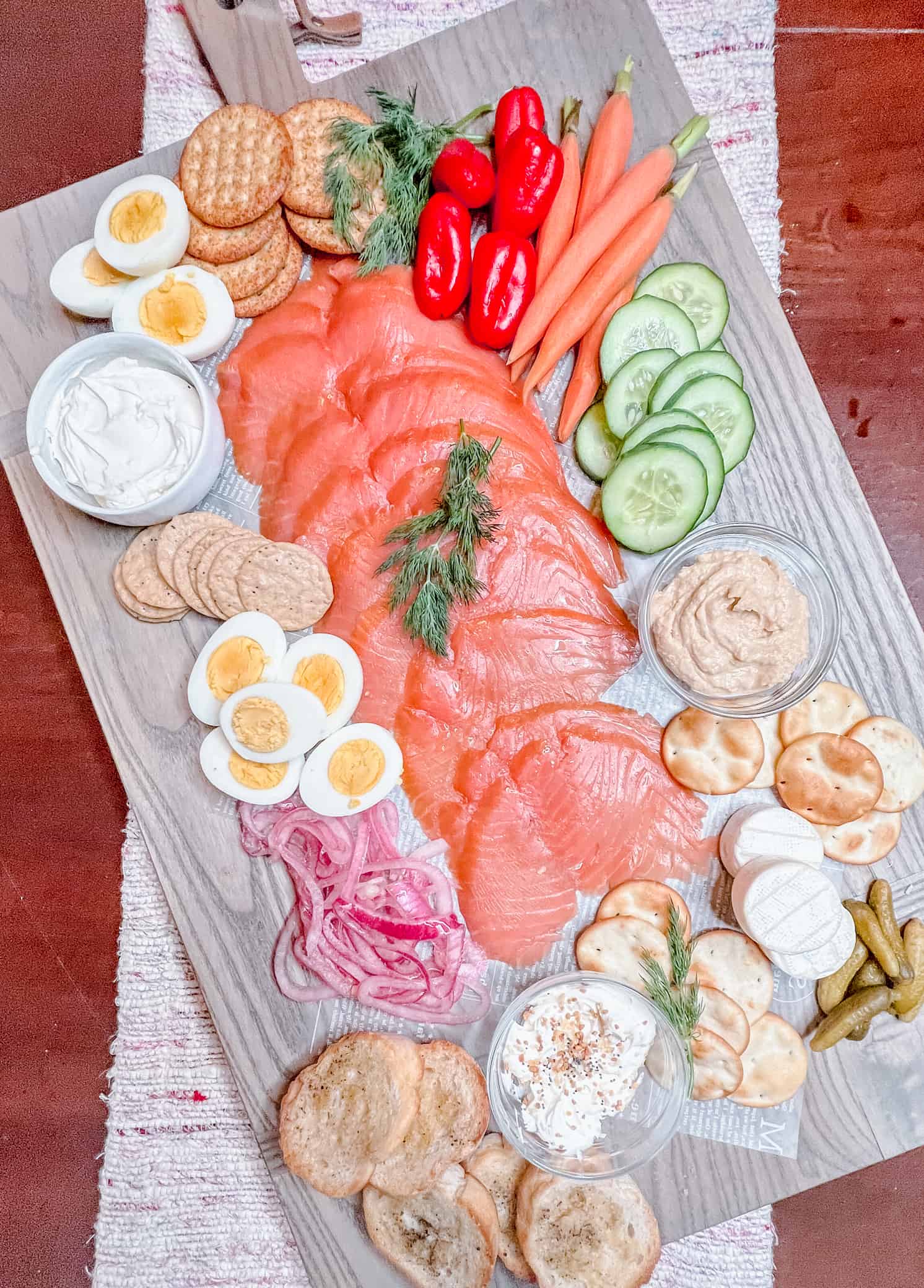 Fresh Veggies That Pair Well With a Smoked Salmon Platter
Red Onions
Radishes
Carrots
Red peppers
Cucumber
Types of Cheese That Pair Well With Smoked Salmon
Cheddar Cheeses
Gouda
Havarati
Brie
Blue Cheese
Different Kinds of Dips & Spreads That Compliment Smoked Salmon
Cream Cheese
Hummus
Tzatziki
Dijon Mustard
Cranberry Sauce
Breads & Crackers
Bagel Chips
Crostini
Baguette Slices
Assorted Crackers
Mini Bagels
Fresh Fruit
Raspberries
Blackberries
Sliced Pears
Sliced Kiswis
Lemon Wedges
Extra Items To Add Flavor & Round Out Your Board
Fresh Dill (pairs well with smoked salmon & adds a pretty pop of greenery to your board)
Hard-Boiled Egg
Black Olives
Green Olives
Artichoke Hearts
Lemon Wedges
Everything Bagel Seasoning
Nuts
Pickles
Pickled Red Onions (recipe below)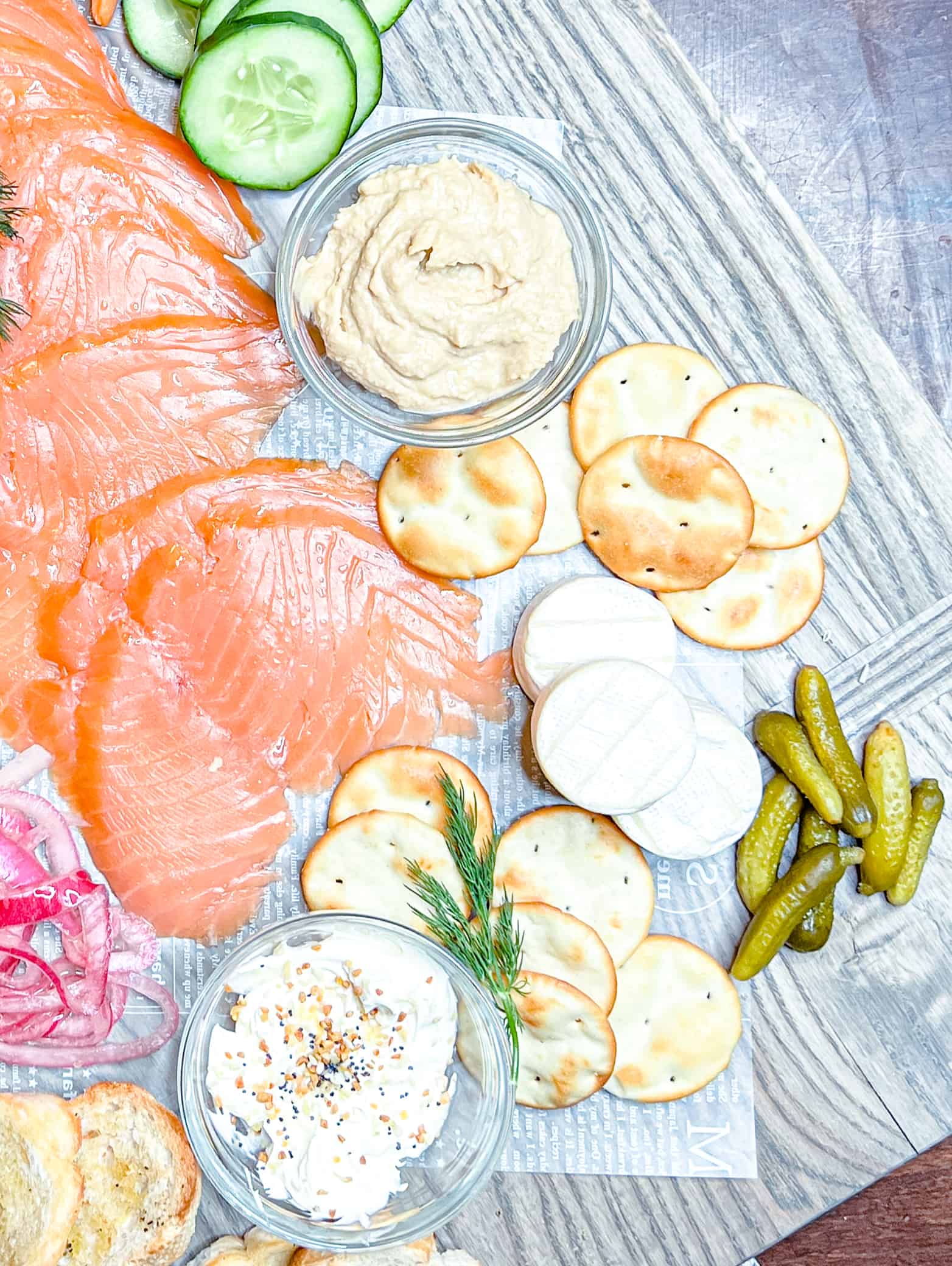 How to Pickle Red Onions
Ingredients
1 medium-sized red onion
1/4 cup red wine vinegar
1/4 cup white sugar
1/4 cup water
Directions
Begin by slicing the red onion into thin slices and placing it in a glass mason jar.
In a small pan, heat the red wine vinegar, sugar, and water over medium heat, stirring until the sugar has dissolved.
Carefully pour the sugar mixture over the onions and close the lid to the jar. Once the jar has cooled and is safe to handle, open jar and use a spoon to push any onions that aren't covered by the liquid down, so that all of the onions are submerged.
Replace the lid and refrigerate for at least 4 hours before serving.
Have fun & be creative building your own Smoked Salmon Charcuterie Board!