Home Decor Ideas to Cozy Up Your House!
Here are a ton of my favorite cozy home decor ideas to add welcoming and comforting touches throughout the house.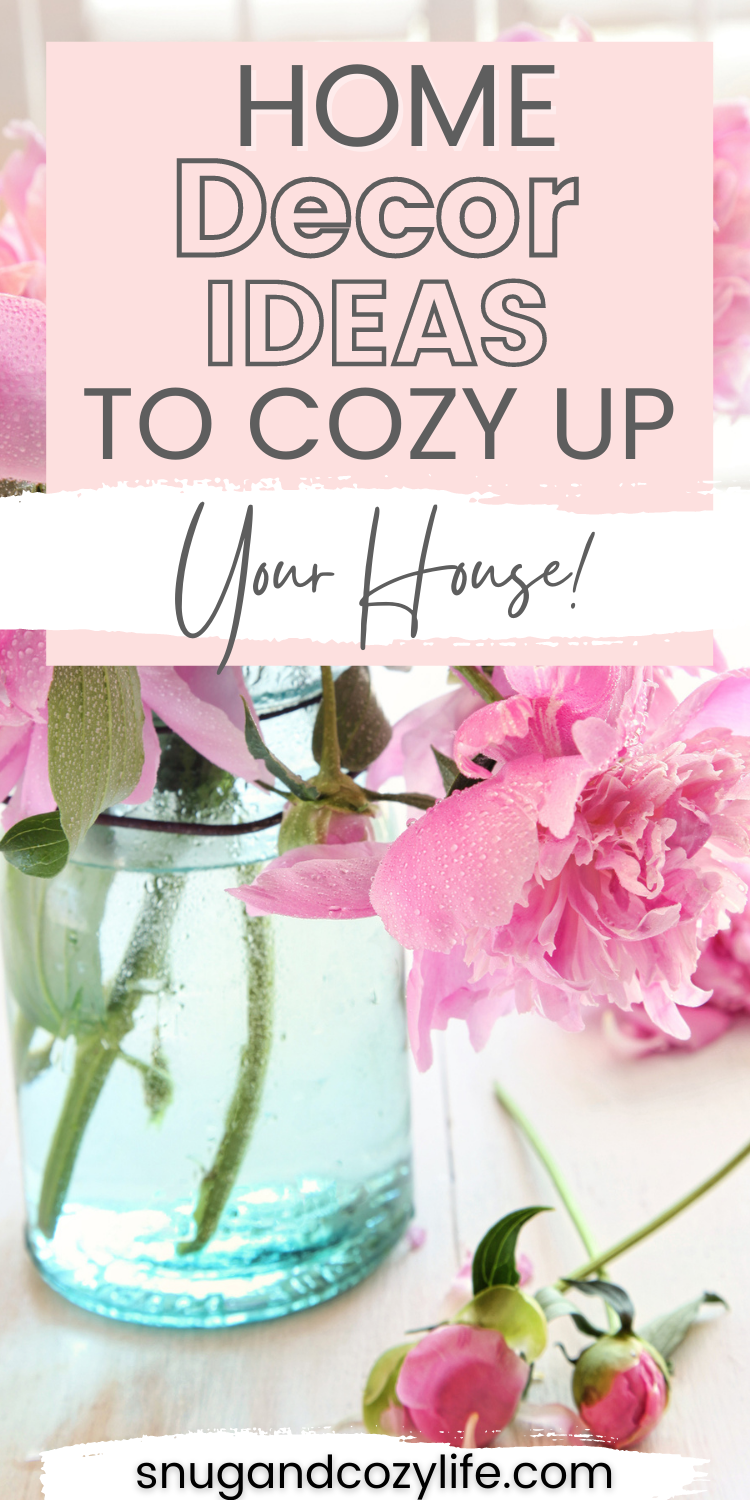 I'm always on the lookout for an easy way to make my home space feel extra cozy.
I see a lot of advice out there for updating my home with warm paint colors or improving my lighting situation by hanging new features.
But, the reality is that I'm too busy to pull ladders and paint and not adept enough at home repair to install lighting. Truthfully, I'm not even that comfortable putting a nail in my wall (thank goodness for velcro strips) so when I want up the cozy vibe in my home, I'm looking for no renovation, low effort ways to make an impact.
I've found that adding cozy touches throughout my home is the best way to make a room feel welcoming. You can make updates as the seasons change and it can be as easy as going online and finding a few new items or a quick trip to Target or Marshalls on a Saturday afternoon.
My Top Picks For Sourcing Cozy Home Decor
Ideas For Making Your Living Space Warm & Comfy
Whether you're not sure where to begin or are looking for new ideas to up the cozy factor in your home, check out some of my favorite home decor items below.
Throw Blankets
One of the easiest ways to instantly add a cozy feel is by adding blankets. You can throw them over the arm of a chair, display them on a blanket ladder, or pile them in a giant wicker basket.
Click on an Image For More Details About the Throw Blanket

Floor Lamps
Floor lamps work great in spaces where you don't have overhead lighting or the tablespace to add a table lamp. You can place a more basic lamp behind a chair for light when you want to cozy up with a good book or put one with a little more flair in a corner and allow it to serve a double purpose of both ambient lighting and decor.
Click on the Image For More Details About the Floor Lamp

Throw Pillows
Fluffy pillows are a great way to add pops of color to a room and can be changed out easily to give your home an "instant update" as the seasons or your personal style changes.
Click on an Image For More Details About the Accent Pillow

Fairy Lights and String Lights
If you love the soft glow a Christmas tree casts over your living room, fairy lights and dainty string lights are the perfect way to mimic this effect any time of year. It's also a great way to add a touch of warm lighting to a room without needing to light candles.
Click on an Image of the Lights for More Details

Table Lamps
Good lighting is an important element and pretty table lamps allow you to scatter lights throughout your home. Try to use warm light bulbs for the coziest results.
Indoor Plants and Faux Greenery
Indoor plants and fresh flowers are a great way to brighten up any room. Philendiums are super easy to care for but there are also a ton of really great faux plants on the market if you'd rather have no maintenance greenery.
These faux plants and arrangements by Pottery Barn are hands down the best I've ever purchased online.

Another nice way to bring the outdoors in is to buy a statement vase you really love. Then, every time you go to the grocery store, you can buy a floral arrangement, an assortment of greenery, or a eucalyptus bunch – you can create a totally different look each time if you'd like.
Coffee Table
A cozy living room coffee table is the perfect place to place your drinks and to display any of the following items
A stack of pretty books or a coffee table book on a topic that brings your family joy to glance through
A styled tray
Fresh or faux greenery in a beautiful vase
Area Rug
A beautiful rug in warm tones or neutral colors is another way you can add cozy elements to a room. If you have hardwood floors, they're also a functional way to keep your feet from hitting a cold floor during the cooler months.
Natural Materials
Warm wood tones, wicker, and stones in different colors are easy ways to add natural elements to your living spaces.
Small Table
Placing a side table next to your couch or chair gives you a spot to put your drinks, add a lamp, add visual interest to a room with intentional decor items.
Click on Any of the Images of These Cozy Side Tables For More Details

More Ideas to Make Your Home Cozy