How to Update Your Kitchen Without a Renovation Or Major Remodel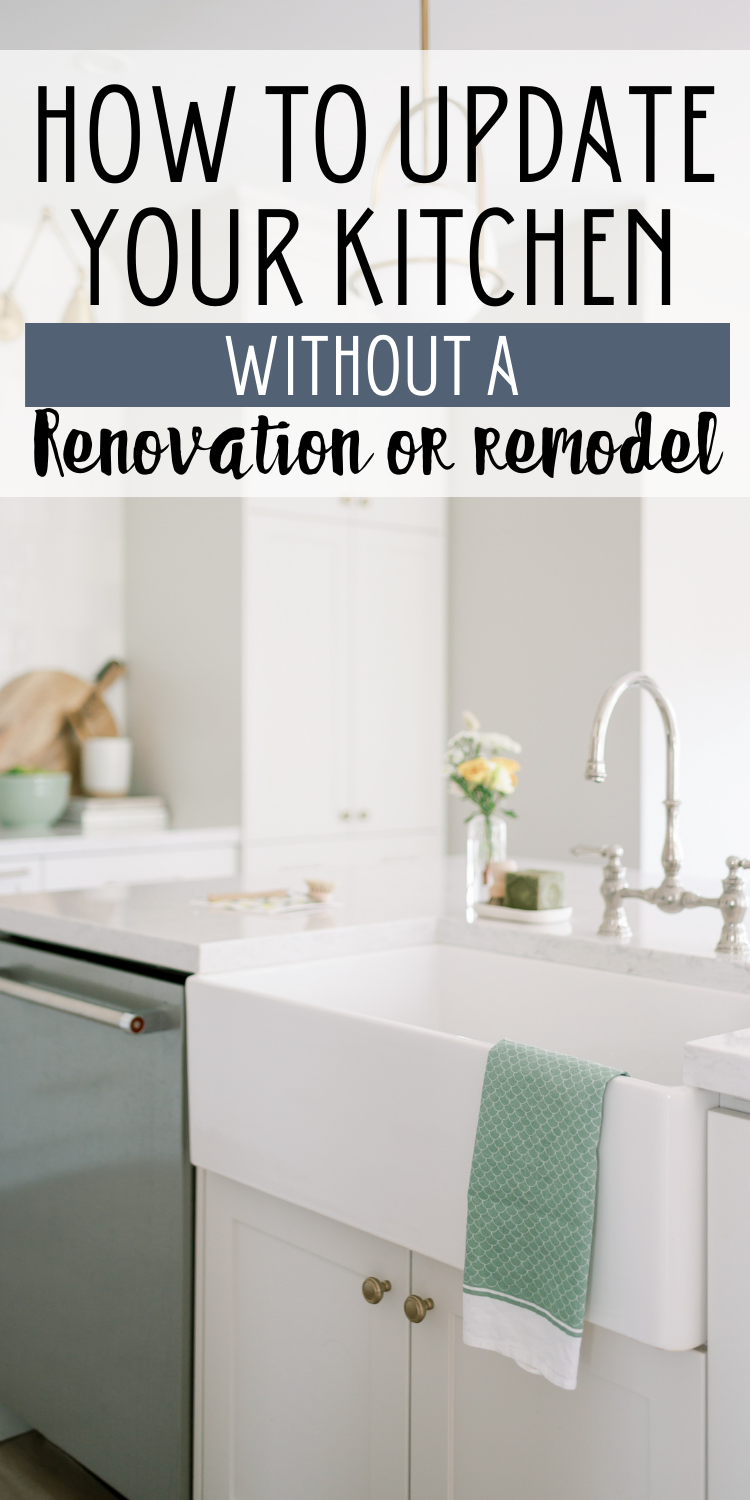 Note: The links in this post may be affiliate links.
If you're not in love with your kitchen, but a full kitchen renovation seems daunting, out of budget, or simply not a project you want to take on right now, no worries.
You can make PLENTY of kitchen updates with just a little bit of effort – no demoing required. If you'd like to give new life to your kitchen but aren't ready or able to hire an interior designer or complete a renovation project, these simple kitchen upgrades will give your room a whole new look.
No Pantry?
Add one of these Pantry Cabinets. These cabinets are available in various sizes, colors, and styles. You're sure to find one that matches your kitchen decor and provides much-needed extra food storage.
Replace Your Cabinet Hardware
Adding new hardware (handles and knobs) to your kitchen cabinets and drawers is an easy way to give them a quick update. To make this super easy is to find replacement pieces that line up with the hole placement of your current hardware.
Add a New Backsplash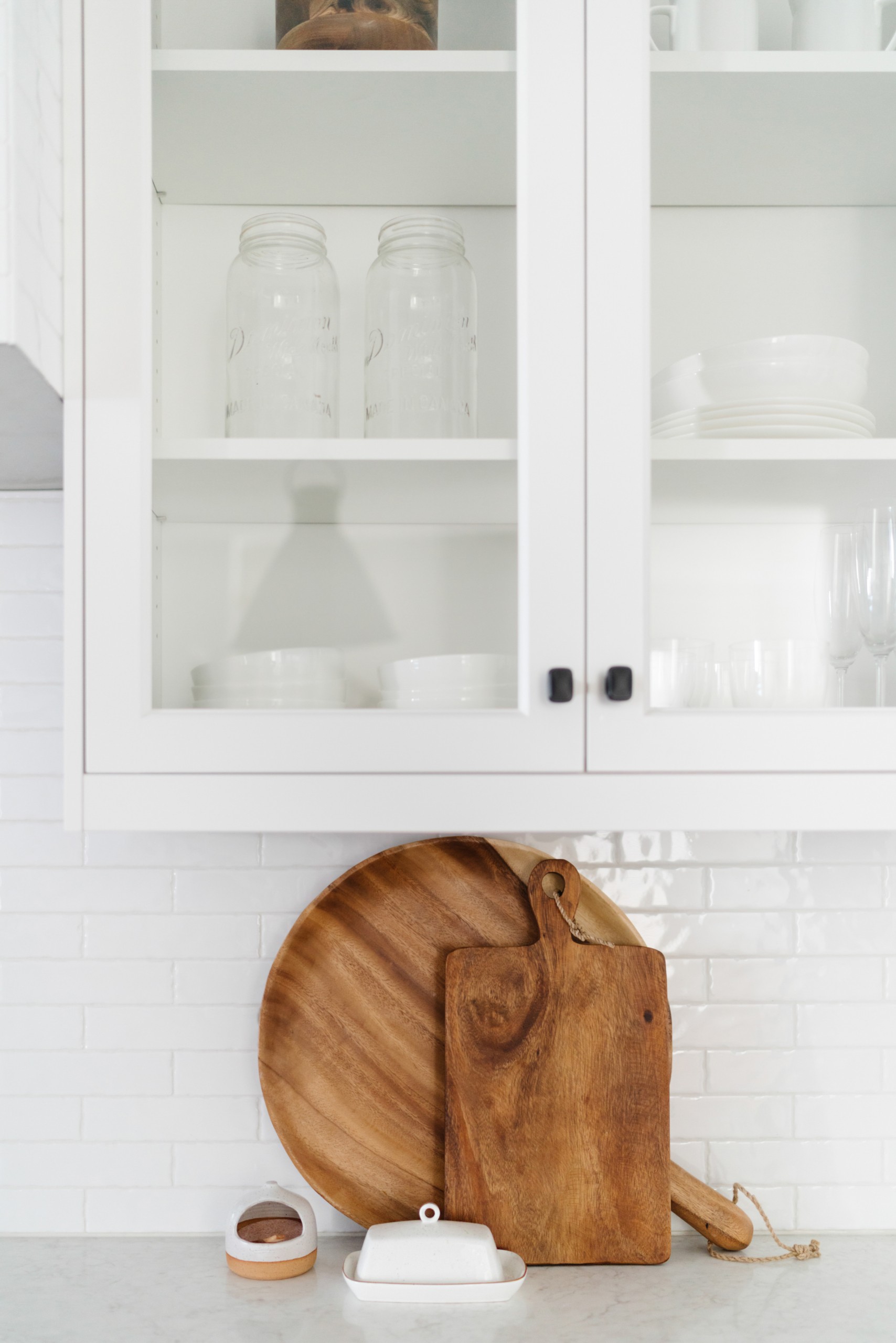 Don't Like Your Floors? Cover Them With a Spacious Rug
Covering your existing flooring with a large rug is not only stylish but can make you totally forget about the dated tiling or scratched wooden floors underneath. Yes, you may want to deal with these issues someday, but, for now, check out these washable rugs in various colors, patterns, and sizes – you're sure to find something that works for your specific kitchen.
Show Your Wood Cabinets Some Love
If your wooden kitchen cabinets have seen better days, using a cabinet and wood restorer like this one is super easy and makes a huge difference. It will help fill in scratches and bring the shine back to your finished wood, Formica, and laminate surfaces.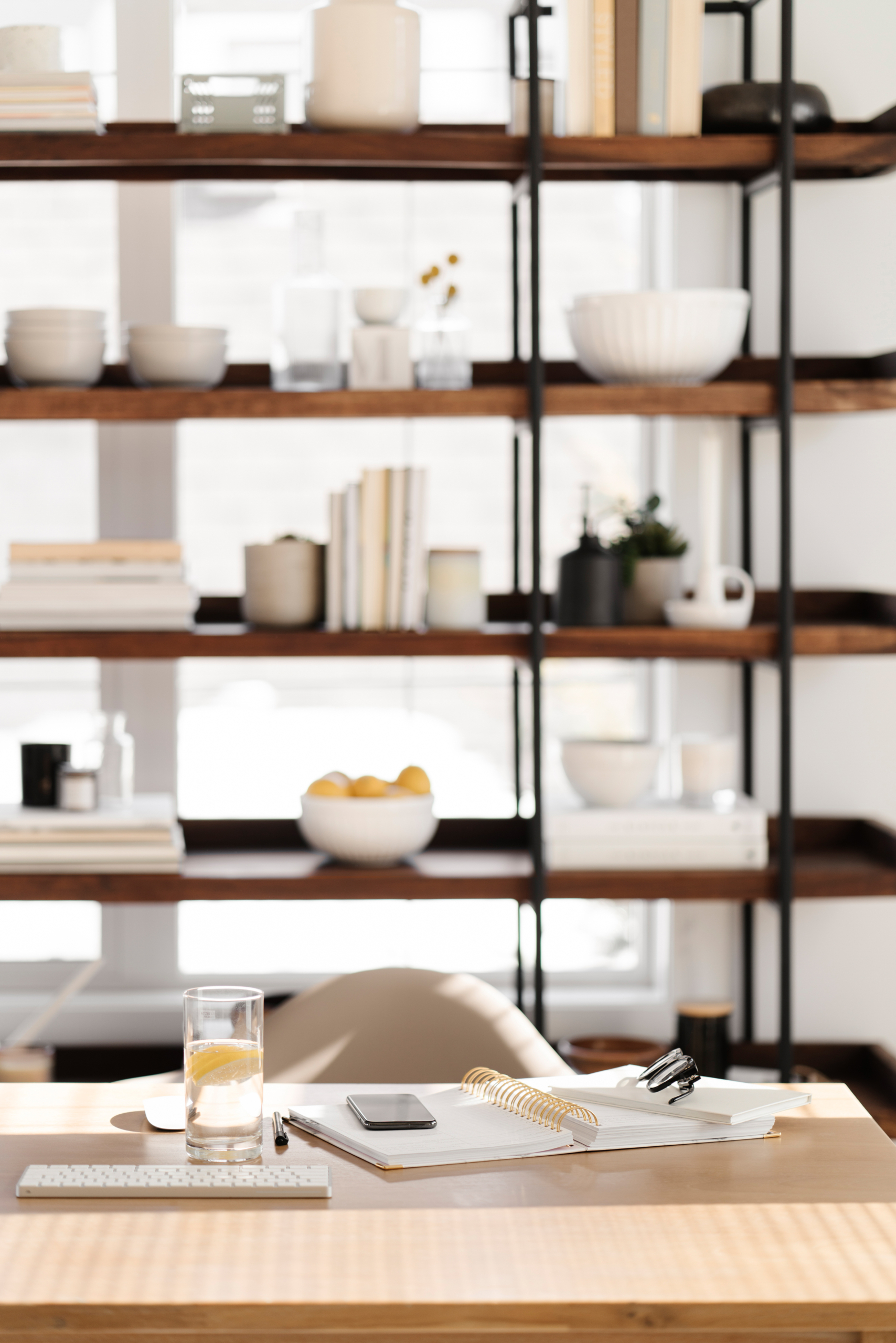 Create Instant Open Shelving with a Book Case
If you have an open wall, bookshelves are a great way to instantly change your kitchen's look! The best part is that you can style them any way you like.
Need extra storage – display your cookbooks, pretty dishes, or pots you use regularly.
You could also give your kitchen a fresh look by using the shelves to create a decorative display.
Use Large Wooden Cutting Boards or Butcher Blocks to Cover an Ugly Spot on Your Counter
If you hate your counter tops, but new countertops aren't on the horizon, adding one or two large cutting boards or butcher blocks will instantly give them a new look. Look for something large, solid, and at least an inch thick.
Stores like Marshalls, TJ Maxx, and HomeGoods usually have a decent selection of affordable boards in various sizes.
If you want to splurge, this large, heavy cutting board is absolutely gorgeous.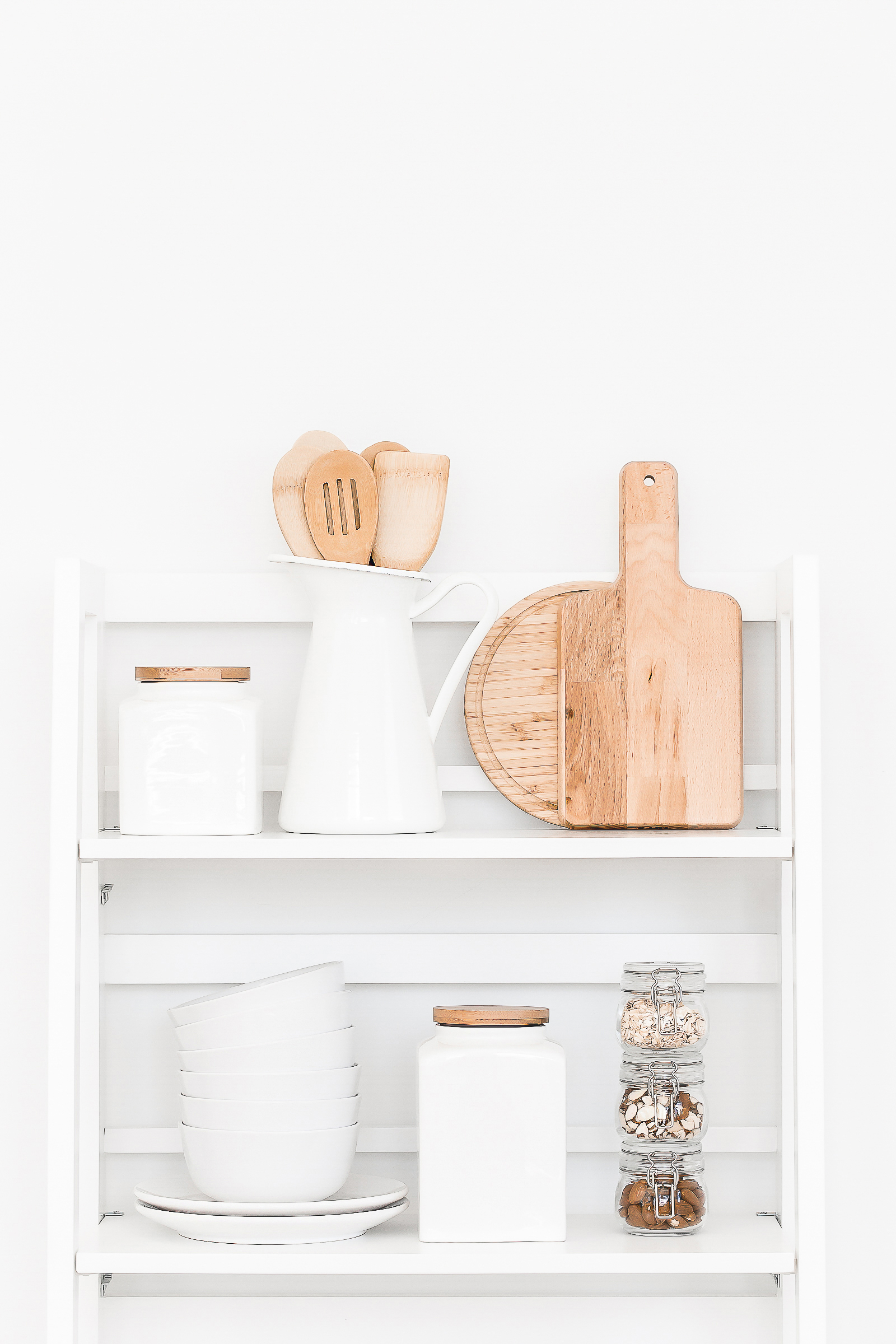 Add Shelf Risers to Make Your Cabinets More Efficient
Shelf risers are one of my favorite kitchen cabinet hacks. Most cabinet shelving isn't efficiently placed, especially when it comes to storing dishes.
These handy little racks allow you to maximize the storage space of your cabinets.
Creative Ways to Handle a Lack of Kitchen Drawer Space
Store kitchen utensils in cute utensil holders.
Roll dishrags and hand towels and display them in pretty wire baskets.
Use hooks to hang things you regularly use – like measuring cups, colanders, etc. Bonus points if you select items that match your kitchen and can also serve as decor.
Add a Portable Kitchen Island
If you don't have a built-in kitchen island, no worries, a portable island is an easy kitchen update. There are PLENTY of great options – some that even look like they could be built-ins.
If space is an issue, look for a rolling island that you can easily move out of the way or against a wall when you don't want it in the middle of our kitchen.
Create Extra Counter Space With a Bar Cart
A bar cart is one of the best ways to add extra counter space – especially if you have a small kitchen and an island would take up too much space.
Create a coffee bar, wine bar, or baking center. The possibilities are endless – and you can change your mind at any time. Swapping out the items on your bar cart to suit your day/week/or occasion couldn't be easier.
It's great for entertaining – you can easily move it to any part of your house.
Give Your Stove a MakeOver
Give your oven a deep clean, and instant facelift by ordering replacement grates and new knobs from the manufacturer.
Place a colorful teapot or Dutch Oven in the back left corner for a pop of color. (You could even change these out regularly to match your seasonal or holiday decor.)
Hang Art Work
There is kitchen wall decor out there to match every style and budget. I especially like these oversized utensils – they are sure to add character to your kitchen walls.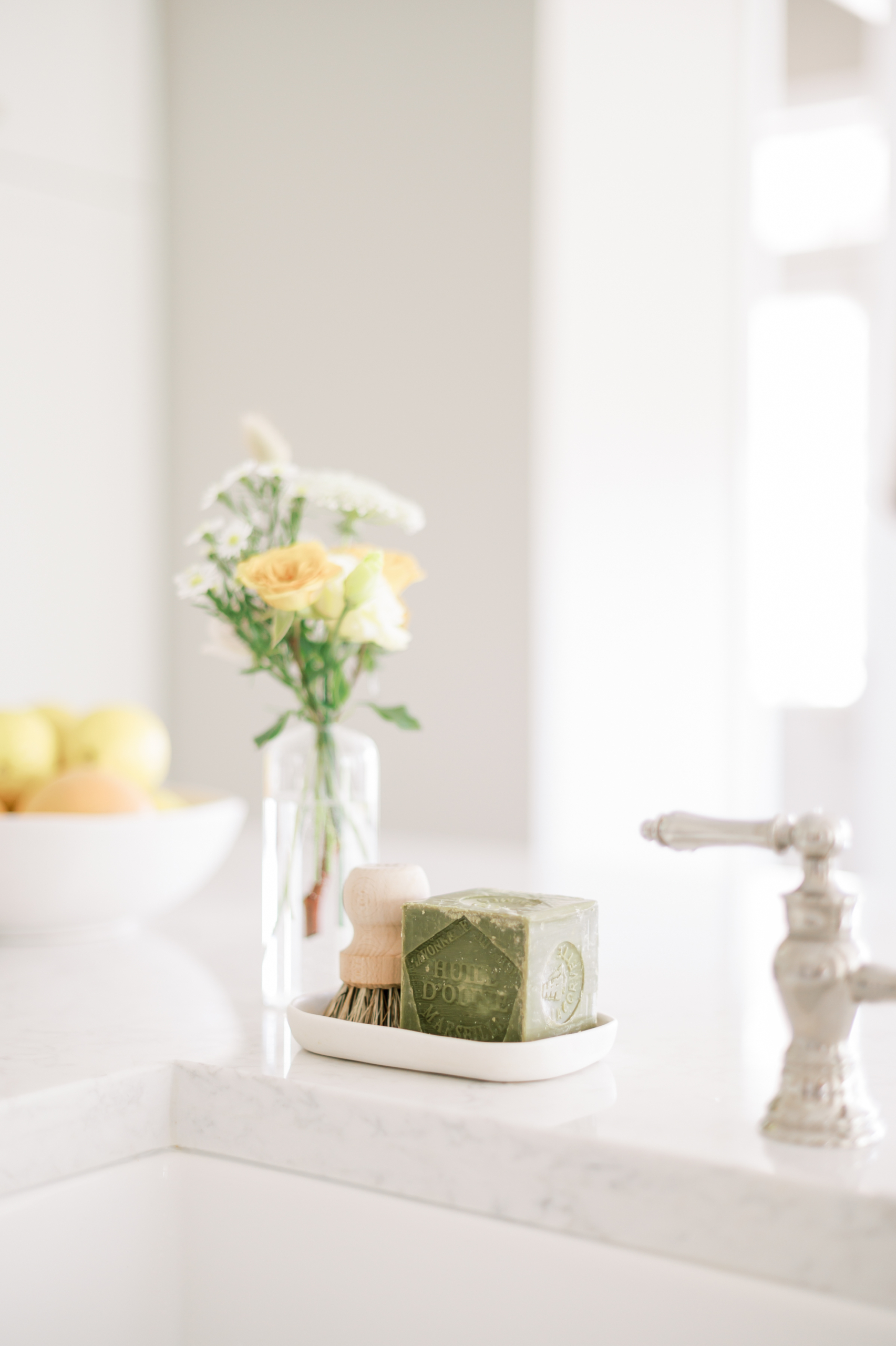 Add Functional Pieces that Double as Decor
Place a cakestand next to your kitchen sink. Add a pretty container of hand soap, a candle, and a small plant to turn it into a functional decor piece.
Lean Wooden Cutting Boards or Pretty Flat Dishes Against the Wall
Place Small Pots of Herbs on Your Windowsill
Bring in the Flowers
Keep a bouquet of flowers in a pretty vase or cute pitcher.
Pick up a potted floral arrangement from Trader Joe's or your local grocery store and place it in a pretty planter or wicker basket.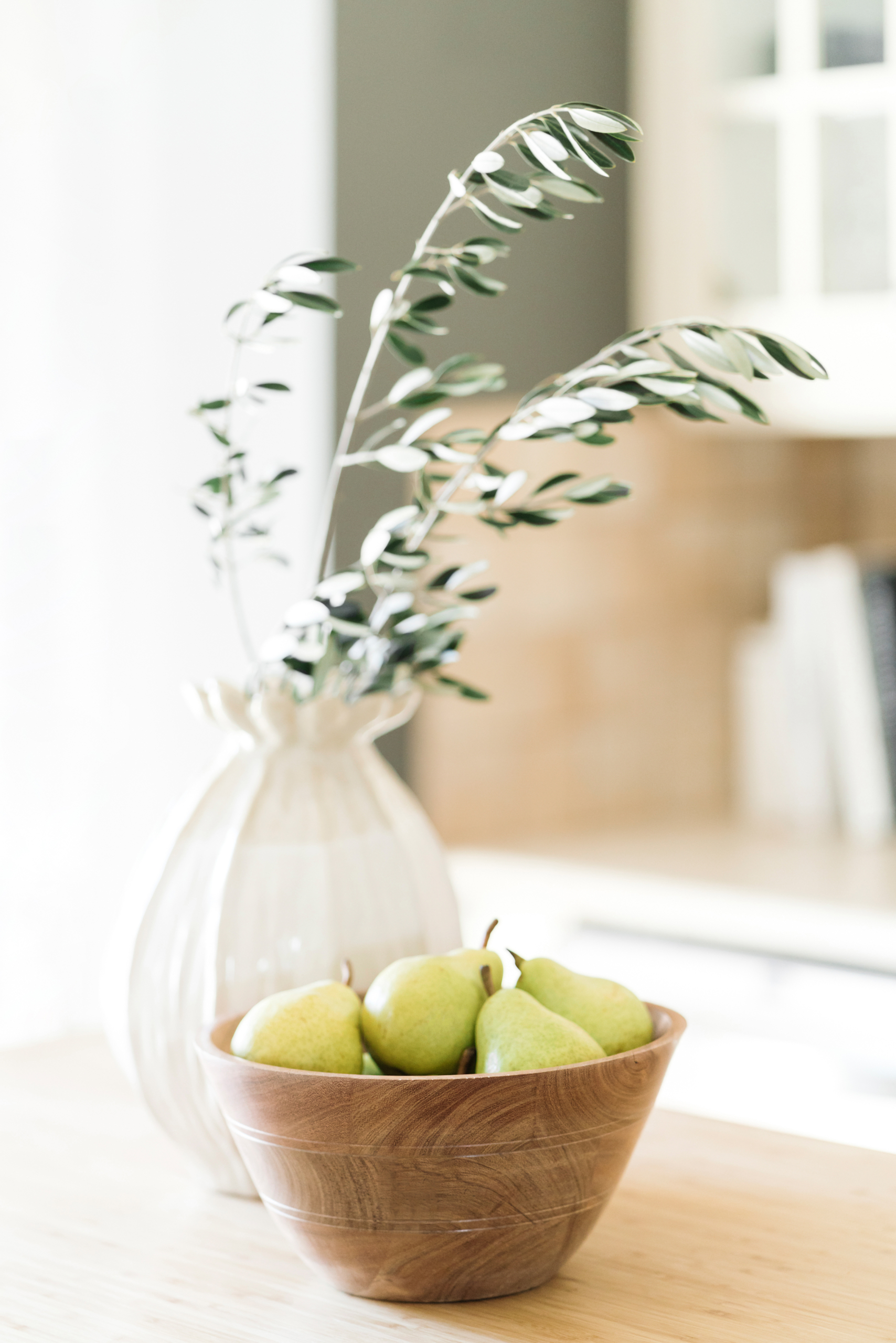 More Extensive Ways to Update an Outdated Kitchen
While none of these ideas fall into the "full remodel" category, I am separating them because they require more effort and expense than the simple upgrades mentioned above. Many big box stores like Home Depot have installation services and will help you install the products you've purchased from them.
I've hired them to install appliances and hang new blinds at very reasonable prices. They even have a referral program if you want someone to paint your entire kitchen for you. Most of these projects will also increase the value of your home:
Add a Fresh Coat of Paint to Your Walls
Paint Your Cabinets
Have New Appliances Installed
Replace Your Faucet
Refresh Your Window Treatments
Replace Your Light Fixtures – pendant lighting is especially popular and attractive.
Add under cabinet lighting
Refinish your wood floors