How to Always Have Soft and Fluffy Towels
Soft and fluffy spa-like towels are an achievable luxury! Learn how to keep your towels soft and fluffy after multiple washes. Plus, there are tips for attempting to revive older towels that need a bit of a refresh.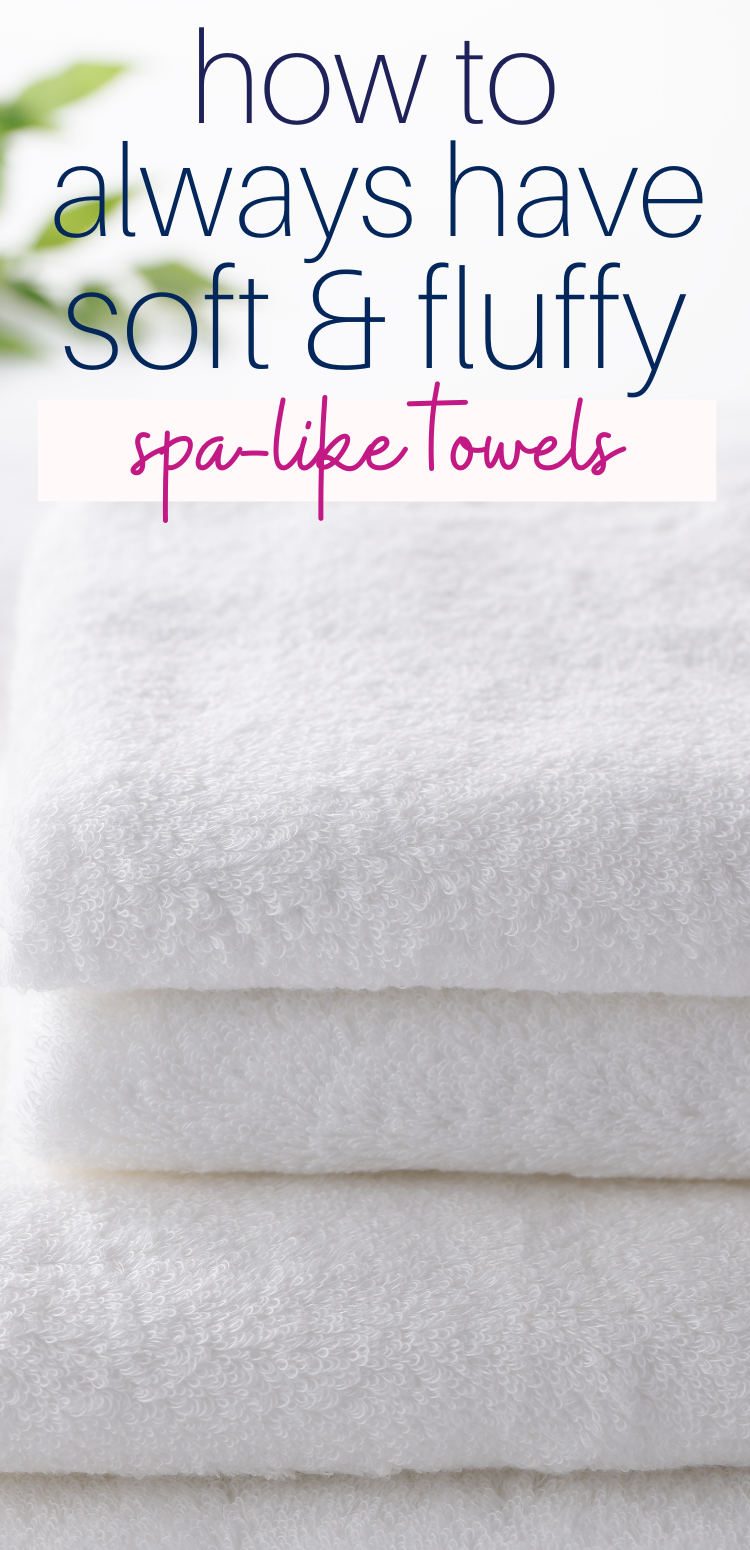 Note: The links in this post may be affiliate links.
The Decadence of a Soft and Fluffy Towel
There is nothing quite like the feeling of stepping out of the shower or a long hot bath and wrapping up in a soft, fluffy towel.
Pure cozy decadence.
A good towel is one of life's small luxuries (and a great place to start adding Hygge to your life!), and new towels are the best, still thick, and absorbent. So, why does it seem as though that "new towel" feeling seems to be over in the blink of an eye?
After doing a bit of research, I found that the culprit is actually the very detergent and fabric softener I thought were keeping my towels fluffy.
Begin by Buying Good Towels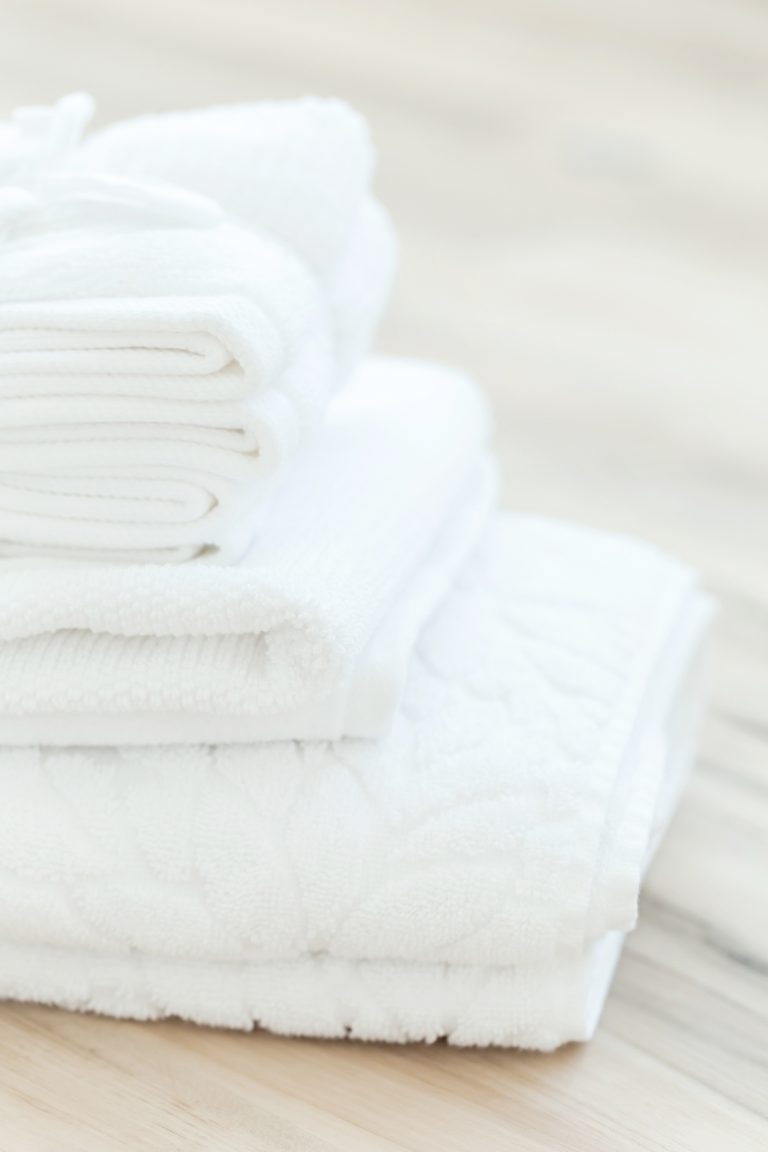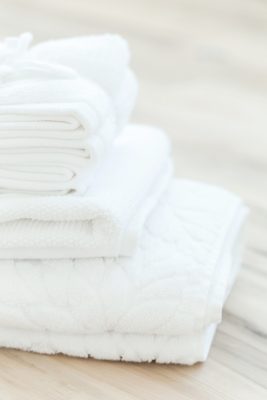 If possible, buy your towels in person, in the store. Look for towels that look and feel plush. Next, check the labels. Turkish, Supima, Egyptian, and 100% cotton are going to be your best bets.
If you buy towels on-line, read the comments before making your purchase. Most great towels will have tons of comments singing their praises and call out any issues you might need to be aware of.
Recommendations for the Best Soft Towels
Waffle Edge Spa Bath Sheet – at 39 x 59 inches, this cloud-like bath sheet is super absorbent and perfect for wrapping up after a cozy home spa day.
Hydrocotton Bath Towel by Nordstrom – These 30 x 54 inch towels are super absorbent and become softer and softer with time (especially if you follow the tips in this post)!
Hotel Collection Turkish Towels – These 30 x 56 inch ultra-soft towels are made of pure Turkish cotton and are an absolute luxury after a nice hot bath.
Simply Vera Turkish Cotton Bath Towels – This towel collection is extra thick and soft. The bath sheet is 35 x 68 inches and the bath towel is 30 x 58 inches – and I love them both. And, if you wait to shop with a Kohls' coupon code, it's very affordable to refresh your towel collection.
Supima Cotton Bath Towel – These Lands' End towels have almost a cult-like following. They're 30 x 56 inches, made with Rare Supima (the top 3% of cotton grown in the U.S.) and are super absorbent.
Turkish Spa Bath Towel – another favorite from Land's End, this towel is 30 x 56 inches (or try the giant bath sheet at 36 x 70 inches) and super dense and absorbent so it has a very smooth (but not fluffy) feel to it.

Reviving Old Towels
If you've noticed that your towels aren't as absorbent and soft as you'd like them to be, try this process to bring some life back into them:
Fill your washing machine about ½ – ¾ full of towels. (The key here is to not overfill the machine.)
Set your water temperature to the highest setting. If you have a "deep clean" or "power-wash" setting on your washing machine, now is the time to use it.
Pour one cup of white distilled vinegar into the machine and run a wash cycle.
When the wash cycle is done, you're are going to leave the towels in the washer and add one cup of baking soda.
Repeat the wash cycle, again using the hottest temperature your machine will allow.
When the second cycle has completed, throw your towels into the dryer on the setting recommended by the towel manufacturer.

You may be surprised to find that most manufacturers recommend that their towels should be dried at LOW heat, not high as most of us are pre-programmed to do. Make the switch and you will definitely notice the difference. Drying on high heat will damage the towel fibers.

Do NOT add dryer sheets. In order to soften the towels as they dry, you can throw three unused tennis balls into the dryer or, as I prefer, wool dryer balls.
Considerations When Trying to Revive Old Towels
Keep in mind that this method is awesome at removing the gunk from towels that have been washed in too much detergent or have been run through the dryer with dryer sheets. It really does lift the fibers and make them fluffy and more absorbant.
If, on the other hand, your towels are thin from loss of fibers, there isn't much that can be done for them and you may need to replace them if you want that fluffy "new towel" feel.
Keeping Towels Fluffy Longer – Regular Washings
As I've purchased new towels, I've completely stopped washing them with regular detergent.
Here's my method:
Fill your washing machine about ½ – ¾ full of towels. (Again, as tempting as it is cram as many towels as possible in there, the water needs room to move around in there.
Set the water temperature to hot and wash on the cycle recommended for towels by the manufacturer.
Pour one cup of white distilled vinegar into your fabric softener dispenser and one cup of baking soda directly into the machine and run a wash cycle.
Run them through a cycle in the dryer on the setting recommended by the towel manufacturer. Again, NO dryer sheets. Use three clean tennis balls or wool dryer balls.
How Do I add Baking Soda & Vinegar to a Front Loading HE Washing Machine?
The advice below for adding baking soda and vinegar should work with most front-loading washers, but please check your machine's specific directions before proceeding.
Add the baking soda directly into the barrel of the machine. Just sprinkle it into the middle of the barrel prior to adding your clothing.
Add the distilled white vinegar into the fabric softener dispenser.
No, the Towels do Not Smell Like Vinegar
This is the big question, right? Because if your towels smell like you're trying to pickle them, this method is going to be a no-go, no matter how soft your towels are!
When I'm taking the towels out of the washing machine, I do sometimes catch a faint whiff of vinegar. Once they've been through the dryer though, I've never smelled even the faintest lingering of vinegar.
Why You Should Invest in Wool Dryer Balls
Before you experience sticker shock (a set of 3 wool dryer balls can run between $15-$20. ( The price is higher if it includes a bottle of essential oil.) Keep in mind that they are made to last through 1000 loads of laundry.
Even if you are running several loads a week, these will last a couple of years. Compared to purchasing dryer sheets (and eliminating chemicals in the process), they are really a bargain.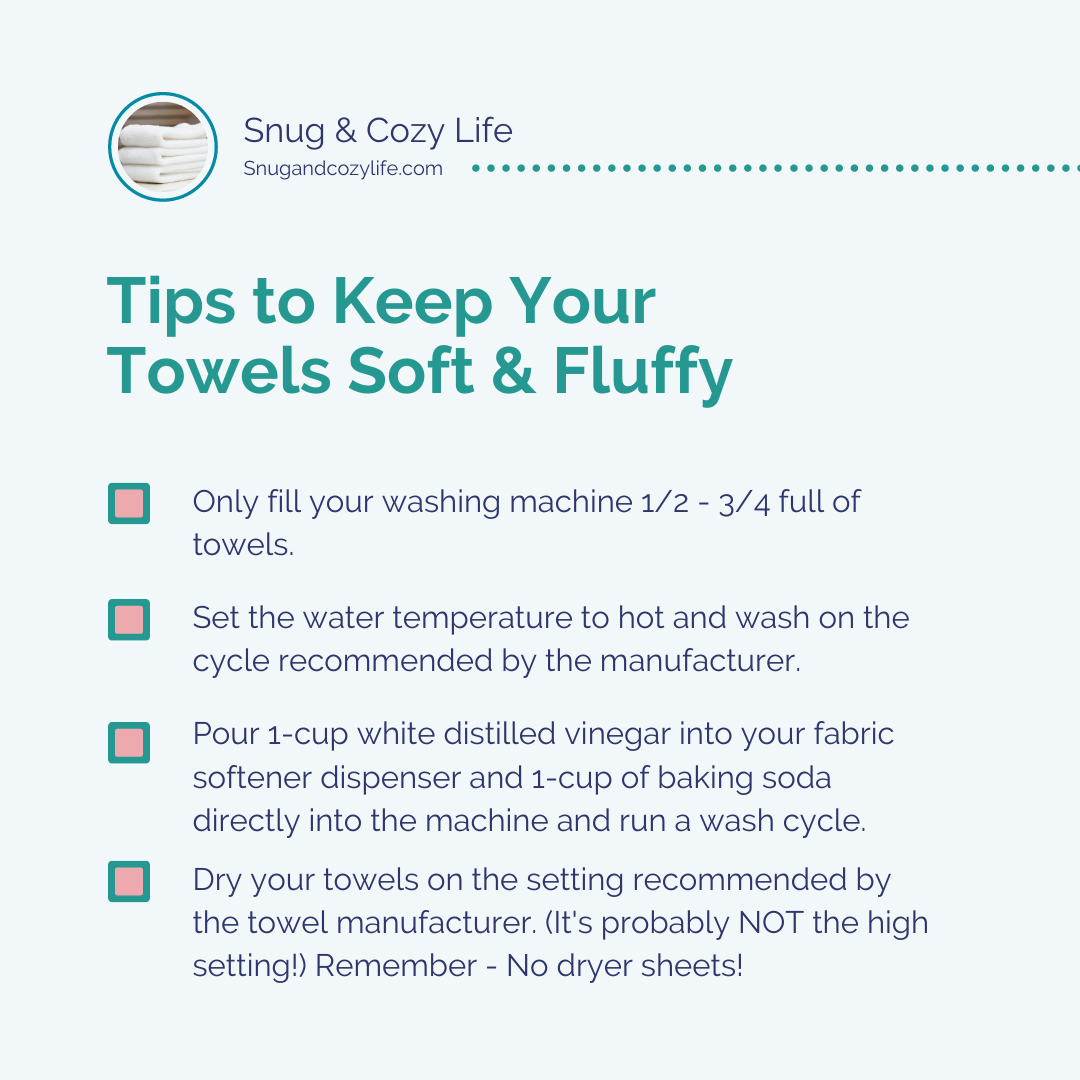 My Towels Now Stay Soft and Fluffy Longer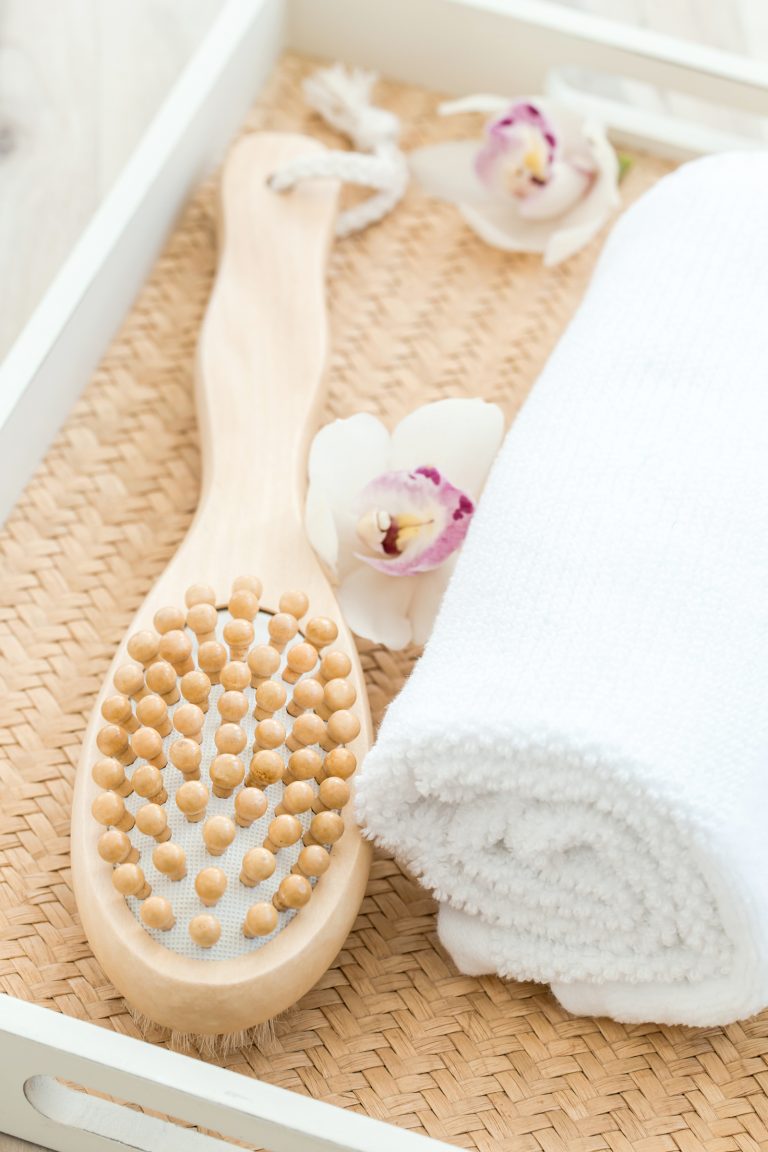 The last set of towels I purchased have been washed exclusively using the method above. I can say that they have stayed significantly softer and fluffier longer than any set I've purchased in the past.
Keep in mind that even the fluffiest of towels will begin to thin after a few of years of regular washing. But, by following the process in this post, your towels will retain their soft and fluffy goodness for a decent amount of time.
More Ways to Add Coziness to Your Life and Home