How To Keep Your Bathroom Clean & Cozy
How to Clean a Bathroom – Checklist for daily & quick clean-ups, weekly chores, and deep cleaning. Plus, tips to keep your bathroom organized and add cozy, spa-like touches.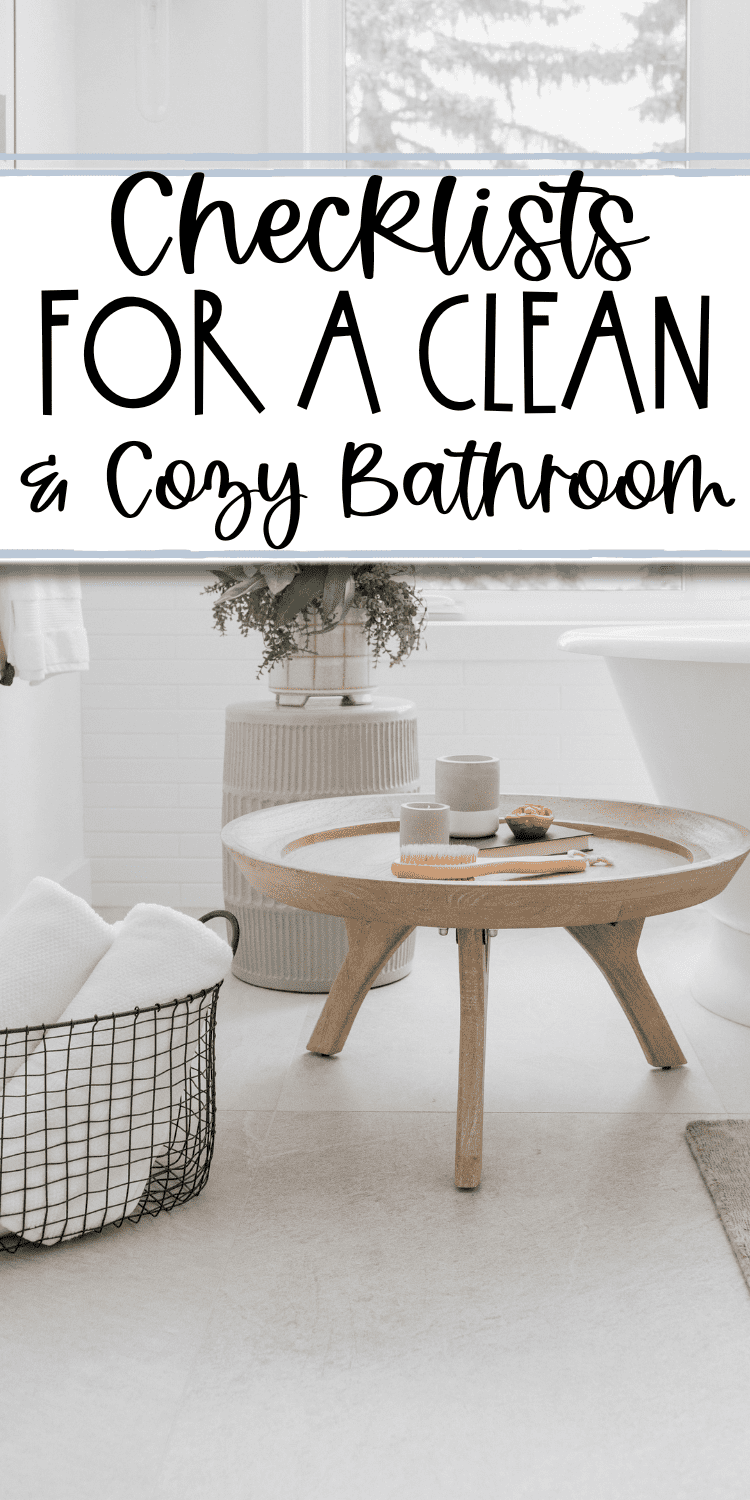 Note: The links in this post may be affiliate links.
A clean bathroom is important for many reasons – the most important being that it helps prevent the spread of germs and bacteria and keeps unpleasant odors at bay.
But keeping your bathroom clean is also a great way to ensure that you have a relaxing and inviting space to perform your daily hygiene routines and even a few extra special "spa treatments."
Keeping your bathroom clean doesn't have to be daunting. Here are some checklists to keep your entire bathroom clean and a few tips on how to keep it organized and add a few cozy touches to make it an extra calm and peaceful spot for your family and guests to retreat to.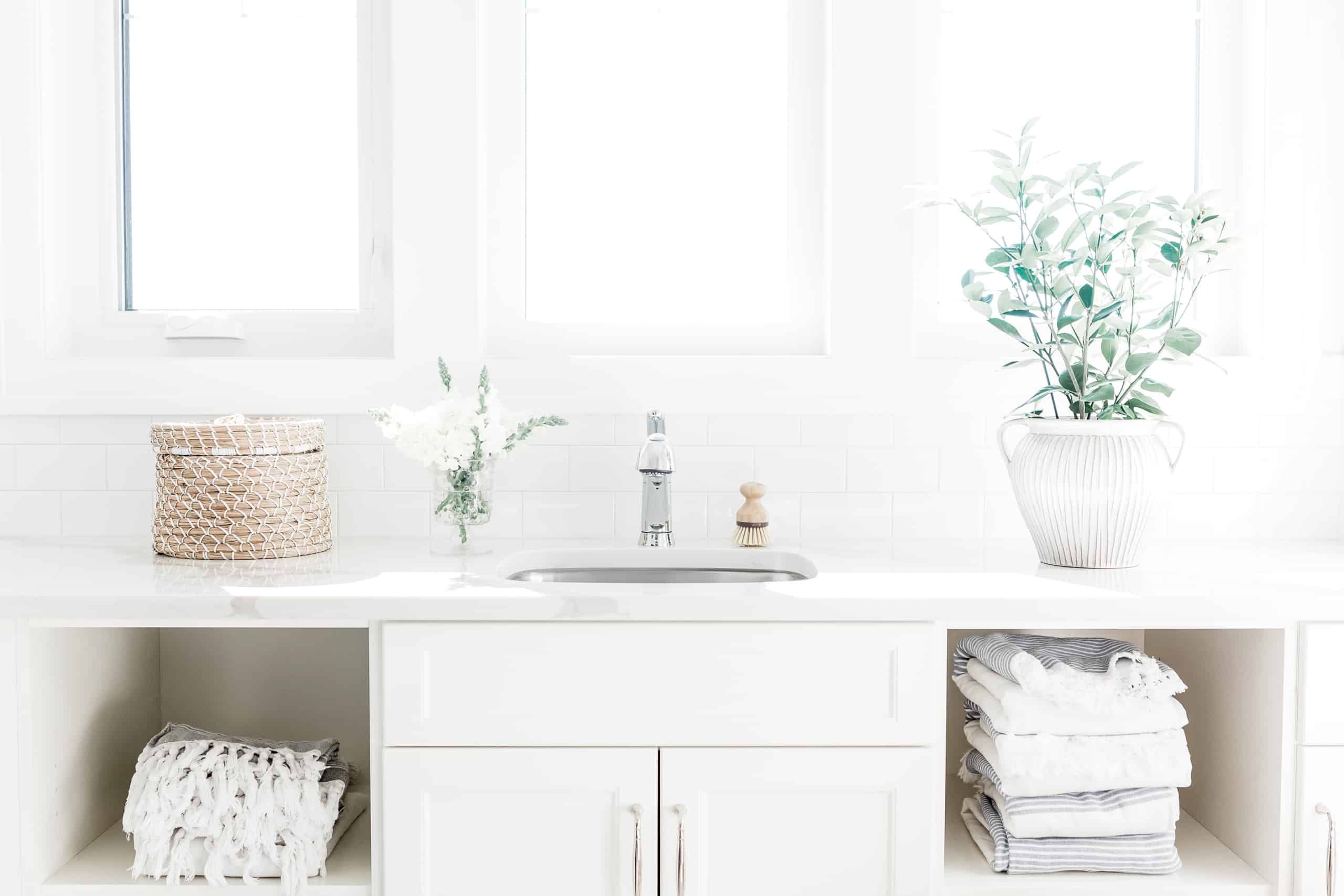 Bathroom Cleaning Supplies
Having a bathroom cleaning kit already put together will cut down on your bathroom cleaning time!
All-purpose spray cleaner
Glass Cleaner
Tub-and-Tile Cleaner
Toilet Bowl Cleaner
Lysol or Clorox Wipes for taking care of quick, everyday messes
Microfiber Cloth
Paper towel
Toilet Brush
Sponges
Stiff brush (for grout and stubborn soap scum)
An old toothbrush for scrubbing small, hard-to-reach spots
Something to sweep & mop the bathroom floor (This could be a Roomba, vacuum cleaner, broom/dustpan, steam mop, or sponge mop)
DIY Bathroom Cleaners
All-Purpose Bathroom Cleaner
Mix the following together in a spray bottle:
1/2 cup white vinegar
1/2 cup vodka or rubbing alcohol
15 drops of lemon essential oil
15 drops of orange essential oil
You can also swap out the lemon and orange essential oils for your favorite combination.
Glass Cleaner
Mix together equal parts vinegar and water in a spray bottle
Drain Declogger & Freshener
Mix together:
1/2 cup baking soda
1/2 cup vinegar
5-10 drops of your favorite essential oil
Plug the drain for 15 minutes and then flush with running hot water.
Garbage Can Refresher
Pick your favorite essential oil and add a few drops to a few cotton balls.
Place them at the bottom of trash cans before you add a trash liner for a fresh smell.
Showerhead Cleaner
You'll Need:
a strong plastic bag
vinegar,
rubber band or strong tape
While you hold the bag in place around the showerhead, fill it with vinegar, ensuring that the entire showerhead is submerged in the vinegar. Use a rubber band or tape to hold it in place.
Allow it to soak for around 12 hours.
IMPORTANT: If you have a brass, gold, or nickel-coaked showerhead, do not allow it to soak in the vinegar solution for more than 20 minutes.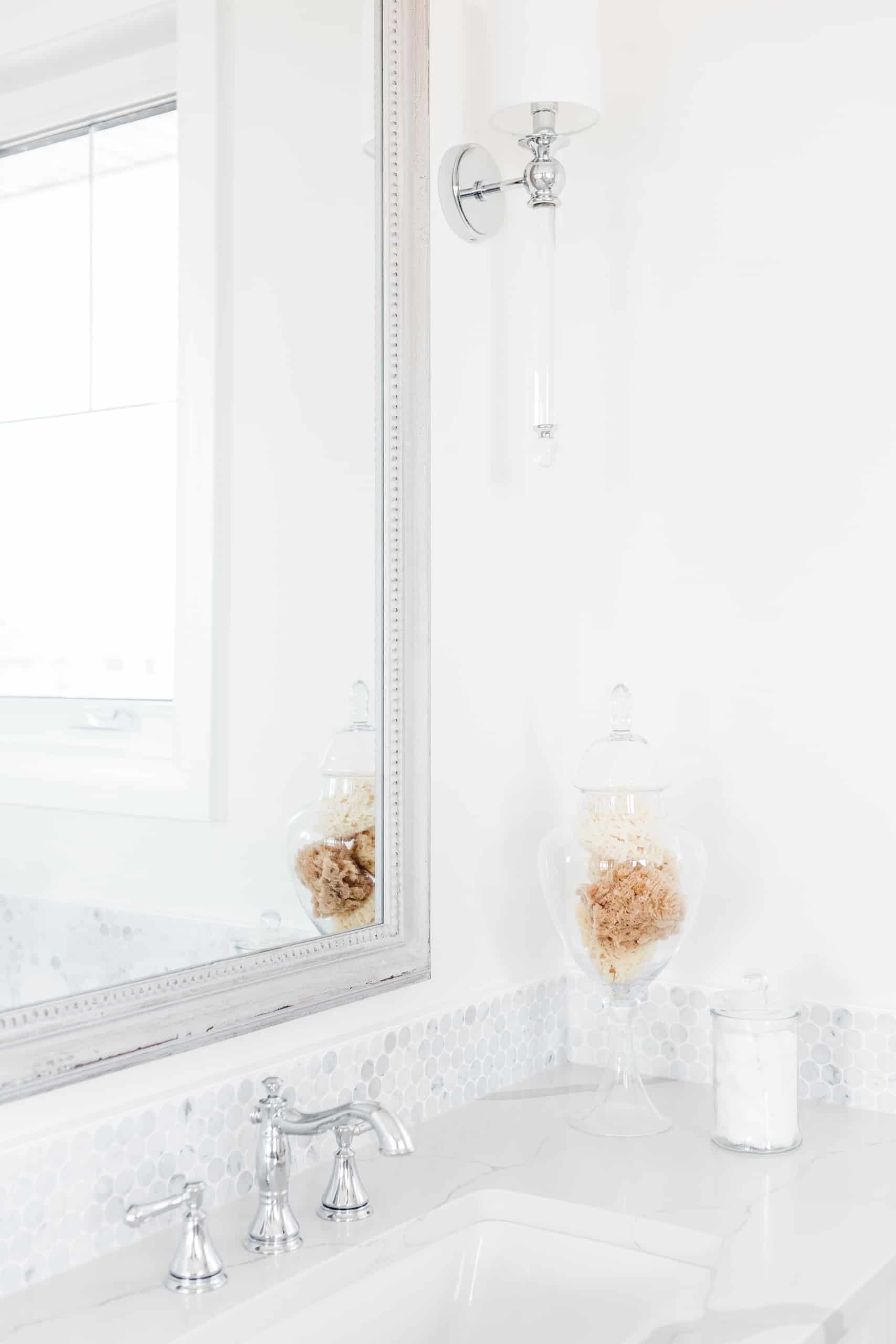 Quick/Daily Bathroom Cleaning Checklist
This cleaning routine is a great daily routine to keep your bathroom in tip-top shape and also a quick solution to freshen it up if you have guests coming over.
Weather permitting, open a window to allow fresh air to circulate.
Add toilet cleaner to the toilet bowl, give it a swish with your toilet bowl brush, and allow it to sit while you clean up the rest of the bathroom.
Quick declutter – put away anything that doesn't belong, pick up dirty clothes and towels, and discard trash.
Shake out any bathroom rugs to give them a fresh, recently vacuumed look.
Use an all-purpose cleaner to wipe down counters, sinks, and mirrors. Finish by running your cloth over the back and outside of the toilet to remove any accumulated dust or splashes.
Flush the toilet cleaner and give the toilet seat and inside of the lid a quick wipe down with a damp cloth or paper towel.
Swap out dirty towels for fresh hand towels.
Give the room a quick spritz of linen spray or, better yet, run an essential oil diffuser with your favorite scent.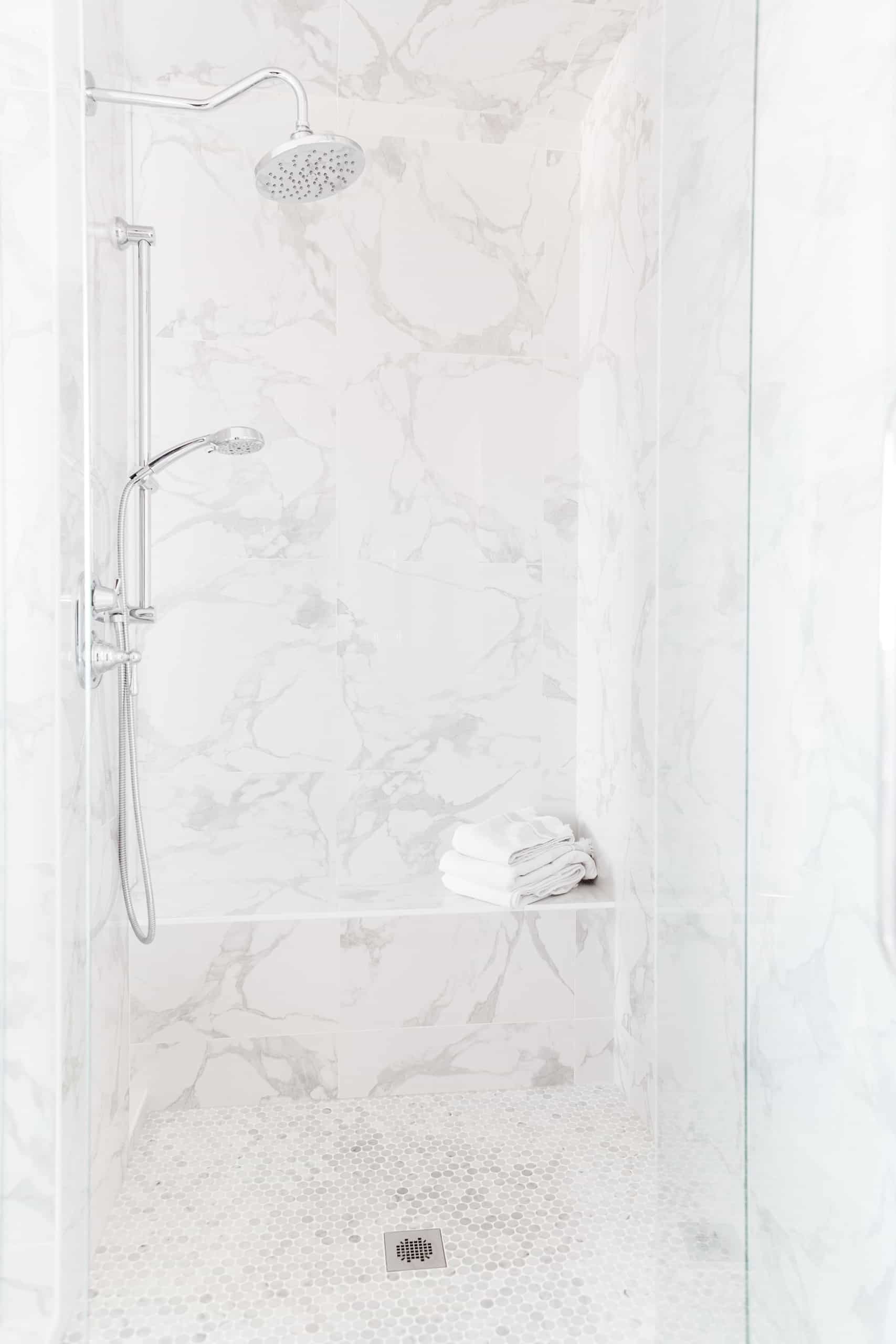 Weekly Bathroom Cleaning Routine
Following this routine on a weekly basis is the best way to make sure that your bathroom stays clean and cozy in the long-run.
Wipe down your glass shower door or wash your shower curtain and liner if it's needed
Wash bath mats
Scrub the sink, counters, and faucet handles
Remove grime and fingerprints from your light switches with a microfiber towel
Scrub the toilet bowl and give the outside of the toilet a good wipe down
Give your tub and shower walls a good scrub to remove any built-up soap scum
Spray your shower head with cleaning solution and wipe it down
Dust light fixtures
Wipe down the door knobs
Wipe down mirrors
Empty the trash
Vacuum
Mop the floor
Deep Cleaning Bathroom Checklist
Wash bath mats and shower curtains in the washing machine
Wash decorative towels
Wipe down your glass shower door or replace the shower liner
Wash and disinfect garbage can
Wipe down and disinfect counters
Wash mirror and vanity
Clean the bathroom sink & wipe down the faucets
Clean and maintain drains
Clean soap dispenser/toothbrush holder
Remove dust from the bathroom exhaust fan, bathroom fan, or blinds with a vacuum that has a brush attachment.
Remove everything from the drawers and wipe them down
Take everything out of your cabinets, dispose of any expired products, wipe down the shelves, and replace everything neatly.
Wipe down and organize all cabinets and drawers
Discard expired/unused products and items
Wipe down the walls and baseboards with dry microfiber towels
Deep clean your showerhead
Scrub and deep clean the tub and shower floor
Scrub tub and shower walls
Scrub and reseal tile grout (if needed)
Clean out the medicine cabinet and safely dispose of any old products
Replace old towels, wash rags, and loofahs
Restock paper products
Organize cleaning supplies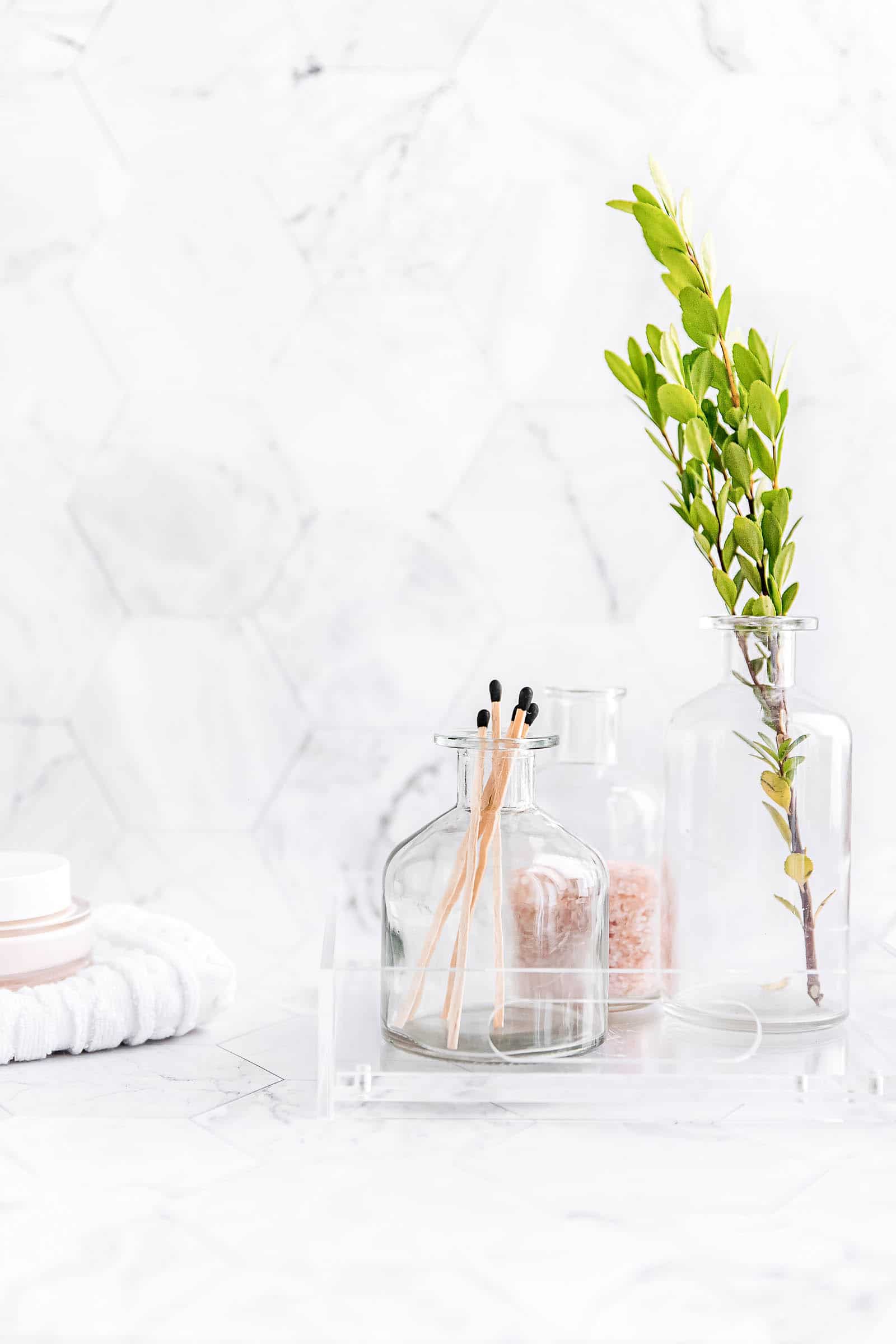 Tips to Organize Your Clean Bathroom
Now that you've got your bathroom clean and have a plan for keeping it clean, here are some tips you can use to keep it organized.
Purge the clutter. Ruthlessly go through your bathroom and get rid of anything you don't need. (This includes samples you'll never use, expired products, and tools you no longer use.)
Add a bookcase if you don't have a linen closet or place to store your supplies. If your bathroom is super small, you can even place a small bookshelf outside the door, add a few decorative touches, and make it a part of your hallway decor.
Use bins to corral everything from cleaning supplies to washcloths to beauty and personal products.
Create order amongst your supplies and products – place the items you frequently use at arm's length and front and center. Place items you use less frequently on higher shelves and in the back.
Add Hooks or Mountable Bins to the insides of your cabinet doors to create extra storage space.
Save space by folding your towels using this method.
If several family members share a bathroom, give each of them a caddy to store their bath items. This will keep your shower and shelves from being over-stuffed with everyone's differing products. Store them in a cabinet or stylish rolling cart.
Invest in a makeup organizer so all your products are neatly displayed at your fingertips.
Put together a first-aid kit so you can quickly locate items when you need them.
Tips To Make Your Bathroom Extra Cozy
Choose neutral color palettes to create a calming atmosphere.
Invest in good plush towels and bath mats. White matches almost any decor and will give your bathroom a fresh, spa-like feeling. Look for Egyptian, Turkish, or prima cotton, which are all soft and super absorbent.
Hang soothing artwork.
Set out a vase of flowers or long-lasting eucalyptus branches.
Add an easy-to-care-for plant that loves humidity in a gorgeous pot.
Add a gorgeous rug or runner to the bathroom vanity area, away from your tub and shower.
Ensure you have ample lighting to meet the room's needs – whether that's a lighted makeup mirror, overhead lighting, or wall sconces. Install dimmable lighting where you can.
Put out a basket or decorative tray with your favorite products to create your own little spa oasis.
Diffuse essential oils like lavender, peppermint, eucalyptus, and tea tree.
Store small items (like cotton balls & makeup wipes) in pretty canisters.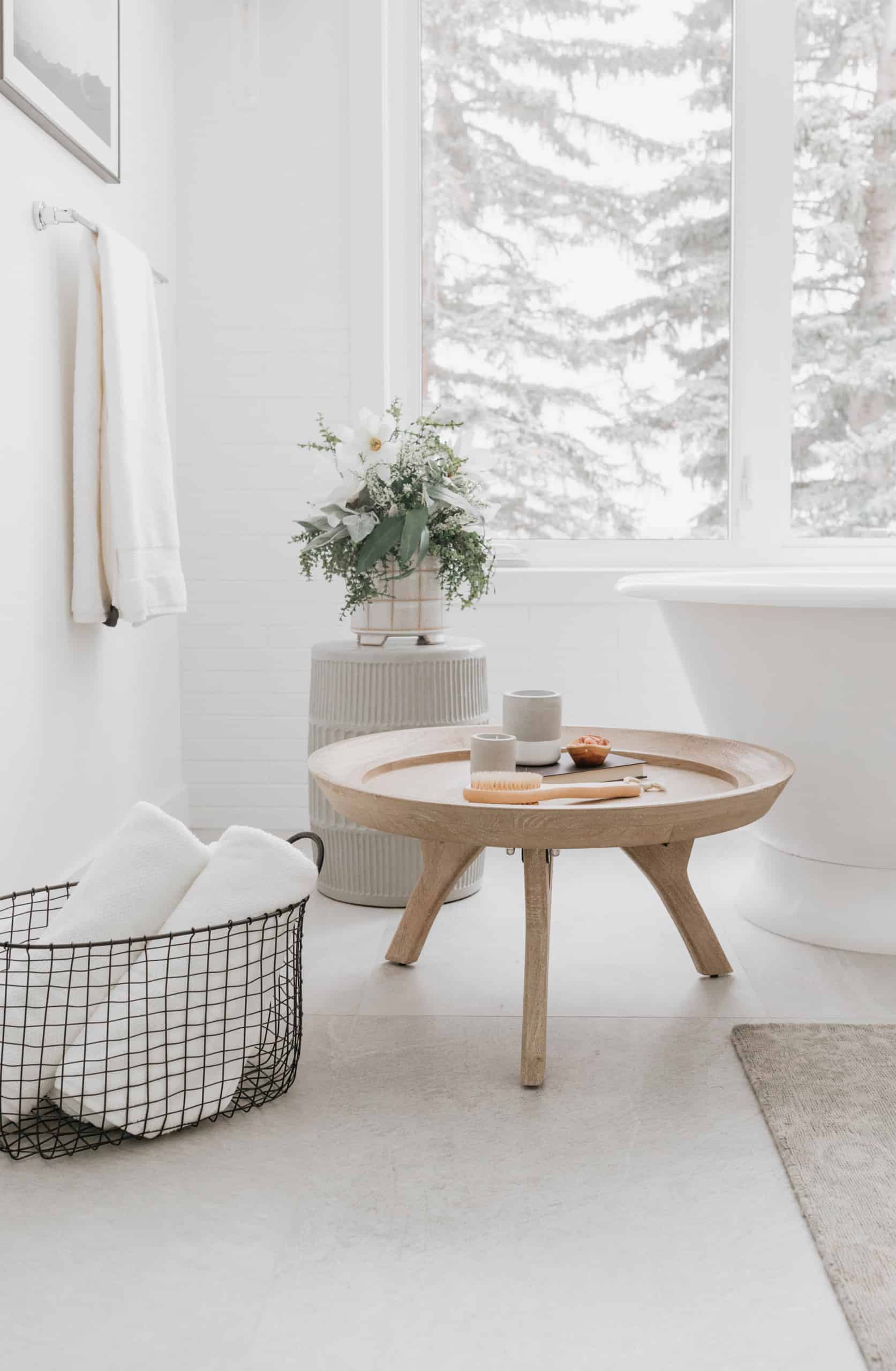 To create your mini-spa, invest in a few items to pamper yourself (a luxury bath wash, a new loofah, bath salts, or a tub tray).
Buy high-quality hand soap in pretty containers. Or, if you have a favorite hand soap, you can buy in bulk, do so and transfer it into a dispenser you love.
Put together a pretty basket of essentials your guests can help themselves to.
Install heated towel racks for warm fresh towels every time you step out of the bath
Lean a ladder shelf against a wall to display luxury spa products, pretty towels, reed diffusers, or floral arrangements.
Keep s beautiful small stool next to the tub for keeping reading materials and a relaxing beverage dry while you soak.
Trade out your plastic shower curtain liner for a mildew-resistant cloth version.
Set out a portable blue tooth speaker, so you always have tunes (from energizing morning music to soothing bedtime music) to suit your mood.
Let me know in the comments your favorite tips for keeping your bathrooms clean and cozy!
More Ideas to Make Your Home Cozy