3-Ingredient Spinach and Artichoke Dip is an easy appetizer for a party or family gathering! With only a few ingredients, this recipe is so quick. Perfect either baked or in a crockpot!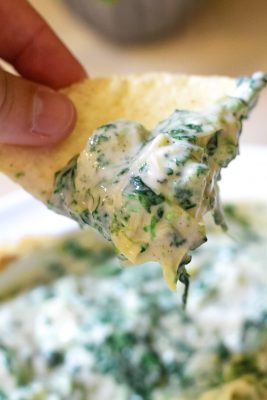 Note: The links in this post may be affiliate links.
I find Spinach and Artichoke dip hard to resist. It's the appetizer I gravitate towards on a menu and the dish I make a beeline for at parties.
Whether served alongside tortilla chips, pita triangles, or chunks of fresh bread, it's simply a good classic party food.
I've made a classic version for years, and it always disappears quickly. A few weeks ago, I had a plan to make Spinach and Artichoke Dip to bring to a friend's house and realized I had all of the ingredients EXCEPT a block of cream cheese.
A New Twist on a Classic Favorite Appetizer
What I did have was a jar of alfredo sauce in the pantry, so I decided to give it a try….after all, what is alfredo sauce but creamy butter and cheesy goodness?!
Oh my, this version tastes even more like the spinach and artichoke dips I've been enjoying at restaurants than my original recipe does!
Because it's excellent baked or in your crockpot (I've now made it both ways!) it's the perfect appetizer for parties, family gatherings, or even tailgating. It's a quick and easy appetizer you can make in a hurry with just a few ingredients.
This post will tell you how to make the BEST Easy Spinach and Artichoke Dip with just 3-ingredients!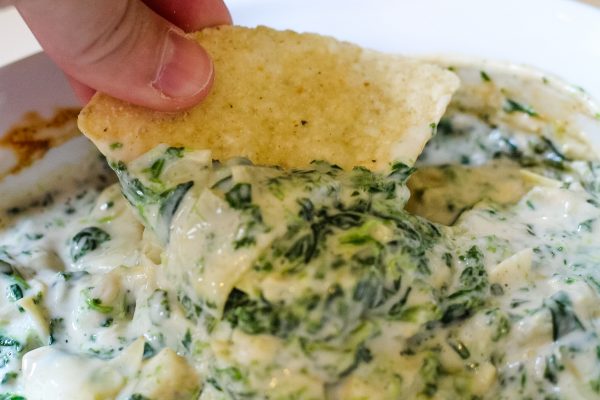 What You'll Need to Make 3-Ingredient Spinach and Artichoke Dip
16 oz jar of Alfredo Sauce
13.75 oz can of artichoke hearts
10 oz box of frozen, chopped spinach – THAWED
I know that most recipes call for mixing in or sprinkling with shredded cheese, but I found that this recipe is GREAT without it. The alfredo sauce is cheesy in nature and omitting the extra cheese makes this particular recipe even creamier.
How to Make This Super Easy Spinach and Artichoke Dip
Step One
First, preheat your oven to 350 degrees Fahrenheit.
Step Two
Next, you're going to need to thaw and squeeze as much water out of the spinach as possible.
Chop the artichoke hearts into bite-size pieces. This chopper is the BEST, and it dices everything from these artichokes to onions in seconds!
Step Three
In a medium-size bowl, empty the alfredo sauce, add the spinach, and diced artichoke hearts. Mix until well combined.
Step Four
Transfer to an 8×8 or similar sized baking dish.
Bake for 15 minutes until the dip is hot and bubbly.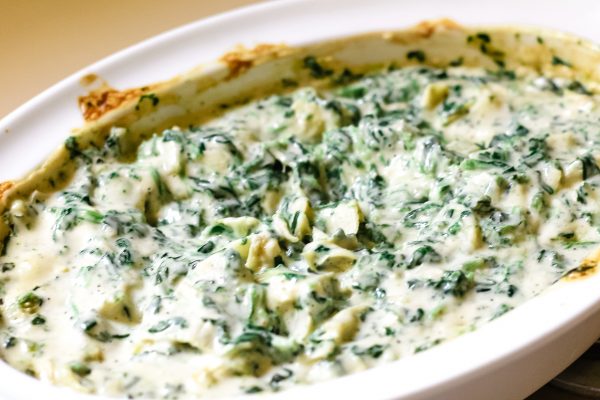 What is the Best Way to Thaw Frozen Spinach?
Put the spinach in a mesh strainer and run warm water from your faucet over it.
As it starts to thaw, use your fingers to break up any remaining frozen chunks.
Once no more chunks remain, turn off the water and begin to squeeze the water out of the spinach, pressing it into the mesh strainer to remove as much water as possible.
For extra measure, place a few layers of paper towels on an empty plate, dump the spinach onto the paper towels, and wrap the towels around the spinach to get even more water out.
How to Make Spinach and Artichoke Dip in Your Crockpot
After drying the spinach and chopping the artichoke hearts, place them, along with the alfredo sauce into a 1.5-quart crockpot. (If you do not own one yet, head over here and pick this one up for under $15. It's a terrific small investment that you'll turn to over and over again for keeping dips and other appetizers warm!)
Turn the crockpot heat on low and allow it to heat for one hour before serving.
Frequently Asked Questions About This Recipe
What Should I serve with Spinach & Artichoke Dip?
You can serve the Spinach and Artichoke Dip with your favorite dipping foods. My favorites include:
Tortilla chips
Pita or naan bread cut into triangles
Chunks of fresh bread
Triscuit crackers
Toasted Bagettes
How Long will the Dip Last After I've Made It?
This Spinach Artichoke Dip will last for about 3-4 days in the refrigerator. Just make sure that you store it in a tighly sealed container.
Can the Dip be Reheated?
Absolutely! When (IF!) I have leftovers, I simply place them in a microwave dish, cover the dish with a plate, and heat in 30 second intravals on high. Once it's heated to your desired temperature, dig in!
I Have Leftover Dip, How Can I Use it Up?
In a word? PASTA!!! Leftover dip is FANTATIC mixed in with linguini or pene pasta. I've even made this dip recipe, mixed it with 2 16-oz boxes of cooke penne pasta, and brought it to a potluck dinner. ZERO leftovers!
Can I Freeze This Dip and Use it Later?
Techincaly "yes", "I suppose". This is the thing: I know you can buy frozen Spinach Artichoke Dip at your local grocery store. (In fact, when I was younger, before I learned how easy this was to make at home, the TGIF dip was one of my favorites). But, those dips are super processed and specifically made for the freezer. This dip (or any other version you make at home) is going to have a very different texture once you've frozen and defrosted it. In two words "I wouldn't". 🙂
More Super EASY Appetizer You'll Love!
Cute Bakers to Add to Your Collection!