How to Make the Most Comfortable Bed Ever!
A Comfortable bed is a luxury we can all create in our own home! No hotel stay or pro designer needed! Keep reading for the secret to creating a comfy, cozy bed!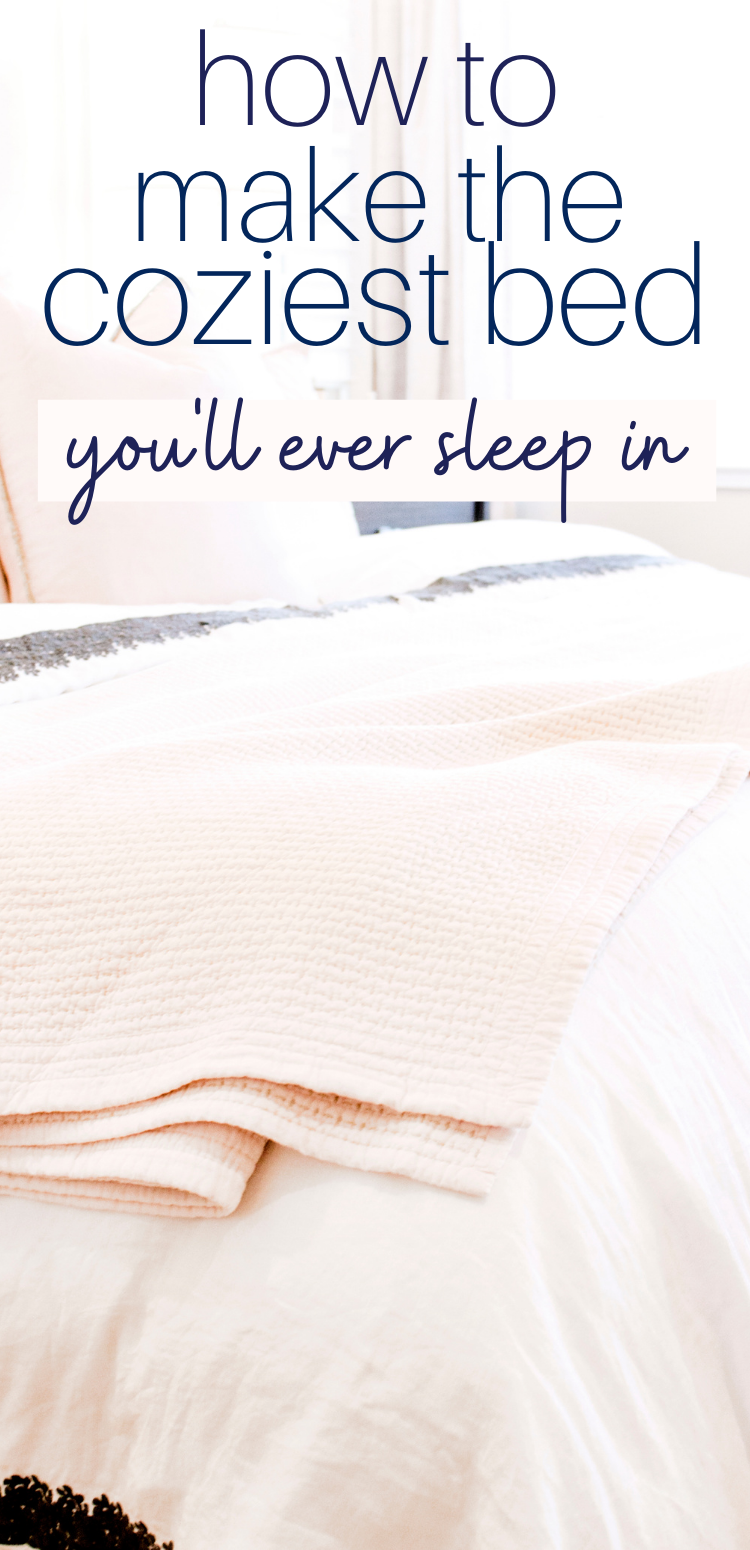 Why a Comfortable Bed is Important
Note: The links in this post may be affiliate links.
Why a Comfortable Bed is Important (AKA Why I'd Rather Have a Cozy Bed Than Designer Shoes 😉)
In my opinion, one of life's greatest luxuries is that, regardless of what kind of day we've had, we get to go to sleep at the end of it. And, because of my deep-rooted belief that sleep is good and a comfortable place to do it better, making sure that our beds are as cozy as can have always been a priority for me.
Seriously, forget cars or designer shoes, if there's one piece of luxury you should treat yourself to, it should be a cozy, comfy bed.
When I say this, I don't mean a perfect hotel bed. Or perfectly folded corners. I don't even mean a ton of gorgeous throw pillows, although, if that's your thing, totally go for it.
No, what I'm talking about is pure comfort. I'm talking about the kind of bed you can't wait to sink into in the evening and get a good night's sleep. The kind you want to spend a few extra minutes snuggled into first thing in the morning.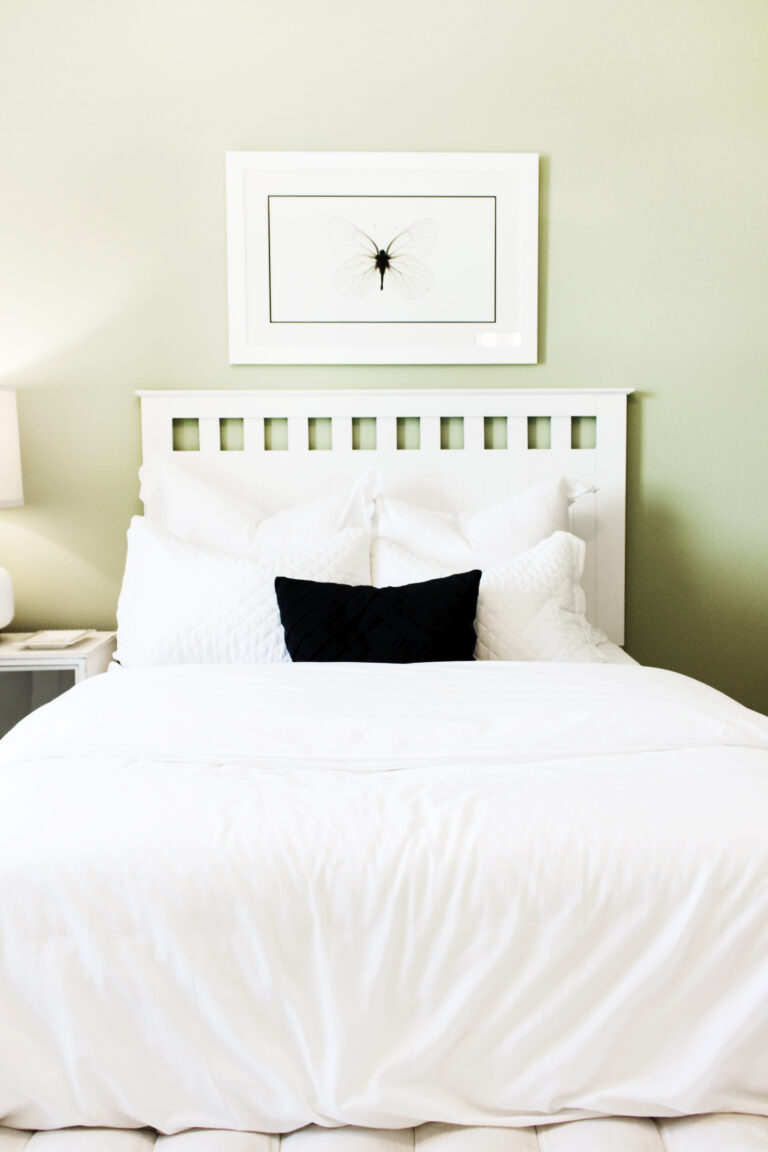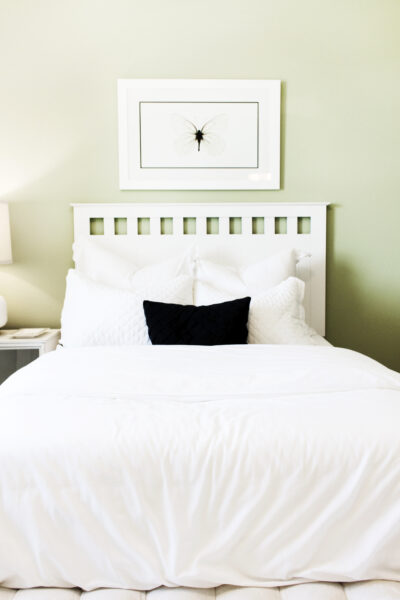 How to Make the Perfect Comfortable Bed
When I have overnight guests, there's a good chance they'll ask me "what did you do to make that bed SO comfortable?"
This is the rundown I give them on how I make sure all of the beds in our house give off cozy vibes.
It's super easy to turn your bed into a cozy oasis. And you likely already have many of the things you need to get started. While I know that hotel beds seem to be the standard for "most comfortable bed" after you set your bedding up like this, I think you'll be hard-pressed to find a hotel bed more comfortable than the one you have at home.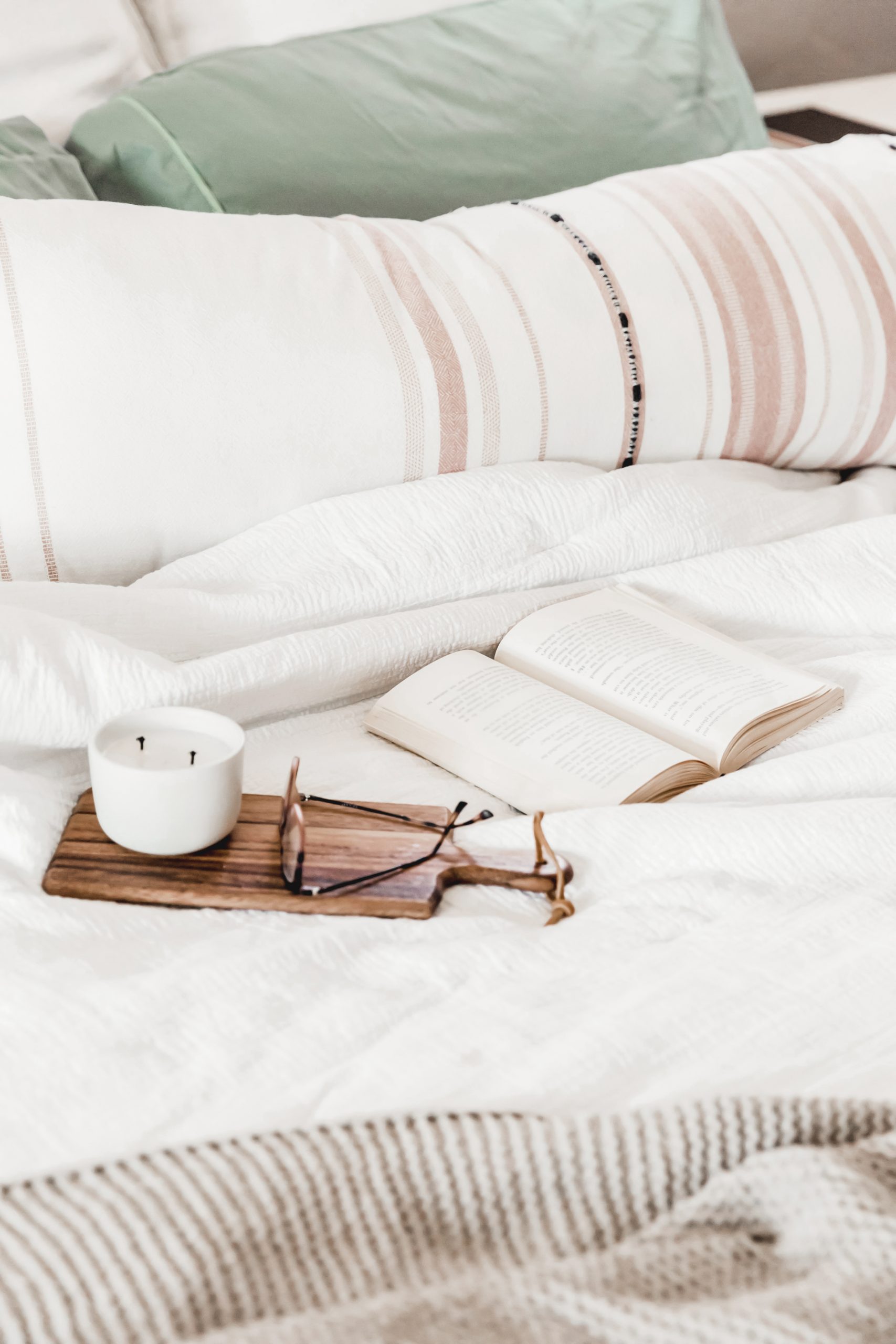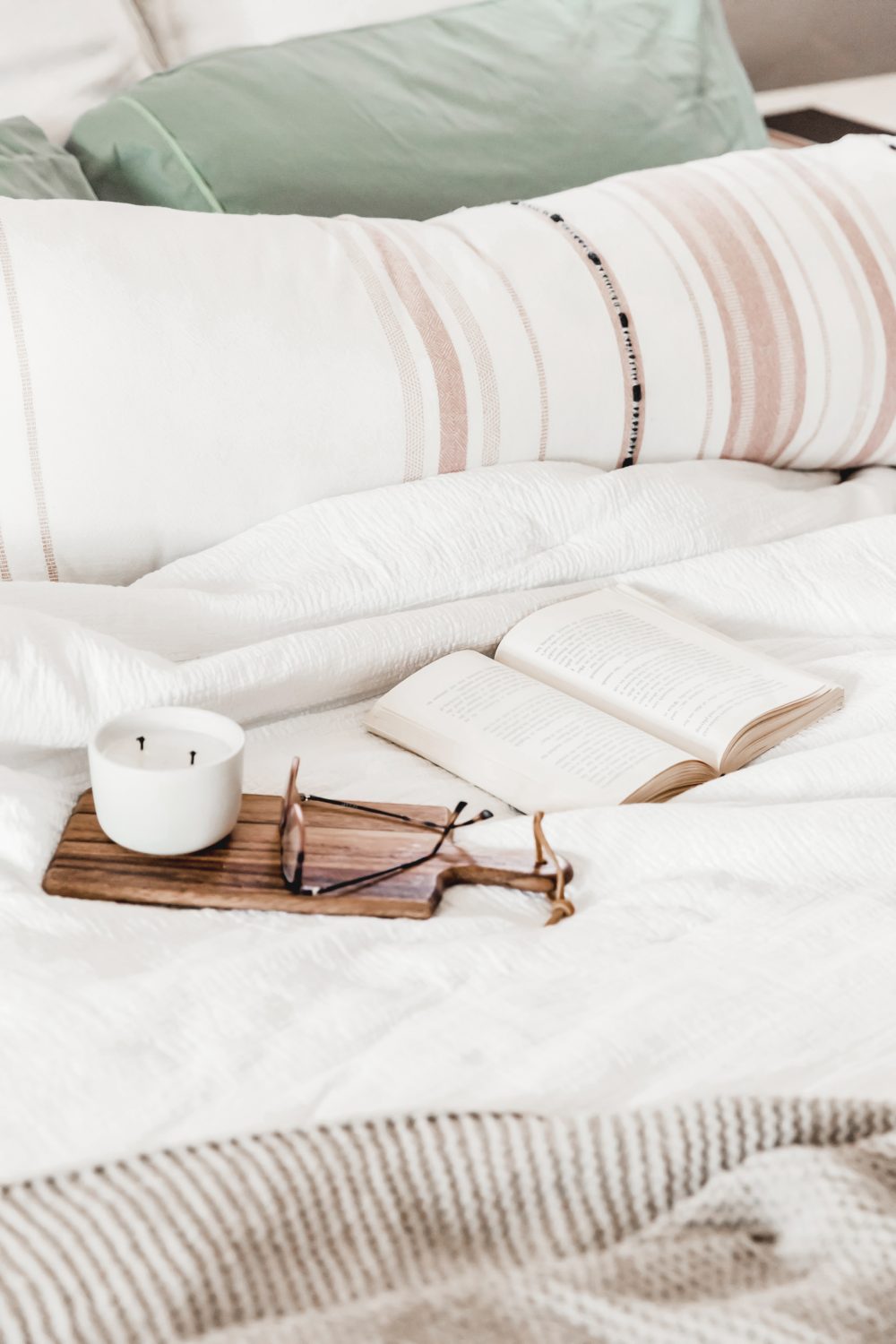 1. It Starts With the Mattress
I'm not a mattress expert (and I'm going to guess most people aren't), but we do know what feels good and what doesn't.
If you can lie on your mattress and you feel supported and comfortable, you're probably good to go. If it's sagging in the middle or you feel something poking you, it might be time to go mattress shopping.
We are not "mattress snobs" at my house. I purchased the mattress in my master bedroom in a showroom. Since then, I've learned that you could have compressed mattresses shipped to you in a box. Most new mattresses will provide you with years of use, so choosing a brand that's meant to last will make a huge difference in how often you need to go mattress shopping.
Since then, I've replaced all of our mattresses "bed in a box style" from Wayfair. We've been thrilled with everything we've purchased so far. Make sure to read the reviews first to see what other customers have to say about the specific product I'm interested in.
Also, when it comes to mattress thickness, I think 11-12 inches is ideal. I probably wouldn't purchase anything under 10-inches, just because that's going to be a very think sleeping surface.
Depending on how the frame of your own bed is built, you can likely get away without using a box spring as well. This makes getting a thicker mattress even more important.
2. Next Layer – Add a Featherbed
The featherbed is the superhero in creating that "I'm sleeping on a cloud" feeling.
If you're allergic to down or feathers just aren't your thing, there are some decent hypo-allergenic versions on the market you can try. But, the truth is, nothing is going to recreate the super cozy feeling of a real down featherbed.
Just make sure that you invest in a decent featherbed cover to keep the feathers from poking through. Plus, the cover will protect the featherbed, and you're able to throw the cover into the washing machine with the rest of our linens.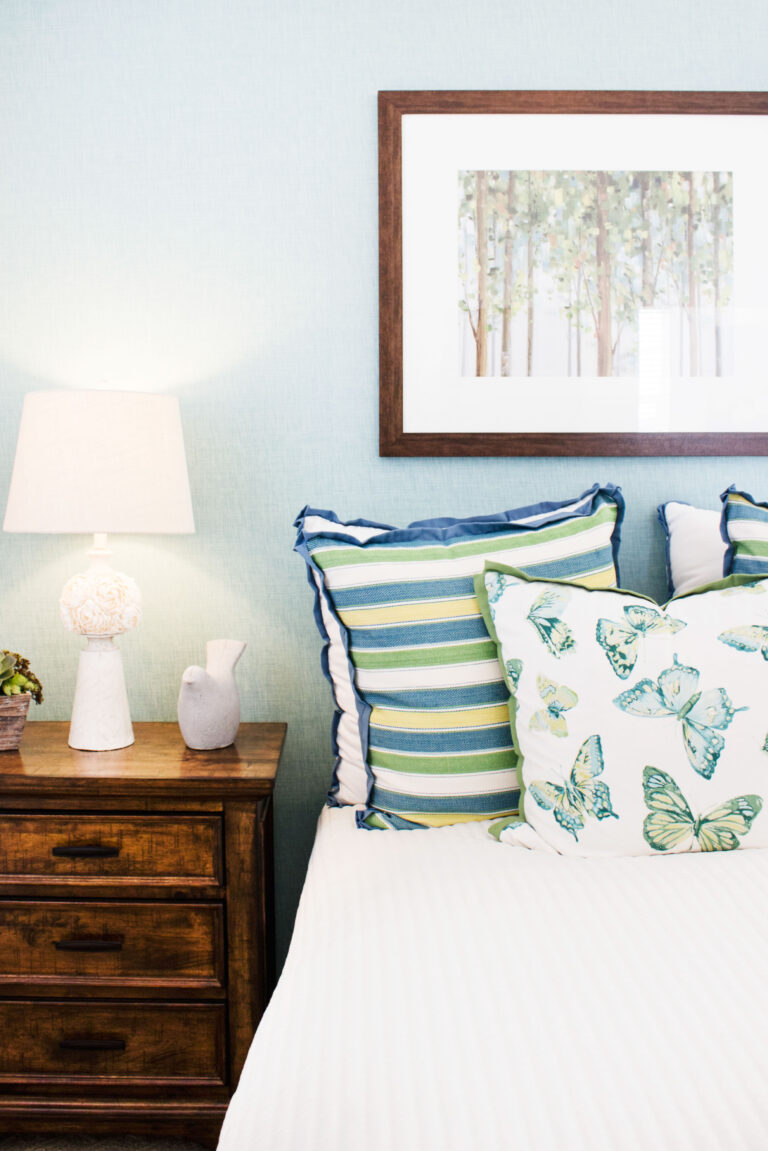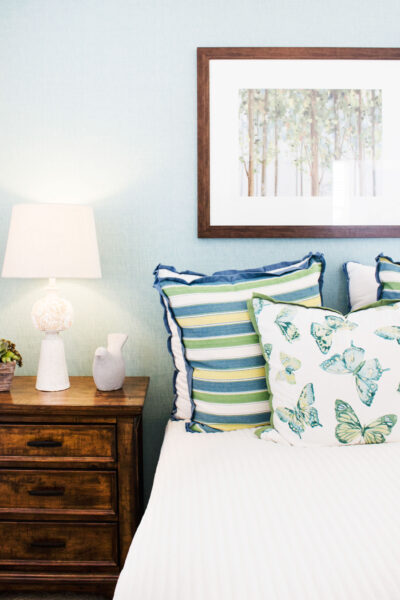 3. Add Sheets and a Duvet to Your Cozy Bed
This next step is essential. To make the best bed ever, you are going to need two top sheets, a fitted sheet, and a duvet insert or down comforter
Directions for Putting Sheets and Duvet on Your Bed
Place the fitted sheet over your mattress and feather bed.
Lay a flat sheet over your fitted sheet, with the top of the sheet facing down. (For printed sheets, place the printed side facing the mattress, not facing you.)
Lay your duvet insert or down comforter over the top sheet.
Place the second fitted sheet over the duvet or down comforter, top (print-side) facing you.
At the head of the bed, pinch the three layers together with your hands,so that the duvet or down comforter is encased between the two flat sheets. Fold them over, so the fold is about 1/4 of the way down your bed.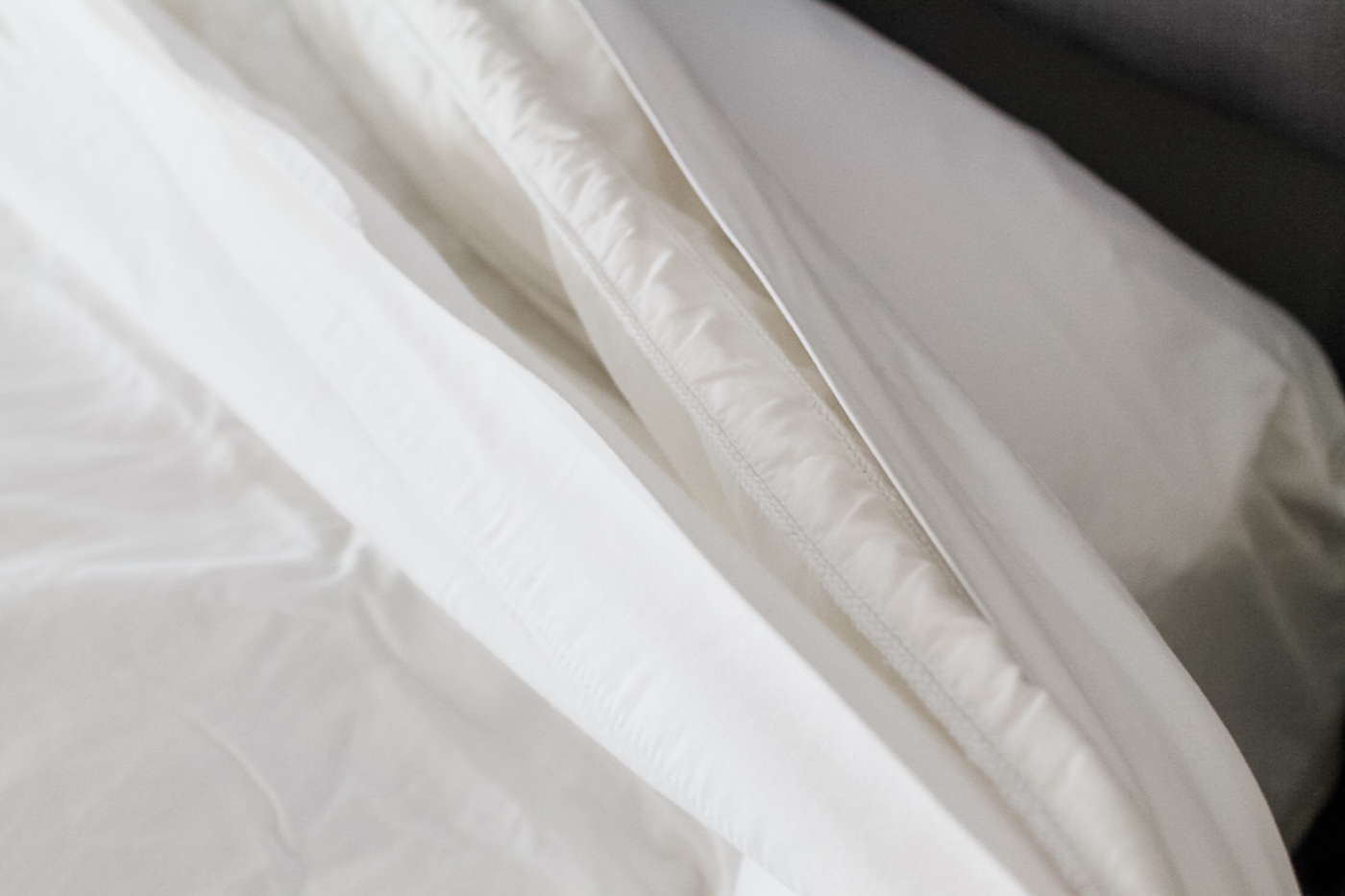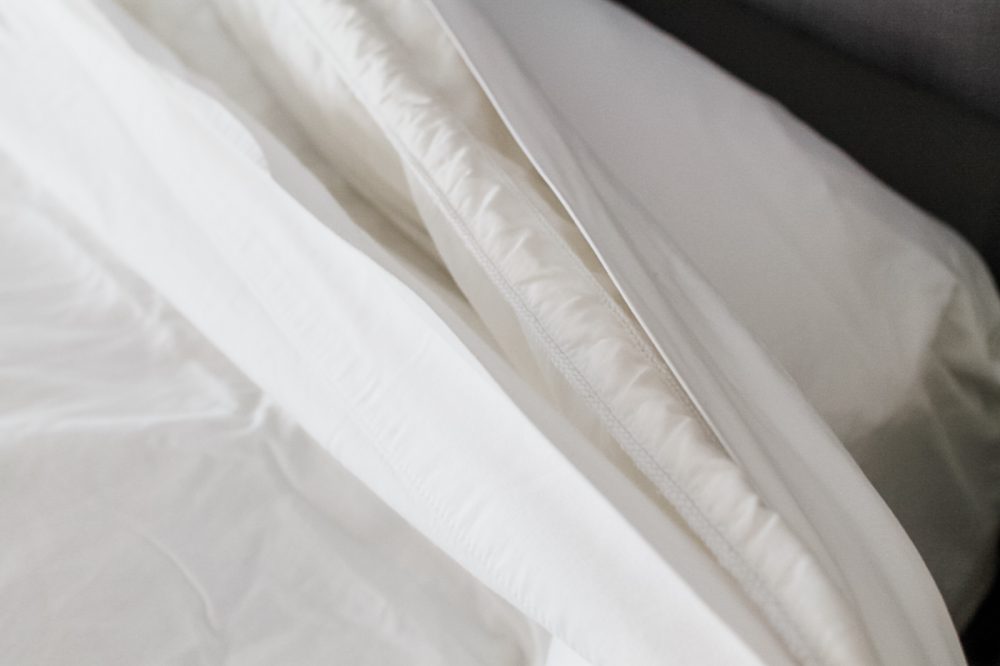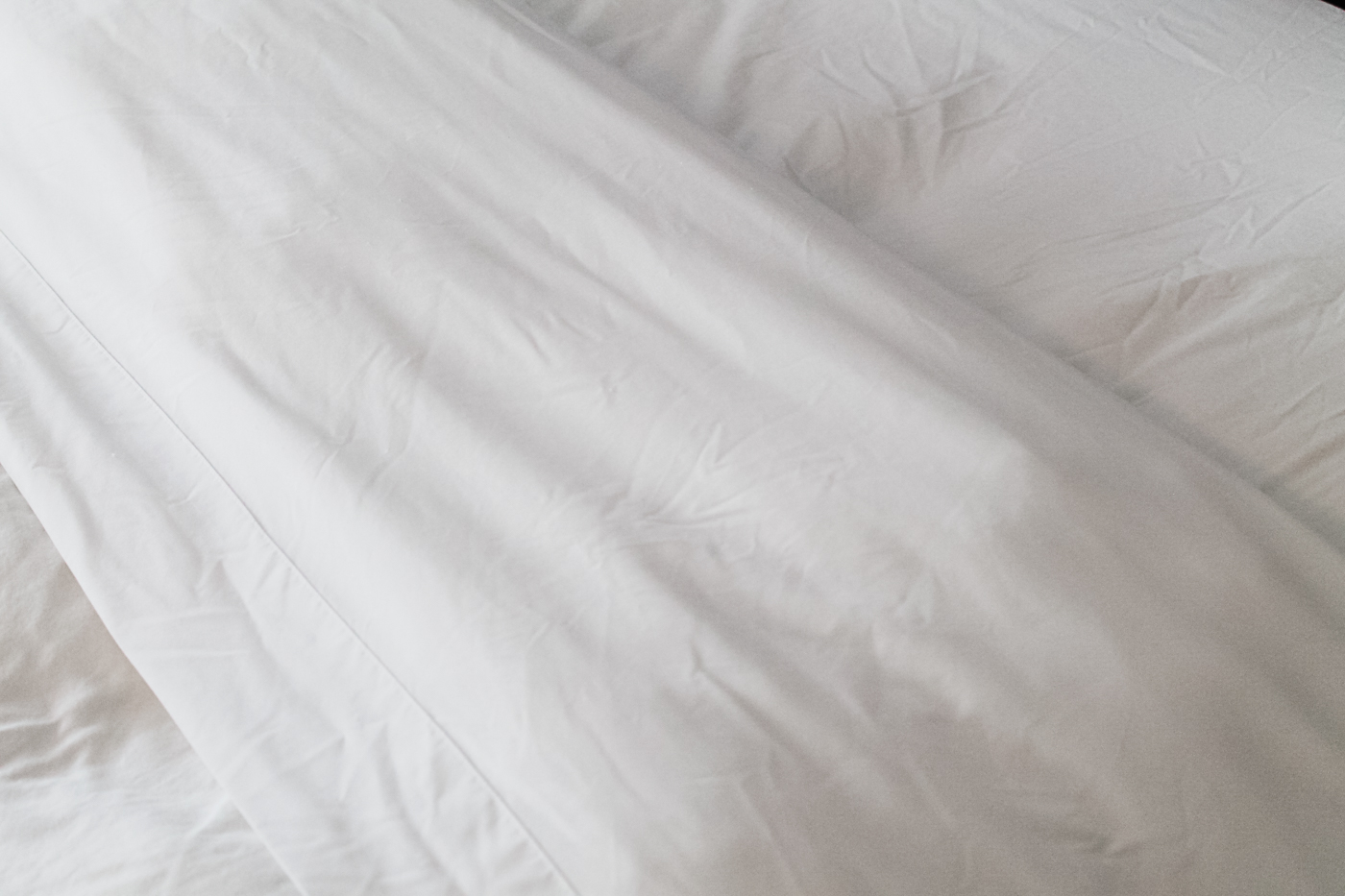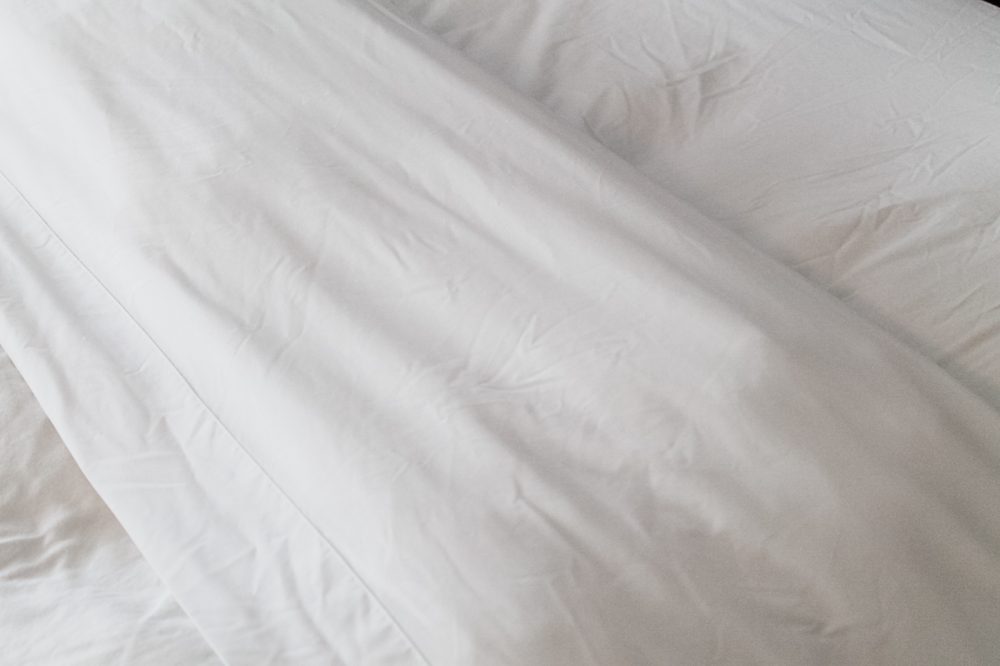 Tips for Buying Sheets
Stick to 100% natural materials, such as cotton or linen. These fabrics are breathable and tend to have a nice, smooth feel.
I avoid flannel sheets when using this method to make a bed. My family finds them too heavy and warm. Plus, they tend to have a "rougher" texture.
I don't pay attention to high thread count anymore. I used to buy into the notion that the higher the thread count, the better and splurged on sheets that honesty didn't feel any better than this set, which is my current "go-to."
You can use the pillow cases that come with the set you purchased, or you can trade them out for silk pillowcases, which can be better for your hair and skin.
How to Pick Out a Duvet Insert
The kind of duvet insert you buy is going to come down to personal preference. There are a ton of options on the market, and you can go with down or polyester fill.
If you purchase a down insert, the important thing is that it has a sturdy cover so you don't get poked with goose feathers all night! Also, read the reviews because to see what other customers have said about the quality of the cover.
I like to use a poly-filled duvet and have used (and gifted) this specific comforter. It's lightweight enough that you can use it during the warmer months but still feels nice and cozy during our Midwest winters.
Why Do I Need Two Sets of Sheets? Can't I Just Use a Duvet Cover?
I know, it seems logical that you could just throw the comforter into a duvet cover and be done with it.
But, and I don't know why, using two sheets creates an entirely different, more cozy feeling than a sheet and a duvet cover. I've experimented with this and always go back to the two-sheet method.
4. Add a White or Neutral Colored Quilt or Covering
After you have the sheet and comforter combo set up on the bed, you'll want to add a quilt or other bed covers.
A white quilt is always a good choice – it feels very serene and hotel spa to me. Plus, if you want to change out plush pillows and throw blankets, it matches everything.
When adding this layer, simply place your quilt or bed covering neatly over the sheet encased duvet. You can either fold it back to just below the fold of the sheets/duvet, or you can fold it down to 1/3rd from the foot of the bed. This is totally a personal preference based upon the look you are going for.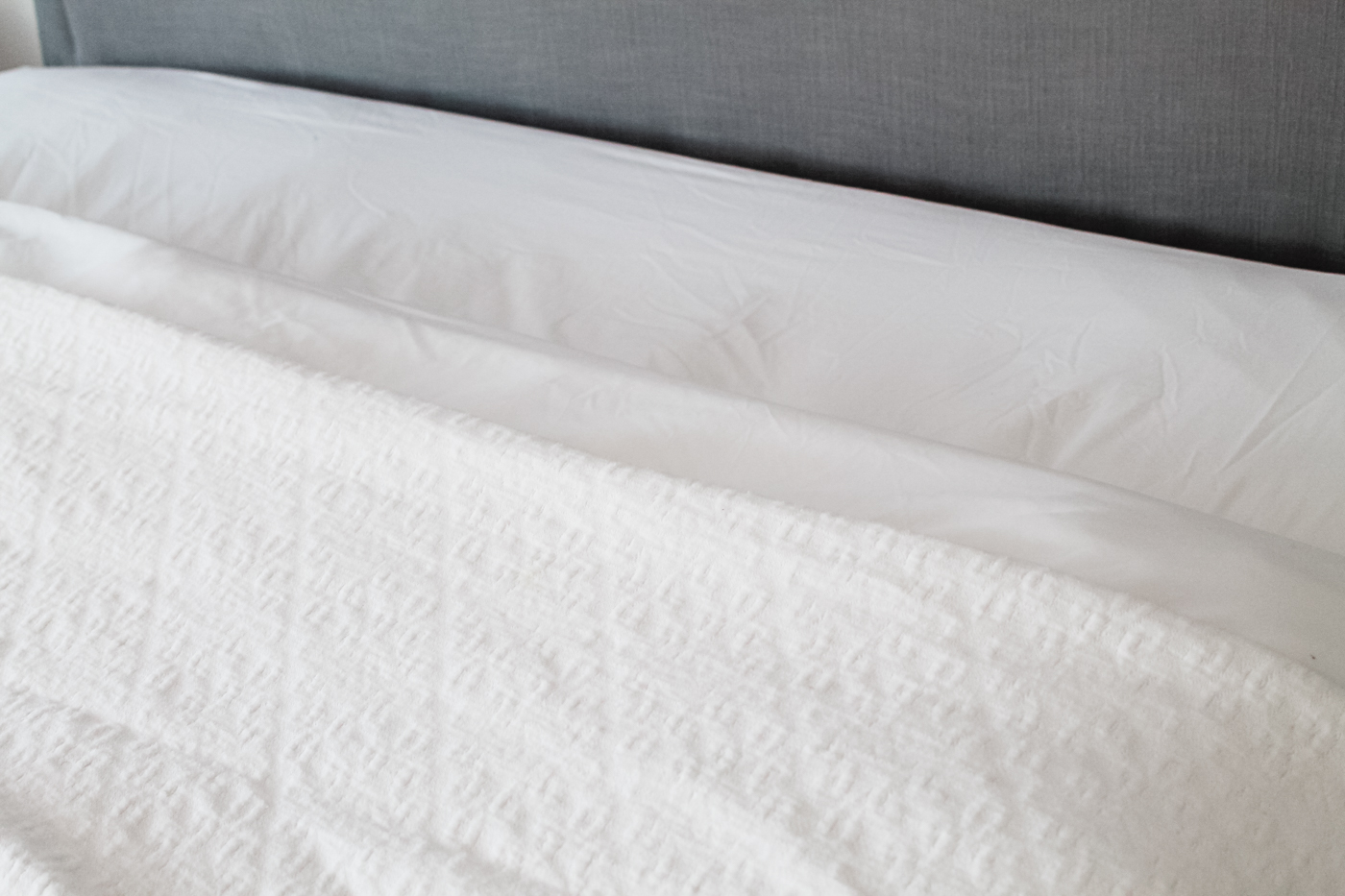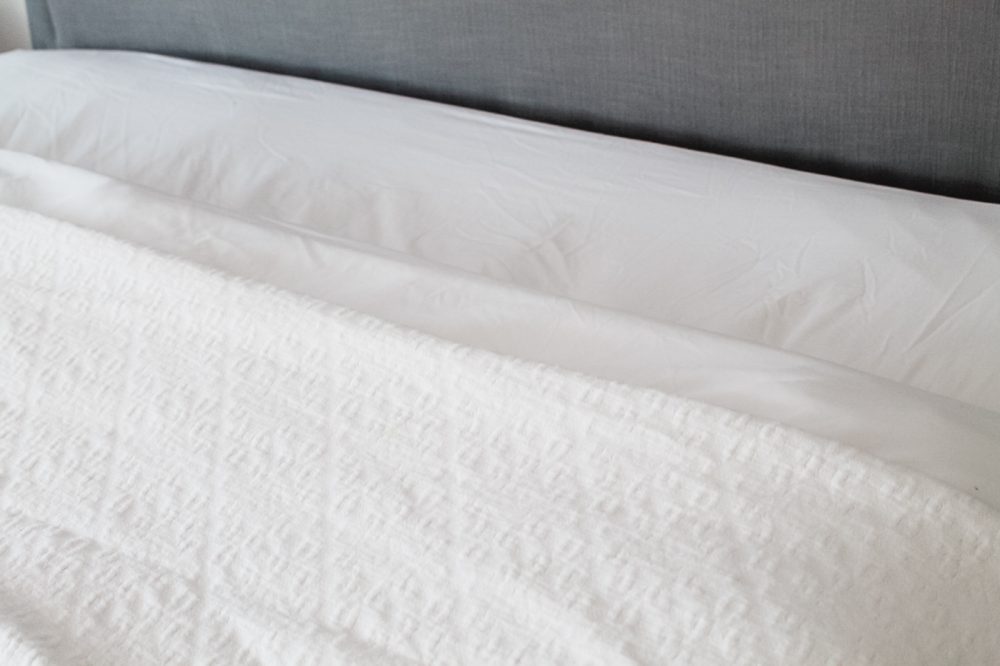 5. Adding Finishing Touches to Your Bed
If you've followed the steps above, you are in for the most comfortable sleep tonight! (Or nap, if you don't want to wait to check out your amazing work). Just place your bed pillows (shopping at Marshall's or TJ Max is the cheapest way to find good pillows) at the top of the bed, and you've got everything you really need for a good night's sleep in a super cozy bed.
Next, you want to add extras to your bed, you can get as creative or keep it as simple as you'd like. You can add decorative accent pillows or throws in different materials to your heart's content. Or just leave the bed as is with the steps you've created above.
I tend to keep things simple by adding an oversized lumbar pillow and THIS throw blanket. (Seriously, if love cozy blankets, check this one out. It went viral in my family a few Christmases ago, and I swear it is, the most comfortable blanket ever. I always have one on my bed so, when I inevitably get cold in the middle of the night, I can wrap myself in pure cozy.)
You Deserve a Good Night's Sleep in a Comfortable Bed!
You do a lot every day, and a good night's sleep is a great way to recharge for tomorrow. Having a super cozy, comfortable bed to sink into at night is perfect for the end of a long day.
More Ways to Make Your Home Cozy