This simple Chicken Marinade is so easy to throw together and makes the BEST chicken for the grill. With only 4-ingredients, it's perfect for a quick weeknight meal.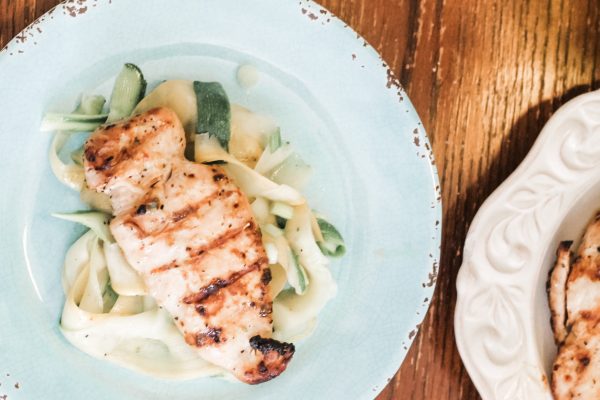 My Grandma is an AMAZING cook.
Her Thanksgiving dinner is so legendary that I've driven through blizzard-like conditions on more than one occasion just because there was no way I was going to miss out on her stuffing and coconut cream pie.
And, because I know that I've never eaten anything at her house that didn't make me want to go back for seconds and thirds, one of my favorite things to do when I visit is perusing her recipe box.
I've passed over this Grilled Chicken Marinade recipe numerous times, thinking that it looked "blah" and would result in an ordinary, uninspiring grilled chicken.
To quote Julia Roberts in Pretty Woman "Big mistake. Big. Huge."
I finally decided to try her Grilled Chicken Marinade last week. I've made it twice since then. In a word, it's GOOD. In two words, it's TOTALLY AMAZING. This is one of the moistest, flavorful grilled chicken breasts I've ever tasted.
You can also easily double this recipe and grill extra chicken for making salad later in the week.
This post will show you how to make the BEST Grilled Chicken Marinade!
What You'll Need to Make the Chicken Marinade
1 packet of Good Season Italian Dressing Mix (dry)
4 tbsp lemon juice
4 tbsp lime juice
2 tbsp olive oil
This recipe will marinate 4-5 chicken breasts.
A note on Olive Oil: When making a marinade or dressing, I exclusively use Zoe's Organic Olive Oil.
It's a really great tasting olive oil at a reasonable price. And I love the fact that it comes in a tin container (BPA free), which protects it from the light.
How to Make the Grilled Chicken Marinade
Start by placing the chicken breasts into a shallow dish.
Because most chicken breasts are so thick, I like to cut them in half horizontally before I marinate and grill them. Not only does this give you more surface area for the marinade, but it also reduces the grilling time down substantially.
I use a rectangular pyrex food storage dish for marinating the chicken. Because it has a lid, it's an easy way to keep the food covered. And, you can hold the top down tightly and give it a good shake to distribute the marinade.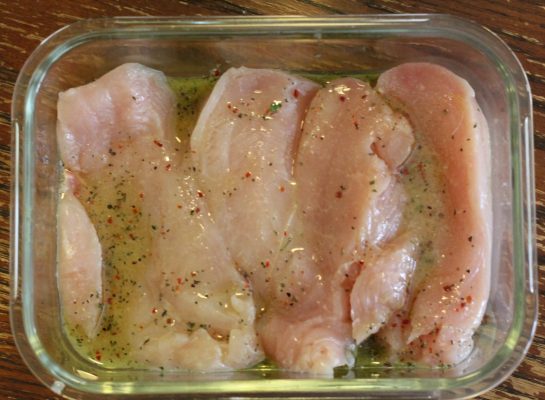 Next, mix the marinade ingredients in a small bowl. Once thoroughly mixed, pour over the chicken breasts, making sure to coat the chicken breasts thoroughly with the marinade.
(You can also place all the ingredients, including the chicken, into a large ziplock bag, making sure to coat the chicken thoroughly.)
Allow the chicken to marinate for about 30 minutes.
Do not allow the chicken to marinade much longer than that. When working with lemon juice, more time in the marinade doesn't equal more flavor and it can cause the meat to toughen. If you want a really moist and tender chicken breast, stick to the 30-minute mark with the marinade.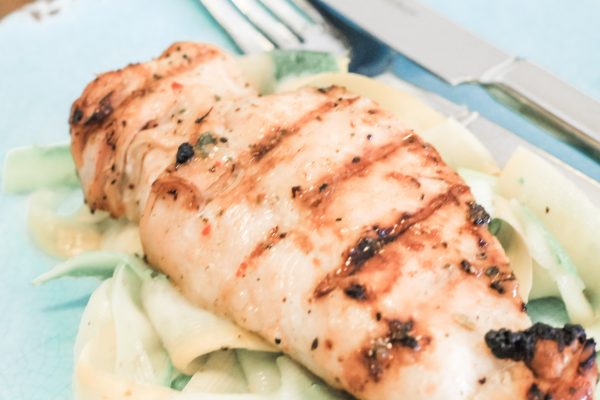 How to Grill the Marinated Chicken
After you've marinated the chicken, place them on the grill. I usually grill them for 6-8 minutes, then flip the chicken over, and grill for an additional 6-8 minutes.
The chicken breasts are done when they've reached an internal temperature of 165 degrees Fahrenheit. For a totally FOOLPROOF way to keep track of the temperature of your food while it's grilling, check out my new FAVORITE GRILLING PRODUCT!
And, if you're totally new to grilling, check out my tutorial HERE.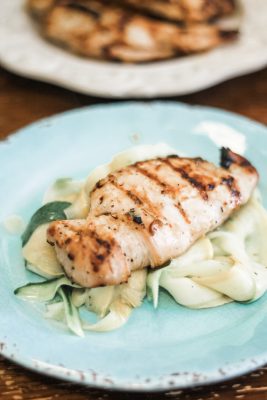 Even More Posts You Will LOVE!