How to Hygge During the Fall Season
Fall is the perfect time to Hygge. Here are a ton of fall Hygge activities to make your autumn extra cozy this year.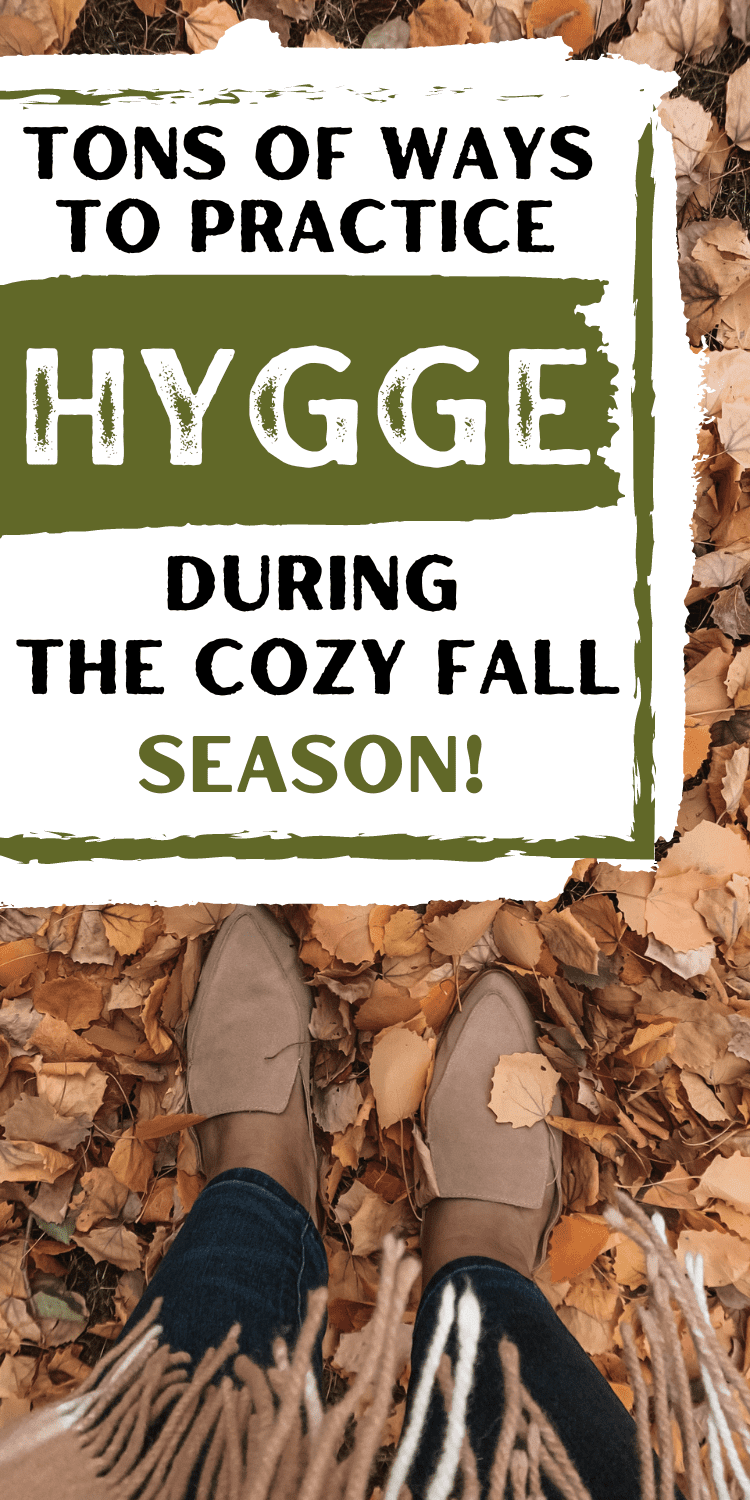 Note: The links in this post may be affiliate links.
If you've been searching for ways to live a cozier life, you've probably come across the Danish concept of "Hygge."
It's pronounced "hoo-gah" (which you probably know if you've seen Frozen The Musical on stage – awesome number!) and is basically a practice you can embrace in order to enjoy life more.
I know that it has a much larger meaning in Denmark, but the commercialized American version really has come to mean creating a cozy, relaxing environment, living a bit more simply, and surrounding yourself with the people you enjoy hanging out with the most.
Many people think of Hygge as something to be practiced during the winter months. But, if you think about it, fall really is the perfect time to embrace this idea of Hygge:
Depending upon where you live, the weather is finally not gross hot, and it's now pleasant to be outside enjoying nature.
Fall decorations are naturally Hygge – cozy chunky throw blankets, leaves, and pumpkins, and wooden décor. Maybe even some faux fur here and there.
Holidays like Halloween and Thanksgiving naturally encourage family time and events where you can spend quality time with close friends.
Good food – pumpkin lattes, hearty soups, and roasted veggies are all in vogue this season.
If you are looking to add more cozy Hygge activities to your life this fall, here are some ideas:
Enjoy the Scents of Fall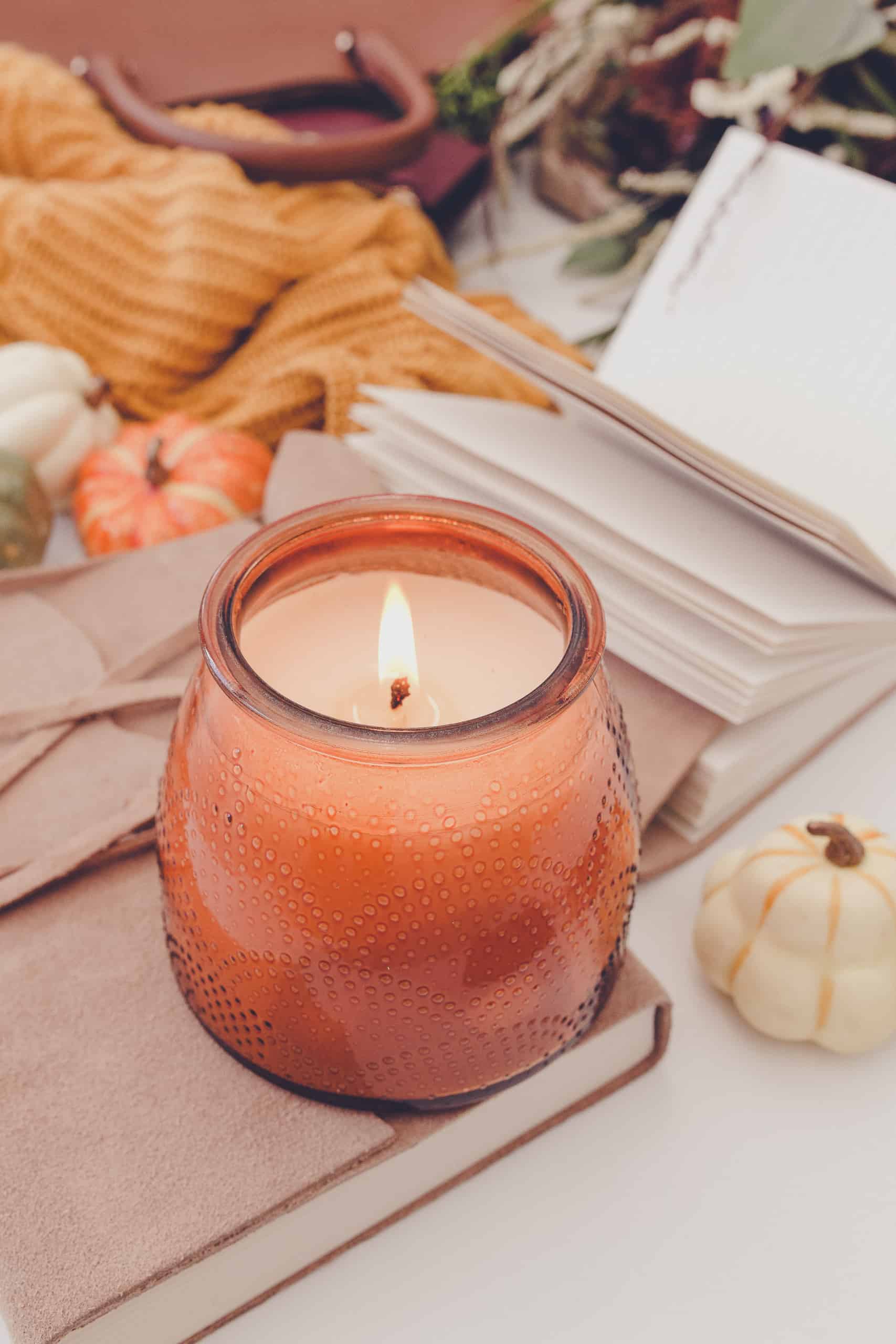 Fall is associated with so many warm, cozy scents, including:
Pumpkin
Cinnamon
Vanilla
Nutmeg
Ginger
Apple
Clove
Orange
Chai
Apple cider
Fir
Eucalyptus
Cedarwood
Here are a few ways you can enjoy the scents of fall:
Burn fall scented candles
Add a few drops of your favorite essential oils to a diffuser
Simmer a pot of water on your stove (ingredients like orange rinds, apple slices, clove, and cinnamon sticks smell AMAZING). Once it's simmered for a bit, turn the burner off and leave the pot on the stove to fill your kitchen with the scent of yumminess.
Bake your favorite pies, cookies, apple crisp, or this snickerdoodle zucchini bread so that the delicious smells of fall waft through your home.
Fill a bowl with your favorite fall-scented potpourri and just replace it when the scent is gone. Super easy and pretty.
Cozy Up Your Hygge Home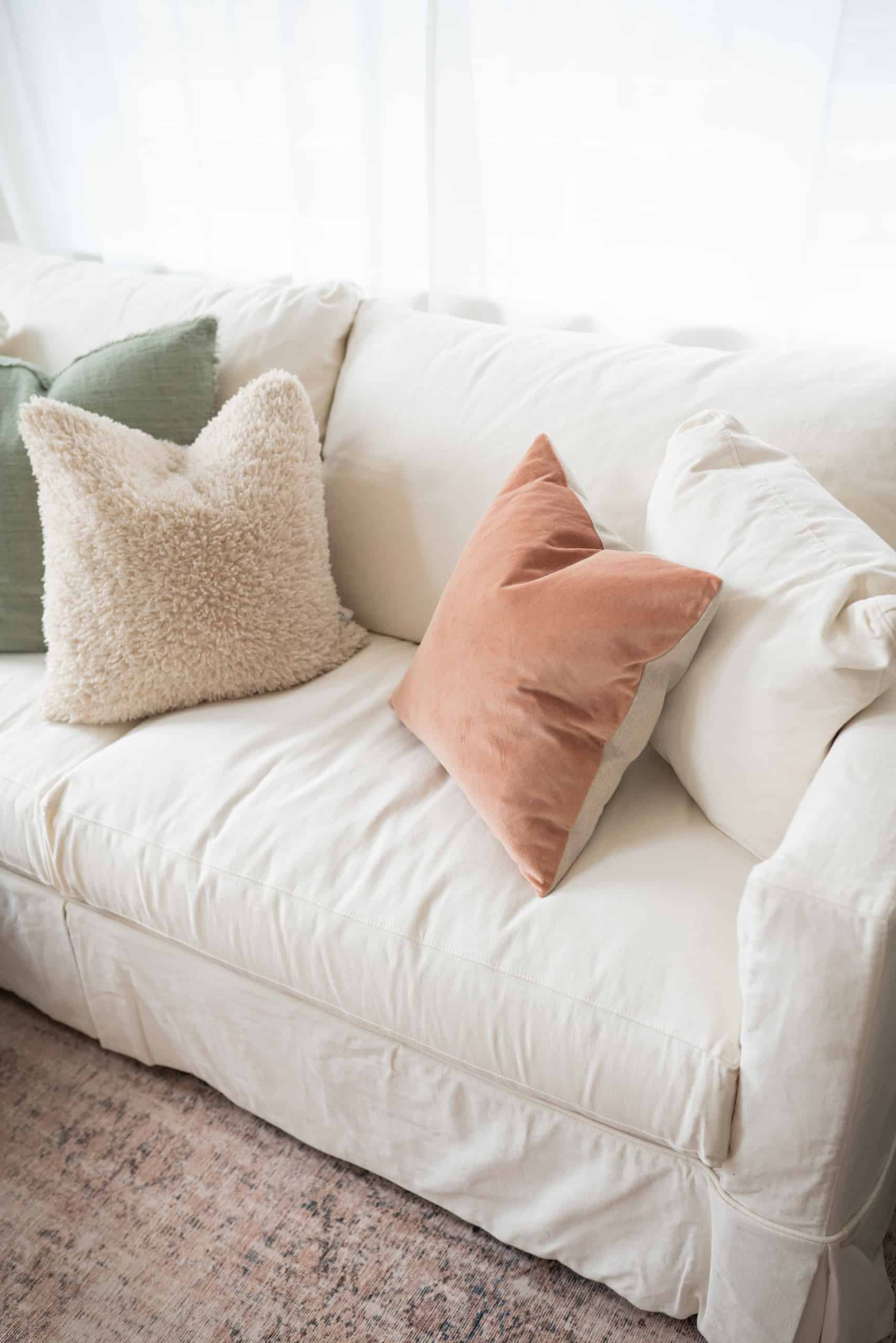 Adding a few simple things to your home here and there can help you create the warm atmosphere that fall calls for. Here are some easy ways to give your home decor a quick cozy fall makeover.:
Switch your décor up by adding in some warm fall colors like red, orange, yellow, and green.
Change out the flowers in your vases to sunflower, eucalyptus branches, deep-colored carnations, dried stems, or any other fall-themed bouquet you love.
As the weather gets cooler, add a few additional soft blankets and cozy pillows for snuggling up with.
Light candles and diffuse essential oils to bring in the scents of fall and help you relax.
Promote more reading and less tv by laying out some good books in genres you and your family enjoy. You can get creative and incorporate stacked books into your décor as well.
Bring nature indoors with some potted plants as well – pansies and chrysanthemums are perfect for fall.
Add soft rugs to your bare floors.
If you have a fireplace, use it. If you don't have a traditional fireplace, you can always put in an electric one or get a portable one. While you won't get the same smells and warmth from it, it still makes your home cozy and creates the ambiance you're looking for.
Go for softer lighting – replace your fluorescent light bulbs with LED. Or, dim the lights and supplement with fairy lights for a nice, soft glow.
Set up a cozy nook in your living room and make it your go-to spot for relaxing after the kids have gone to bed. Make sure to add your coziest blanket!
Incorporate natural materials like wood, dried twigs and sprigs, brown and amber-colored glass, and wicker. If you've recently enjoyed a bottle of red wine with a pretty label, you can add a few twigs or eucalyptus leaves, and you've got instant Hygge autumn decor.
If you have a dutch oven or pot in a deep rich color, keep it out on your stove to add a little Hygge vibe to your kitchen.
Create a fall display on your front porch or back deck.
Where to Find Cozy Fall Decor For Your Home
Stores like Marshalls, TJ Maxx, and Home Sense often have seasonal decor at great prices. Invest in a few classic items you know you'll reuse in years to come.
Kirkland's is another place you can pick up reasonably priced seasonal decor. They also tend to have really great sales on their seasonal items.
While more pricey, stores like Arhaus and Pottery Barn have amazing blankets and faux fur you'll use for years to come.
Get Outside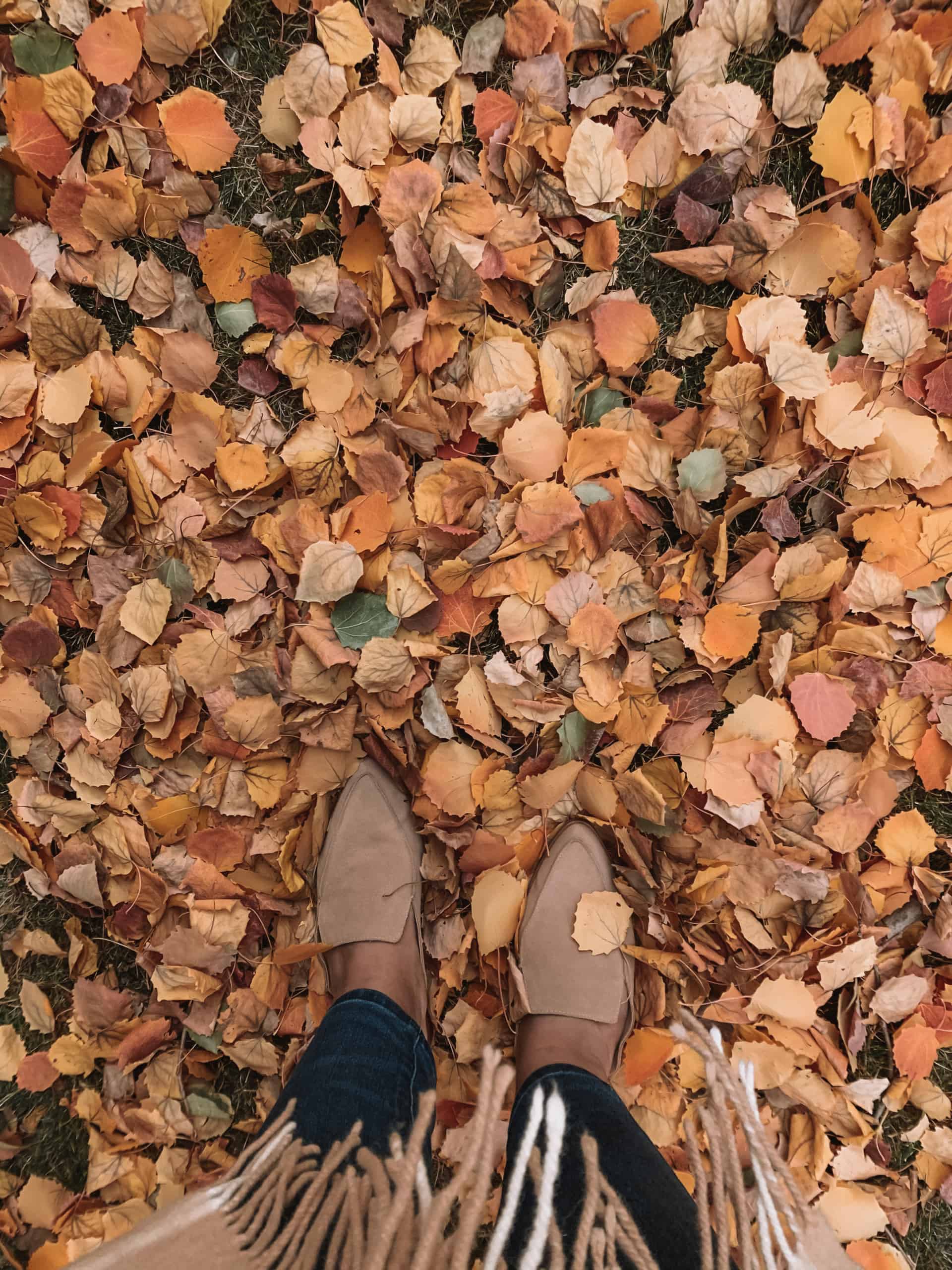 The most important aspect of the Hygge lifestyle is that you are happy and enjoying life with the people you love. Here are some fun ways you can get outside, get some fresh air, and enjoy nature this fall:
Apple picking
Visiting a pumpkin patch
Go for a hay ride
Staying in a cabin
Going on bike rides
Taking hikes on local trails and soaking in the changing colors of the fall leaves
Have great conversations sitting around a fire pit and enjoying warm drinks
Plant tulip bulbs now – and be rewarded in the spring next year with beautiful pops of color in your flower beds.
Have a picnic on your front porch.
Bake Some Fall Treats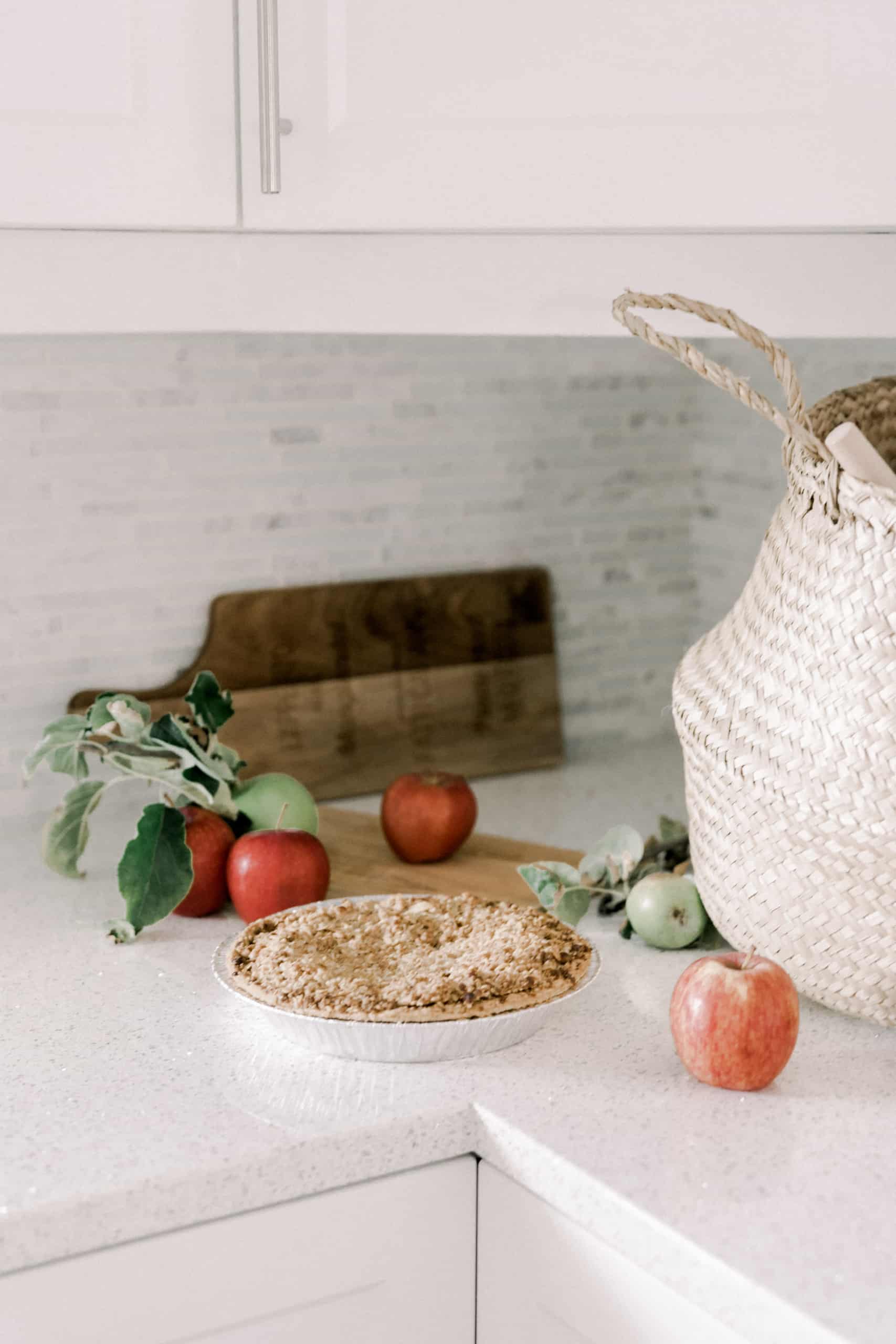 If you love to bake (or eat), fall is a wonderful time to make sweet treats. All of the fall spices – here's looking at you cinnamon and nutmeg and pumpkin pie spice – scream cozy.
If you've never made homemade bread before, there are some very simple recipes you can search for. There's nothing quite like a hunk of buttered bread right out of the oven!
Do not underestimate the power of food – quiet evenings at home baking cookies with your kids or inviting a friend over to enjoy a fresh slice of apple pie are the things memories are made of. Add in some hot drinks (herbal teas, pumpkin spice lattes, and a hot chocolate station), and you're all set.
Have a Cozy Night In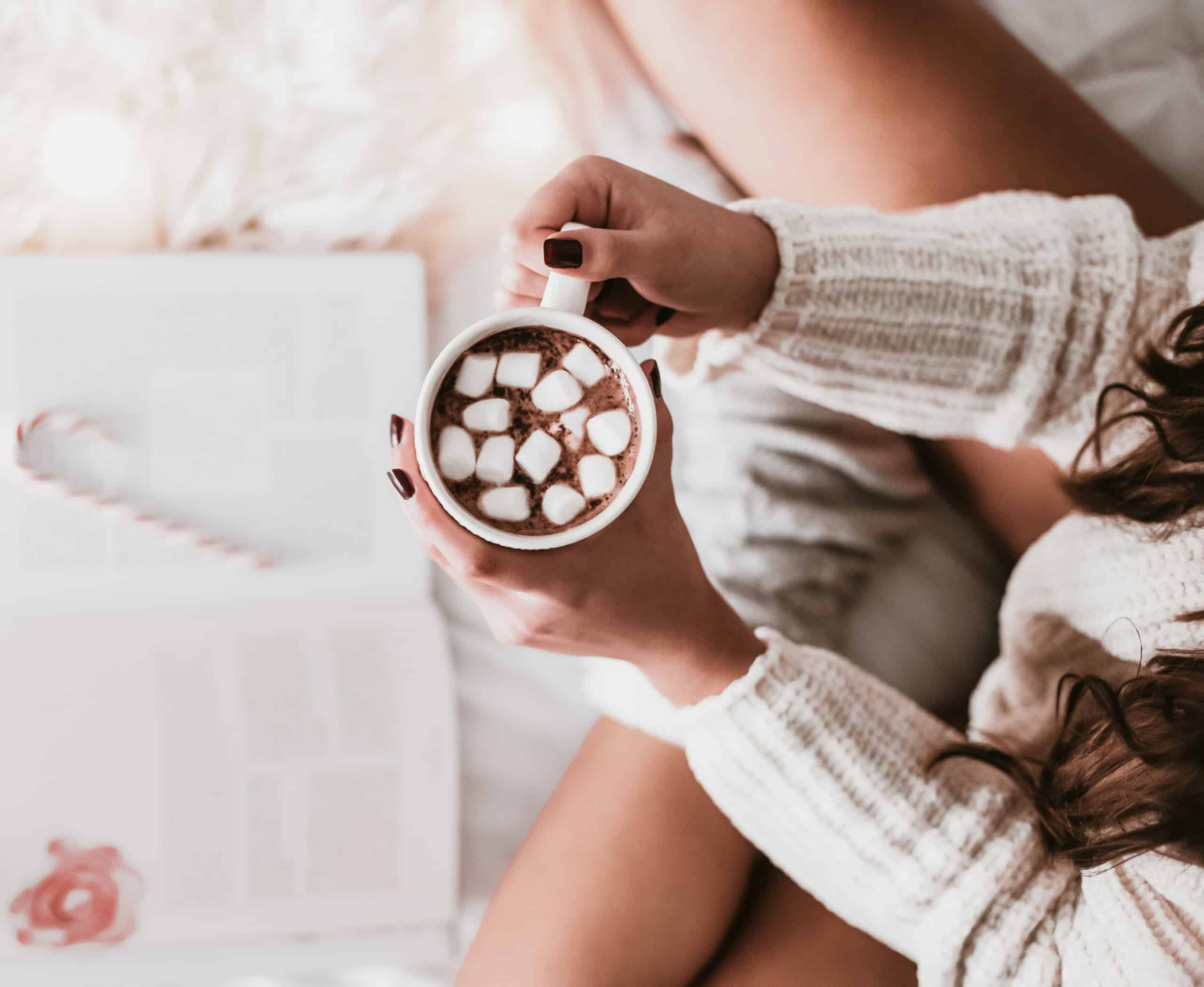 Fall brings with it cooler temperatures – and sometimes rainy days and downright cold evenings. Having a cozy night in, either alone or with friends, is a great way to practice Hygge.
Here are some Hygge activities you can do on a cozy fall night:
Play cards or a board game
Have a family movie or binge-watch your favorite series
Cozy up on the couch under a warm blanket with a good book, your journal, or your favorite Hallmark movie
Go to bed early and get a good night's sleep
Work on a craft together as a family
Invite friends over for a home-cooked dinner and good conversation.
Cook More Comfort Food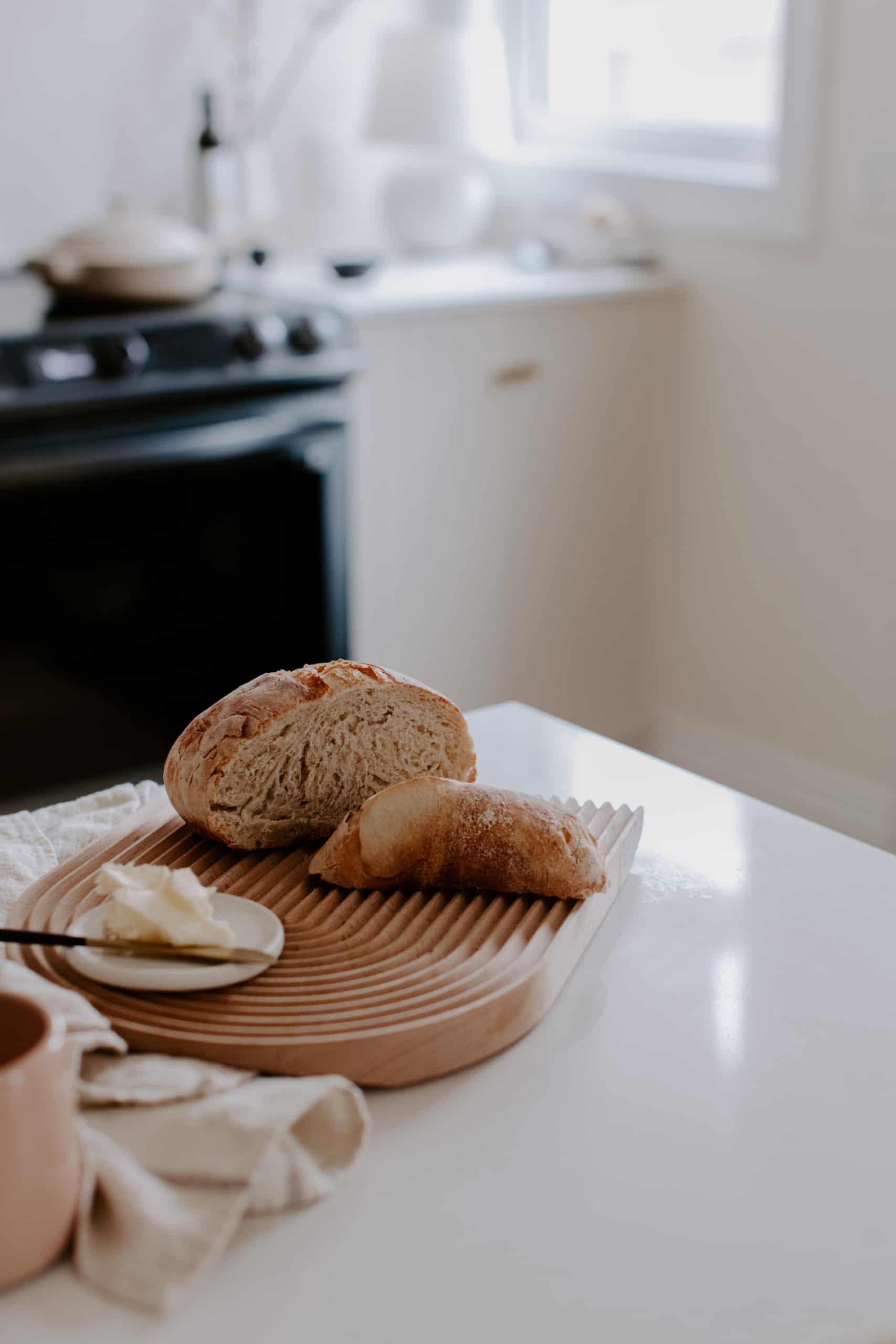 Fall weather calls for heartier, more substantial meals – so start cooking up batches of your favorite comfort food. Here are some for you to try:
You could also try incorporating more seasonal fruits and vegetables into your menu. If you're not used to eating seasonally, use this as an opportunity to seek out new recipes and switch your menu up a bit.
Here are some of the most common fruits and vegetables that are in season during the fall:
Tomatoes
Carrots
Apples
Winter Squash
Pumpkin
Bell Peppers
Beets
Sweet Potatoes
Make Family Memories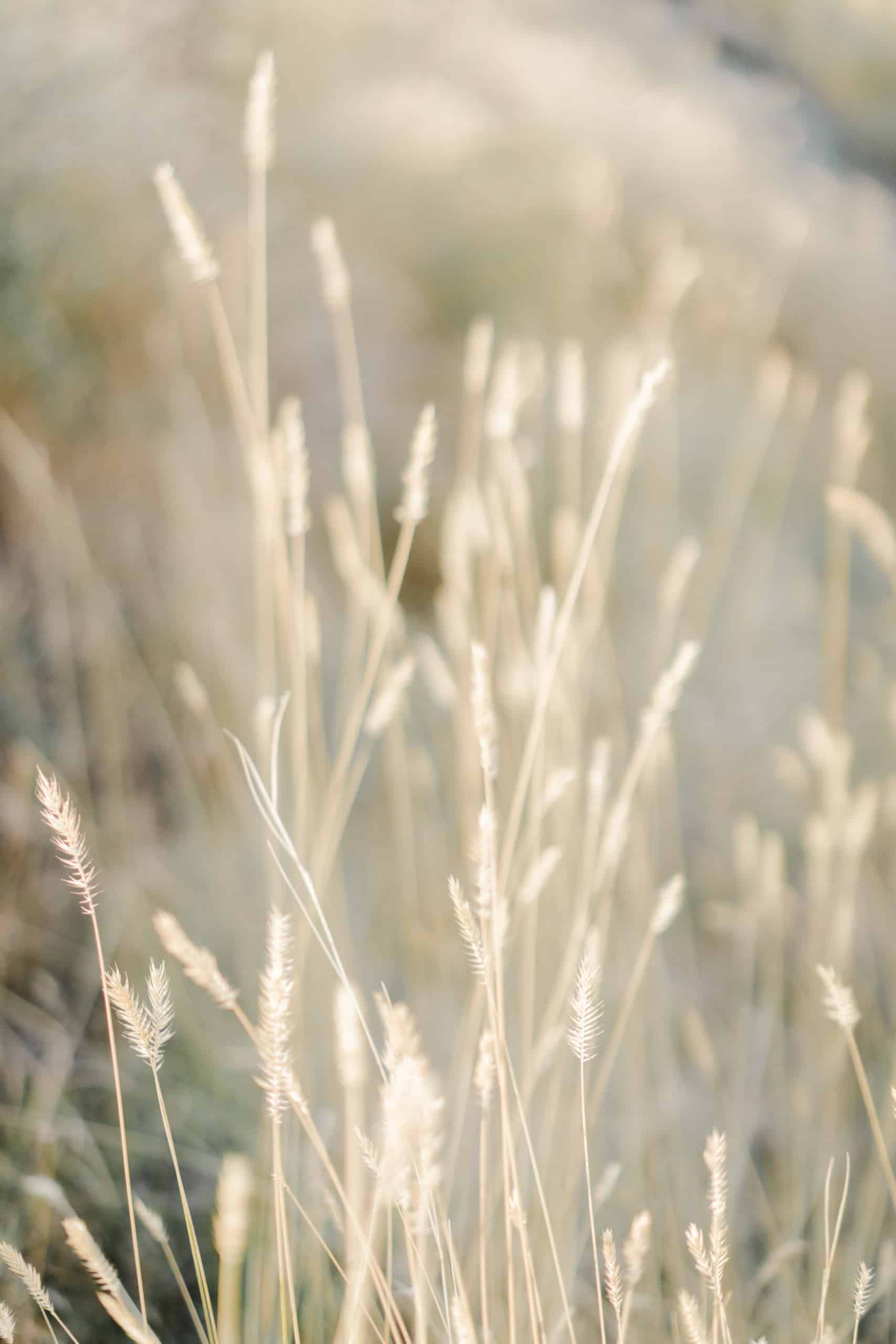 There are a ton of activities you can do as a family during the fall. Here are a few Hygge ideas for you to try:
Visit local fairs or festivals. These often include activities like hay rides, bobbing for apples, or corn mazes. These can be a fun way to get outside and spend with the people you love most.
Go apple picking
Instead of buying your pumpkin at a grocery store, go to an actual pumpkin patch and pick your own.
Go on a fall nature hike.
Collect fall leaves and make a project with them together
Rent a cabin or stay in a lodge at a local state park for a weekend. These usually have a ton of family activities available, plus it's always nice to have a quick getaway.
Seek out a local tea shop or coffee beanery and select a seasonal blend for you and your significant other to enjoy throughout the season.
Visit your local farmer's market.
Create a fall bucket list and see how many things you can check off
Visit a local bakery and pick out snacks
Go to a local olive oil store and spend an hour sampling the olive oil and vinegar selections. Bring home your favorites, buy a crusty loaf of bread, and spend the evening enjoying your purchase.
Go to a bookstore as a family, spend time browsing, and allow everyone to go home with a new, great book.
Update Your Wardrobe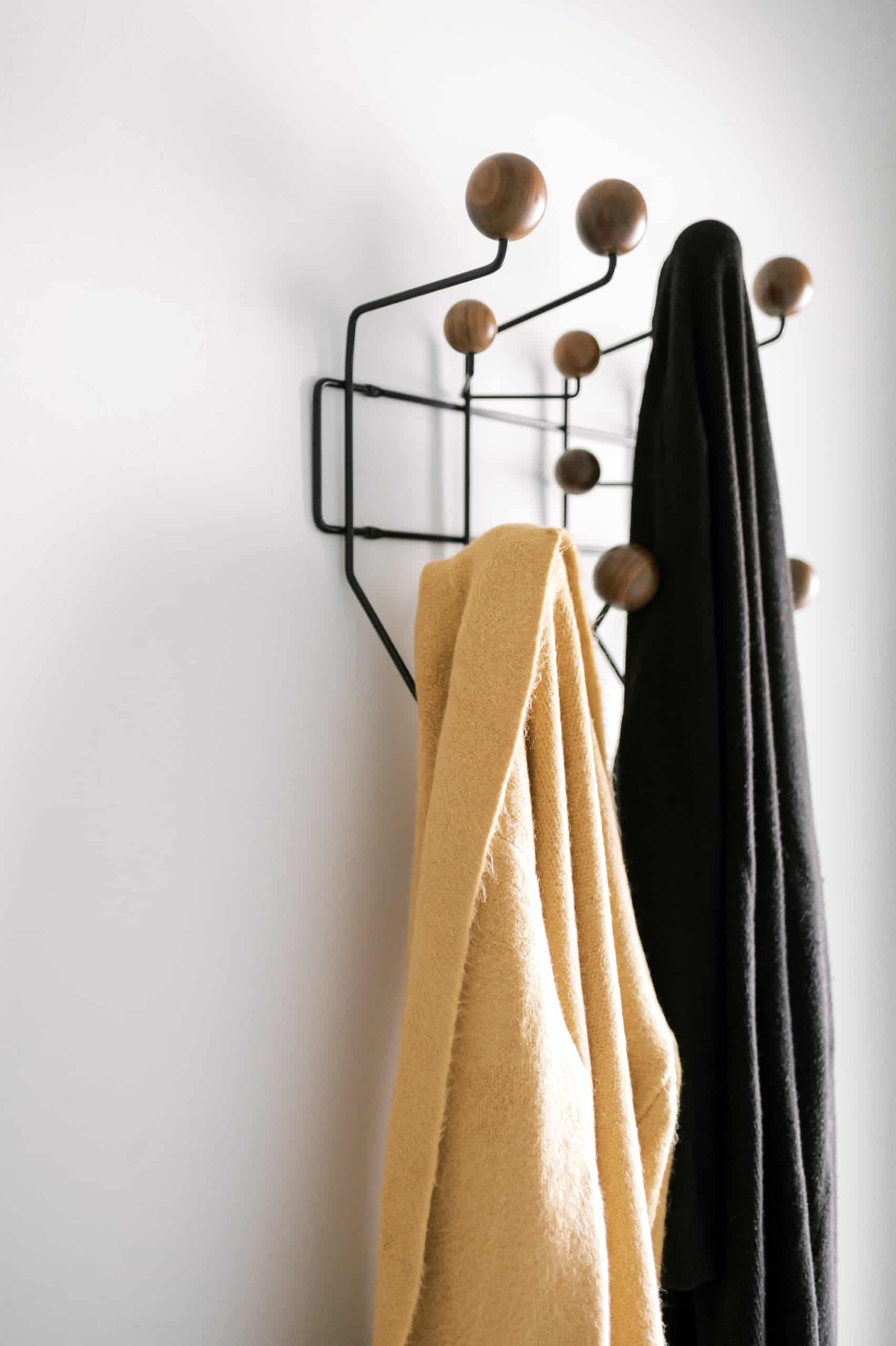 Add a few new cozy items to your wardrobe. A fall wardrobe calls for:
An oversized cozy sweater
Fleece lined leggings
Relaxed denim
Cozy socks and slippers
Flannel
Scarves
Boots
Embrace the Concept of Slow Living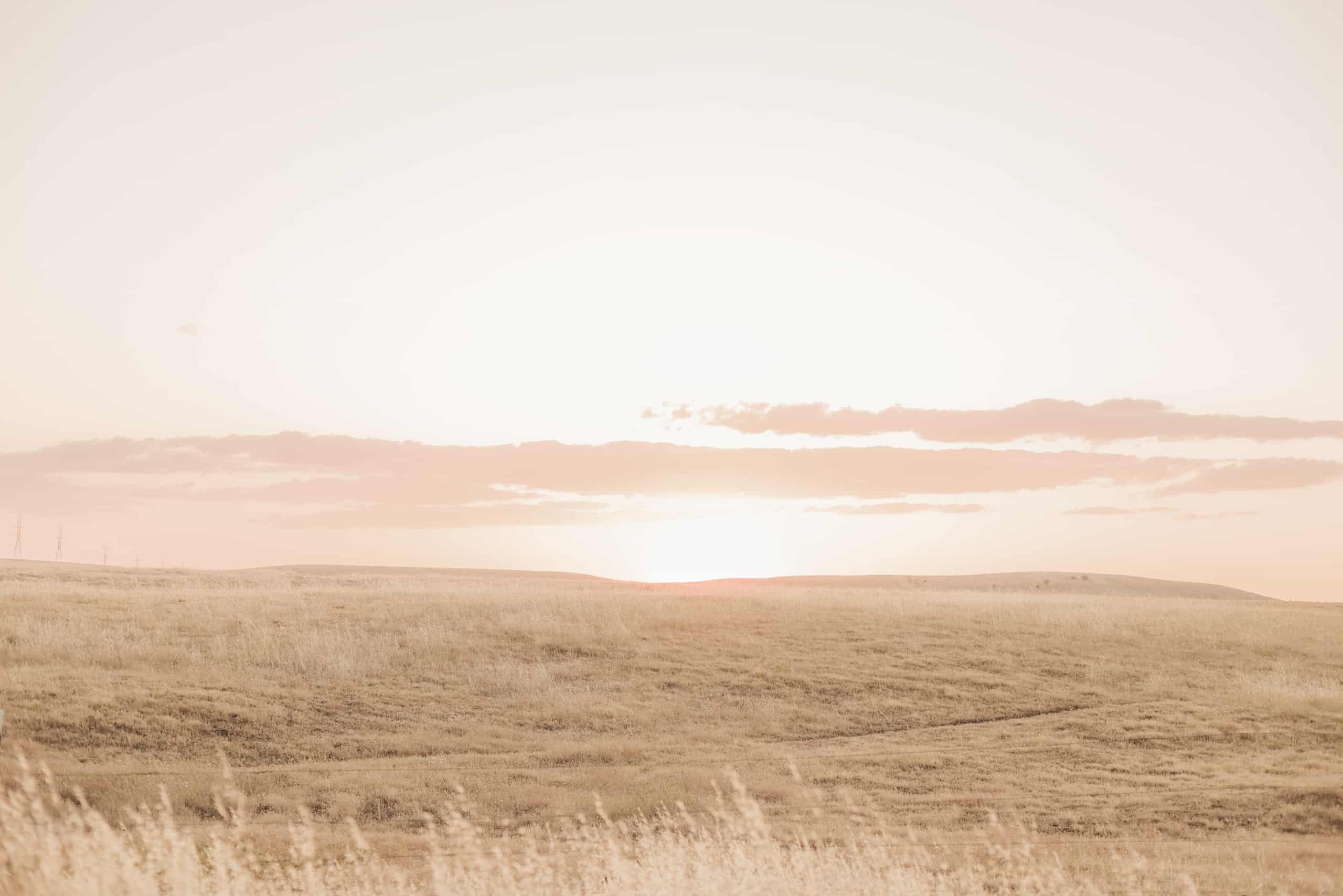 One of the best ways to embrace the Danish way of life is to slow down, put aside the hustle and bustle of your daily routine, and just enjoy the moment.
Here are a few ideas you can incorporate into your life if you want to experience the satisfaction of slow living, even for just a few moments:
Catch a sunrise or sunset
Sit still for 5 minutes
Pray or meditate
Read a single chapter in a book
Sip on a hot cup of tea while doing nothing else
Color in a coloring book
Take a 20-minute nap
Take part in a very simple activity like snapping pictures of nature with your phone or baking premade cookie dough and enjoying a warm snack. Anything that brings you joy and required little effort will suffice.
Fall is a great time to practice Hygge. It's the season of gratitude where we naturally enjoy spending time with loved ones and taking the time to express gratitude for all of the good things in life. I hope this list of ideas inspired you to make a point to add a few cozy moments into your daily life!
More Hygge Living Posts You'll Enjoy