Friday Night Lights: 25+ Menu Ideas For Football Season
Score a touchdown in the kitchen this football season with our mouthwatering Friday Night Lights menu ideas! From loaded nachos to DIY subs, these 25+ ideas are your winning playbook for delicious pre-game dinners.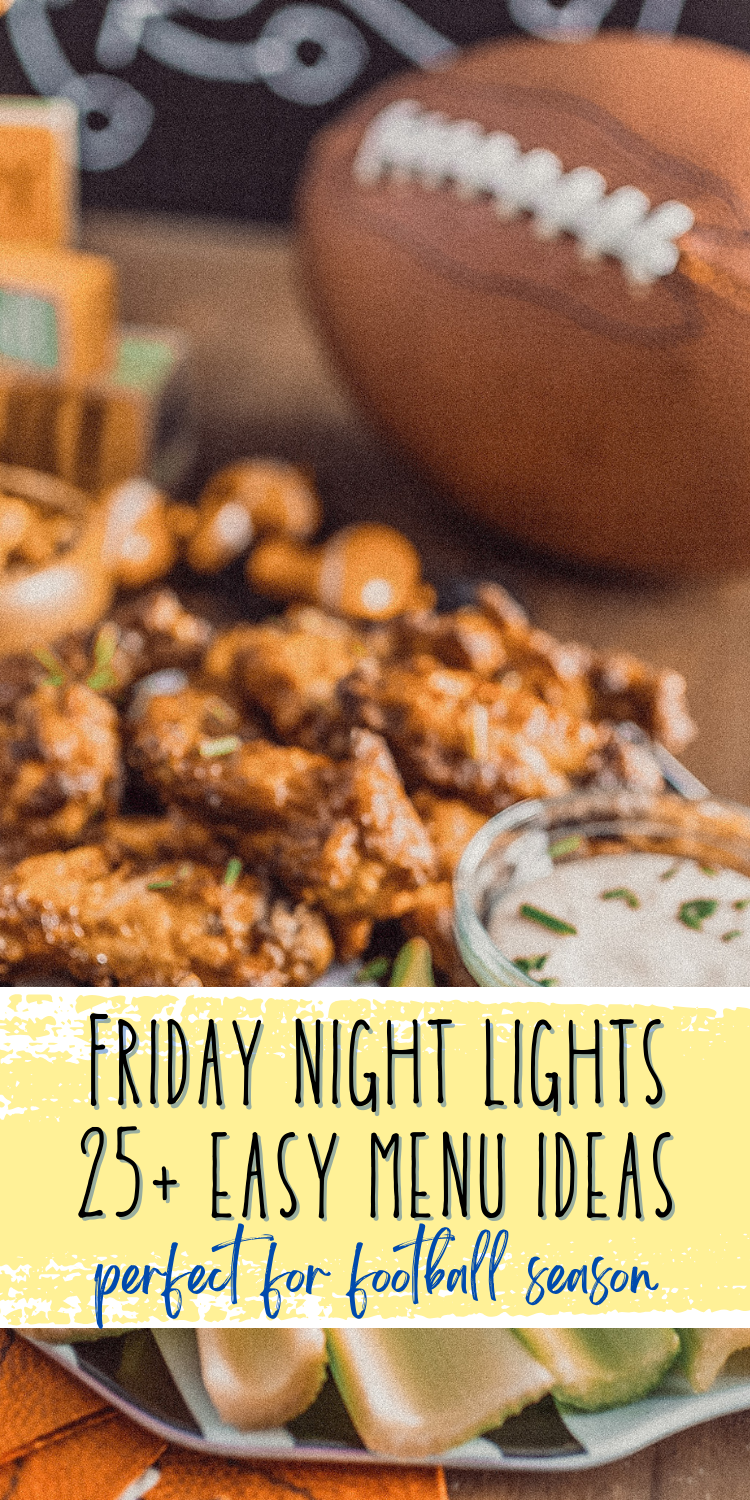 Note: The links in this post may be affiliate links.
Friday nights under the stadium lights, rooting for your favorite high school team, are the absolute best part of the week. But before the touchdown dances and thrilling tackles, there's one question that needs an answer: "What's for dinner?"
Whether you're hosting a pre-game gathering or just feeding your family, these easy menu ideas are perfect for kicking off your evening!
With just a little bit of preplanning, these ideas are quick to assemble during that short window between work/school and kickoff. As a bonus, they can all be served buffet or "build your own" style, which is always super fun.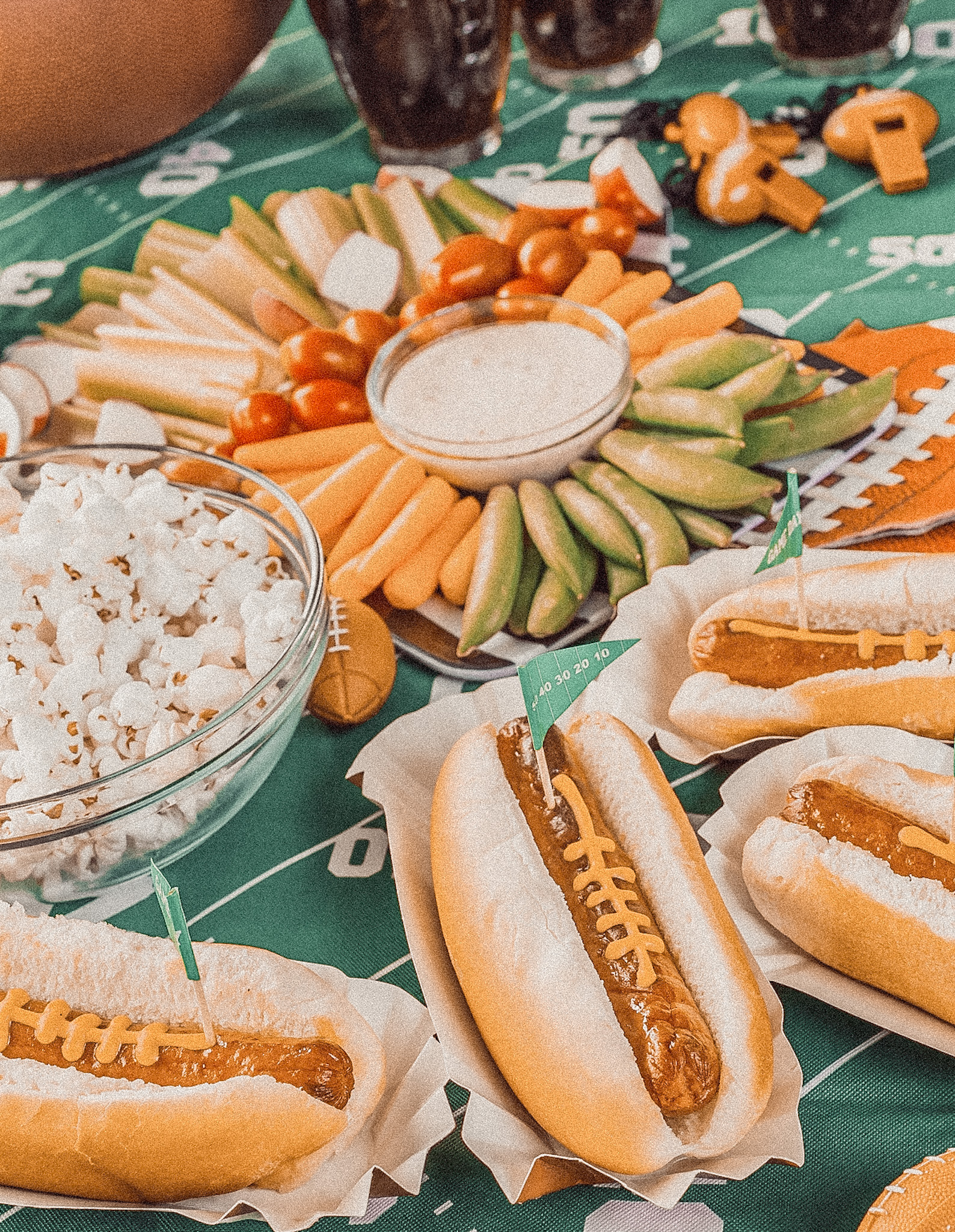 Here are 25+ ideas for fun, cozy, pre-game meals:
Classic Hot Dogs
Set up a hot dog bar with all the fixings—mustard, ketchup, relish, onions, and sauerkraut. Let everyone customize their own dogs.
Loaded Nachos
Fill a small crockpot with nacho cheese and set out tortilla chips with all of your favorite toppings. Taco meat, black beans, jalapeño pepper, sour cream, salsa, and guacamole are usually fan favorites.
Build-Your-Own Subs
Here's an idea that requires minimal effort on your part. Simply set out a variety of deli meats, cheeses, and condiments, and let your crew create their own subs or sandwiches.
Taco Board
Set up a taco bar with seasoned ground beef or turkey, shredded lettuce, diced tomatoes, and all the taco toppings you love.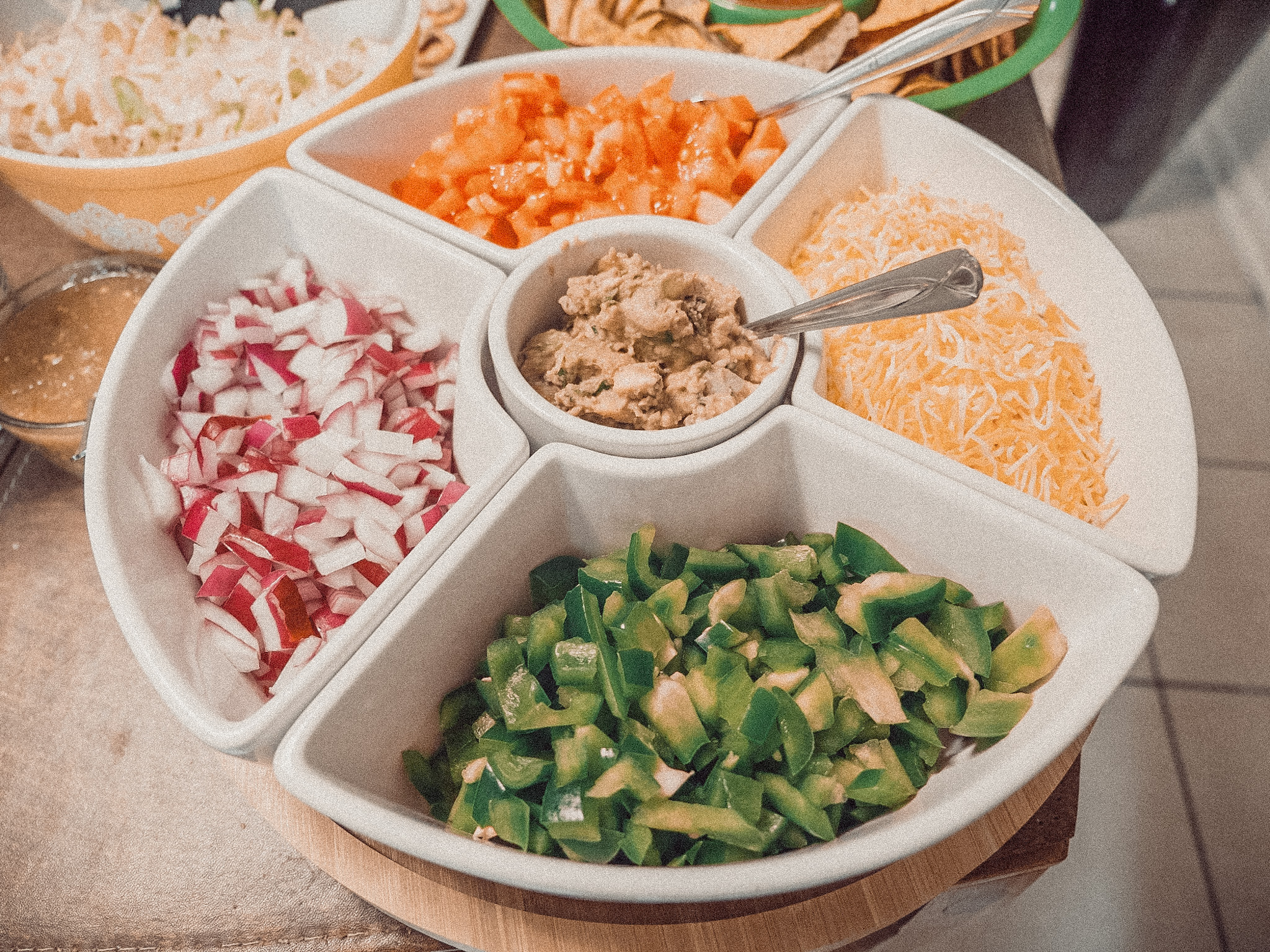 Pizza Night
Order a stack of pizzas with different toppings to satisfy everyone's taste buds.
BBQ Chicken or Pork Sliders
Put your slow cooker to use by starting a batch of pulled pork or chicken early in the day. When dinner time rolls around, simply set out Hawaiian rolls, barbecue sauce, and a container of coleslaw for an easy crowd-pleaser.
Mac 'n' Cheese Madness
Prepare a big batch of macaroni and cheese and let everyone add their favorite toppings, like bacon bits or jalapeños.
Potato Bar
Bake a batch of potatoes and set up a potato bar with toppings like chili, cheese, sour cream, and green onions.
Wing Bar
Order a variety of chicken wings with different sauces and dips for an easy, done-for-you gameday meal.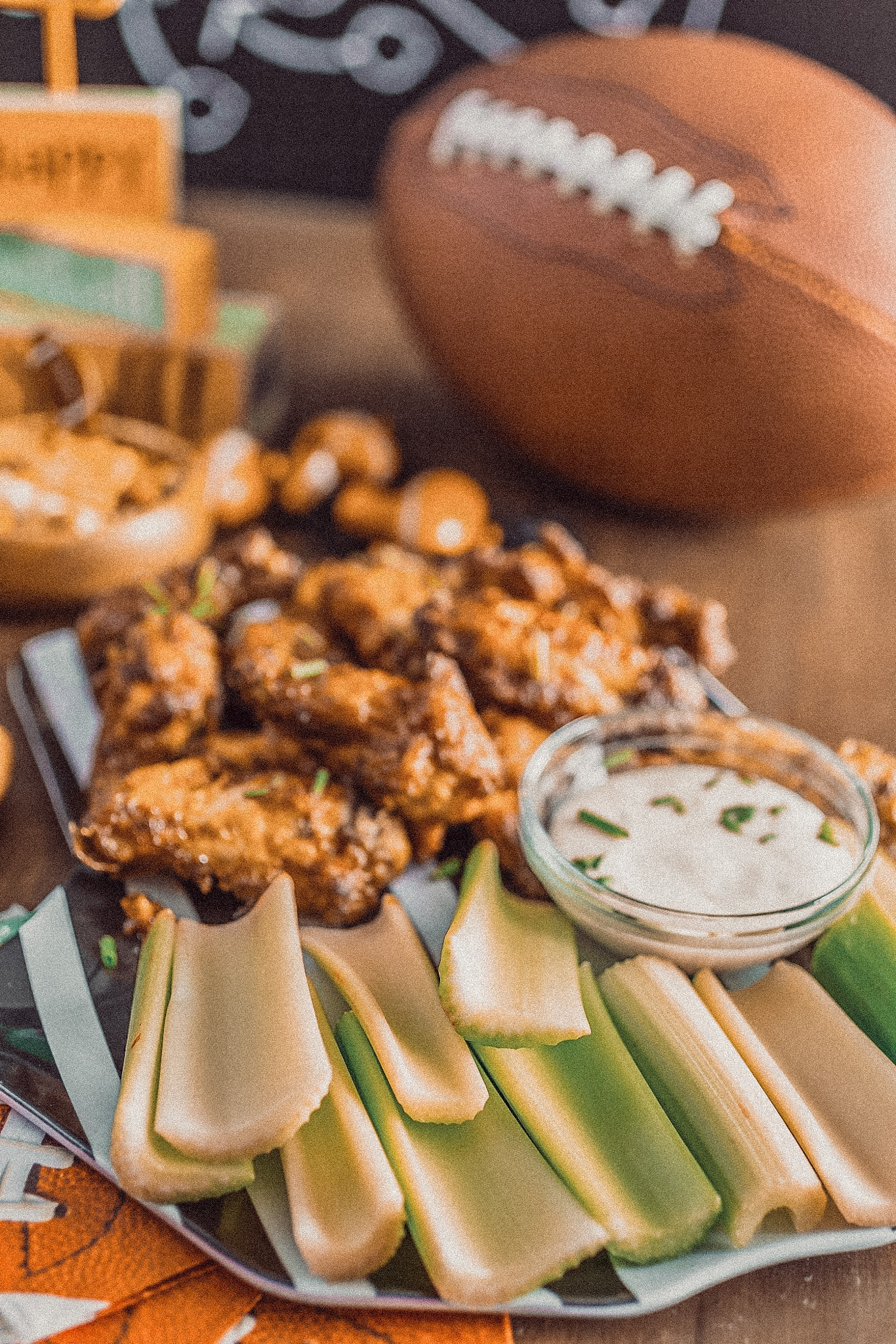 Breakfast for Dinner
Whip up a breakfast feast with scrambled eggs, salty bacon, sausage, and pancakes or waffles. Check out this pancake board for inspiration!
Wrap It Up
Pre-make wraps with a variety of fillings, from deli meats and veggies to grilled chicken or steak. Pair the wraps with a bowl of potato chips or potato salad for a quick dinner.
Sushi Rolls
Get fancy and order sushi rolls from your favorite spot or grab some from the grocery store for a deliciously different dinner. Serve with soy sauce, wasabi, and pickled ginger on the side.
Salad Bar
Set out a salad bar with mixed greens, toppings, and dressings. Add grilled chicken or shrimp for protein.
Chili Cook-Off
Let your guests pitch in and host a chili cook-off, and invite friends to bring their best chili recipes for a friendly competition.
Baked Potato Soup
Make a crock pot full of creamy baked potato soup with toppings like cheese, bacon, and chives.
Quesadilla Time
Whip up a batch of cheesy quesadillas with fillings like chicken, veggies, or even just gooey cheese. You could also swing through the Taco Bell drive-thru, order enough to feed your group and set them out on platters when you get home. Serve with chips and salsa.
Sloppy Joes
Make a big batch of Sloppy Joes with plenty of buns for your hungry crowd. Set out a bowl of potato chips and you're ready for the big game day!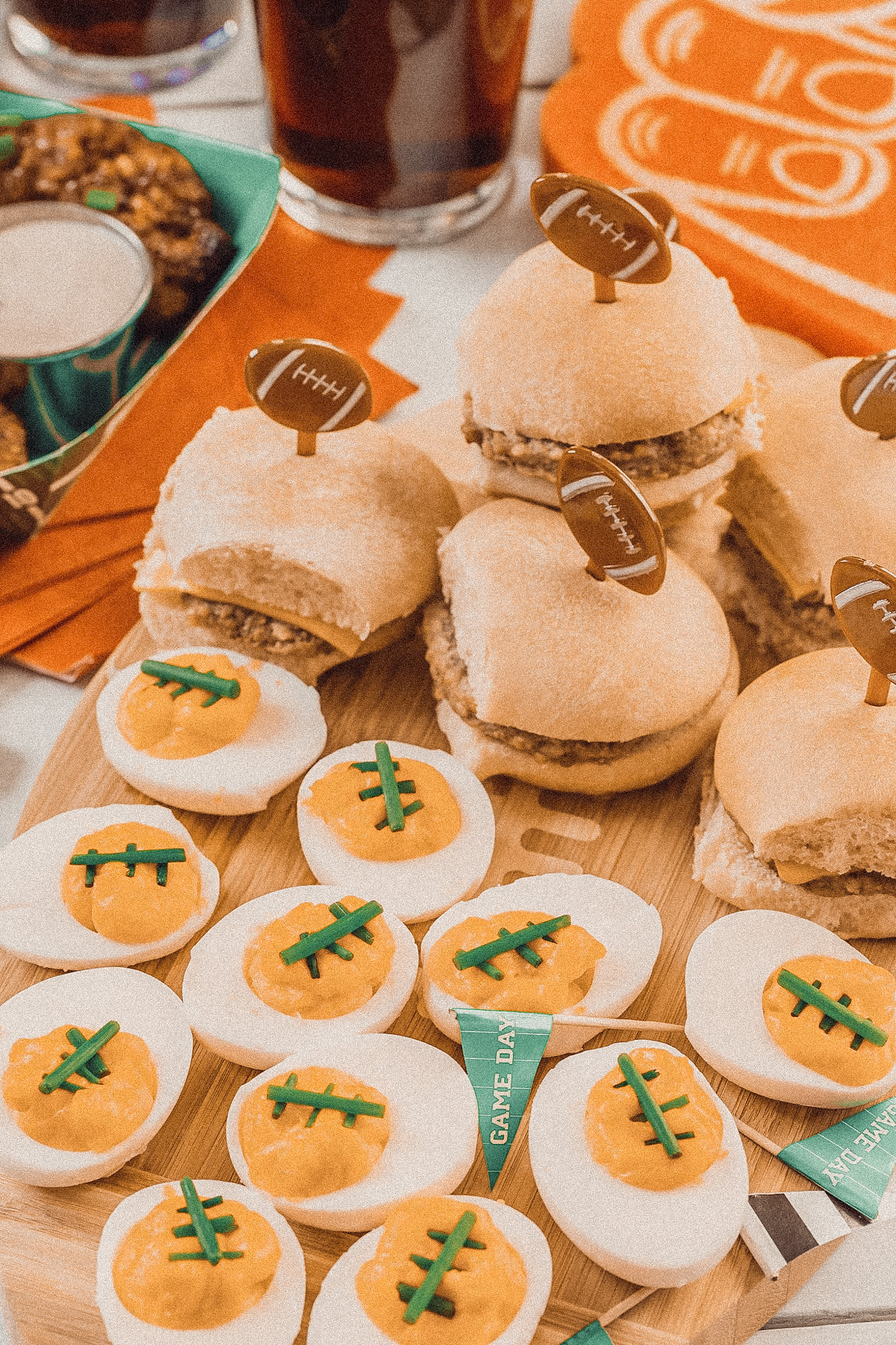 Favorite Game Day Appetizers
Take a cue from Super Bowl Sunday, and instead of a meal, set up a snack table. Buffalo chicken dip, jalapeño poppers, artichoke dip, caramelized onion dip, or a hot cheesy dip with bread chunks are some of the best game-day foods. You can either make them ahead of time yourself or purchase them premade at your grocery store.
Rice Bowl Extravaganza
Set up a DIY rice bowl station with rice, protein (chicken, beef, or tofu), veggies, and various sauces. Check out this Beef Barbacoa Board for inspiration!
Mini Meatball Subs
Heat up premade, frozen mini meatballs and set them out with hoagie buns, marinara sauce, and slices of provolone cheese.
Baked Ziti
Bake a big tray of cheesy baked ziti for a comforting, crowd-pleasing meal.
Bagel Buffet
Gather an assortment of bagels, cream cheese, smoked salmon, and all the toppings for a delicious bagel buffet.
BBQ Ribs
Treat your crew to tender BBQ ribs with coleslaw and cornbread.
Veggie Platter
Set out some healthy appetizers for everyone to snack on before the football game. Setting out a colorful veggie platter with hummus and a variety of creamy dips is the perfect way to go if you just everyone to have a light snack pre-game.
Meat and Cheese Plate
You'll never go wrong with a charcuterie board with an array of meats, cheeses, crackers, and fruits. Not only are they so much fun, but they're a super easy way to feed a crowd.
Chicken Tenders
Serve crispy chicken tenders with an assortment of dipping sauces for a simple yet satisfying meal.
Mediterranean Feast
Build your own Mediterranean bowls with falafel, hummus, tabbouleh, and pita bread. These Chicken Shawarma Bowls are one of my favorite game-day recipes.
Game day dinners should be fuss-free, delicious, and ready to fuel your crew for the excitement under the Friday night lights. With these easy menu ideas, you can focus on enjoying time with your friends and family before going out to root for your favorite team.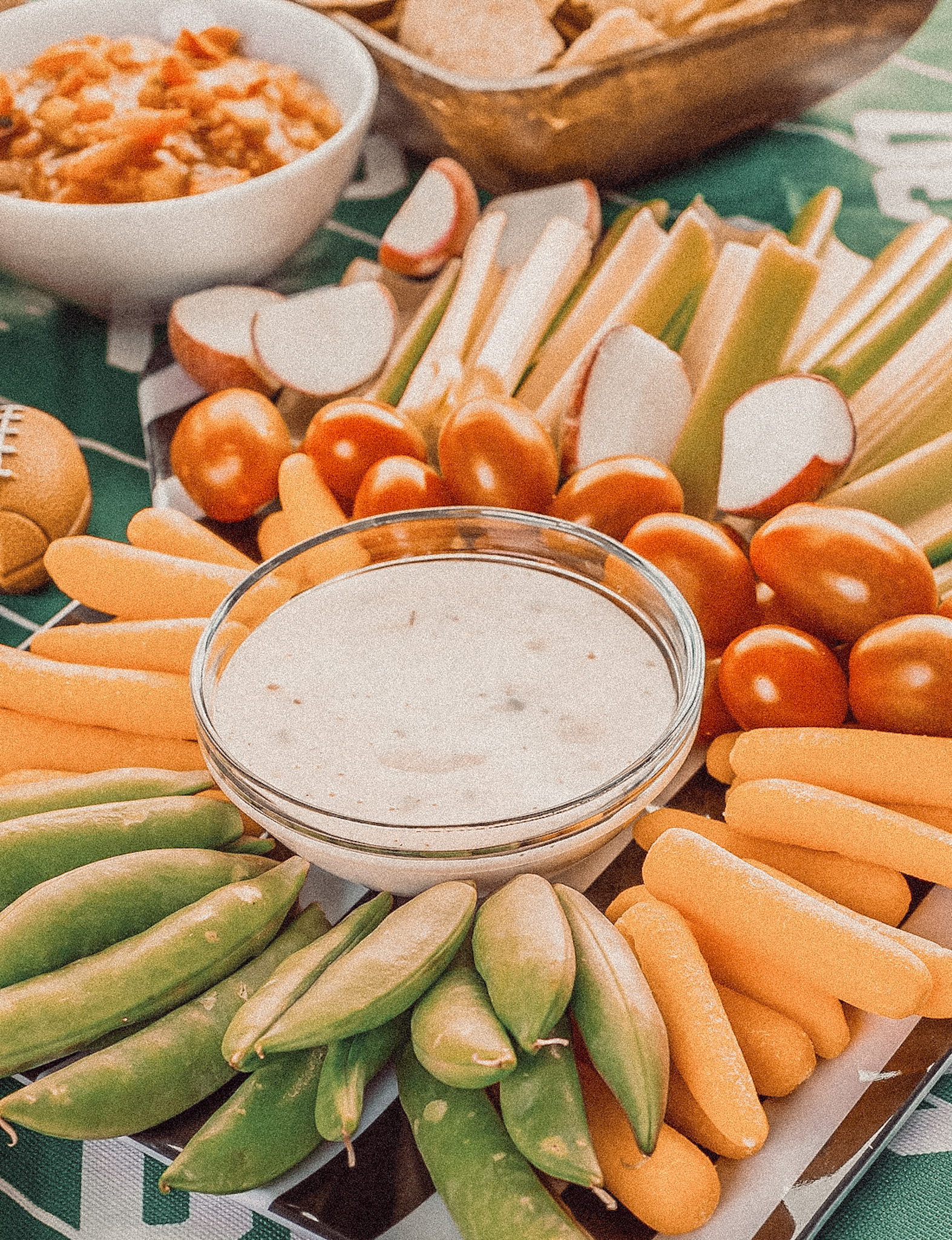 Football Food: More Delicious Recipes For Game Days
Easy Appetizer Recipes